Aside from Young Pioneer Tours regularly blogging about our budget tours to North Korea and the many new North Korean Tourist attractions that pop up in Pyongyang and other cities, we also try and do the odd interesting piece about the wider issues and interests of the DPRK, so here is the first in our series about the Borderlands of North Korea, starting with Tumen.
---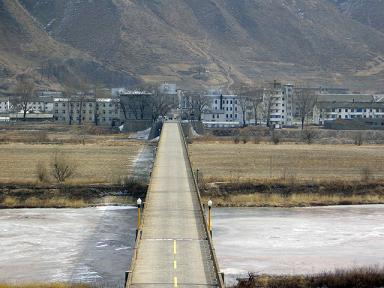 As someone who works in tourism and regularly travels into North Korea, I get a kick reading all the poorly sourced information that is circulated about the DPRK. You know the kind of stuff: people getting killed, only to return a week later, North Korea claiming they won the World Cup, General Kim Jong Il getting 18 holes in 1, or my most favorite of recent stories- that everyone in North Korea has to get a Kim Jong Un haircut (men only, I assume). These stories are a reflection of the lack of knowledge people have about entering the DPRK.
When I tell people my job, a common response is that "people can't travel to North Korea", but even more surprisingly, and this comes from people even in the industry, is that the only two ways to enter the country are by Air Koryo flight (in fact Air China also flies into Pyongyang), or by train from Dandong. In fact, there are over 15 border crossings littering the borderlands between Tumen in the far north of China right down the border of North Korea down to Dandong. Now whilst most western tourists cannot enter, some only Chinese tourists can use, and a few are even reserved specifically for the leadership of North Korea, there is still a whole world of towns, and cities bordering the DPRK that are extremely interesting for the avid North Korea geek and enthusiast. We start the borderlands series with Tumen.
Understand
Tumen is the second major city of the Yanbian (Korean) Autonomous Prefecture of Jilin Province of North-East China. Of its nearly 140,000 inhabitants, almost 60% are Korean ethnicity. It is separated by the Democratic Peoples Republic of Korea, and Namyang City, in particular, by the legendary Tumen river, which acts as a natural border between the two countries. During the winter, the river between the two countries freezes, and this is where migrants have been known to cross.
Get in to Tumen

By plane
The nearest airport to Tumen is in Yanji, just under 2 hours drive away from the city. Yanji is relatively well serviced with daily flights to both Beijing, and Shanghai, as well as regular international flights to Seoul amongst other cities in the Republic of Korea.
By train
Tumen Zhan Station
Beijing – takes about 26 hours
Changchun – takes about 12 hours
By high-speed train
Yanji – 30 minutes
Changchun – 6 hours
By bus
Chang Bai Shan (Mt Paektu) – takes about 4-6 hours
Yanji – Takes just under two hours
Getting around Tumen

The town is small enough to navigate with most places you would want to see by foot, although there are also regular public buses servicing the area. Taxis are extremely cheap, and relatively honest compared with many places in China, with the starting fee being RMB 5 to get in the cab.
Talk
Like anywhere in China, the weapon of choice and spoken by everyone is Mandarin Chinese, although with the sizable Korean population most people will speak Korean to at least some degree of proficiency. Also with it being officially designated as a Korean area, all signs for both streets and shops are in both Korean and Chinese, so if you only speak Korean, you will more than survive here.
Do
Tumen City
Up until 2013, it was only possible for Chinese tourists to visit North Korea from the Tumen Border crossing.(Until YPT opened it to western tourists!) Take a look here to see some tour options.
Tumen Border Crossing – A great place to hang out regardless of if you are visiting North Korea, or not, with shops selling goodies from both North Korea, China, and Russia, as well as loads of restaurants and bars where you can enjoy a beer and watch the DPRK.
Boat Trip – It is possible at certain points along the river, and at certain times of year to take a boat trip down the river Tumen, this can be interesting if you never plan to visit North Korea.
Eat
Korean Food – OK so this might appear to be stating the obvious, but everything from bibimbap to Korean BBQ and even dog is available, cheaply and of a great quality.
Chinese food –  Stating the obvious, but if you are not in the mood for Korean food there are a decent amount of Chinese options available.
Korean Pizza – Very southern Korean influenced, but Korean style pizza with Korean style bar and "Western" snacks can be a good option if you need something at least pseudo-Western.
The Green Apple – Alas, on our last two visits there, the famous Green Apple of Tumen was closed down. If this place does ever reopen, it offers the best western food and coffee in Tumen City
Drink
Plenty of south Korean style coffee places, and Chinese style KTV's and music bars, but nothing crazy to really write home about.
Sleep
Being rural China there is a plethora of cheap, medium and expensive options to suit most tastes, but again very little that is exciting, or worth writing home about.
The Train Station Hotel – Located– you guessed it right– across from the train station, around RMB 80-100 per night depending on the time of year; really friendly owners and nice clean rooms.
Get out
Tumen is a gateway for Changbai Mountain, or Mt Paektu located about 7 hours southwest of town.
Jilin – takes about 6 hours – 90 yuan for a ticket.
Longjing – takes about 1 hour 30mins – 10 yuan. Longjing is a medium sized village with lots of Korean influences.
North Korea – It is possible to join a tour with Young Pioneer Tours throughout the year to the DPRK entering here visiting Mt. Chilbo, Rason, and even carrying on to Pyongyang, or exiting through Russia.
---
Click here for more information on our tours
About Post Author
.