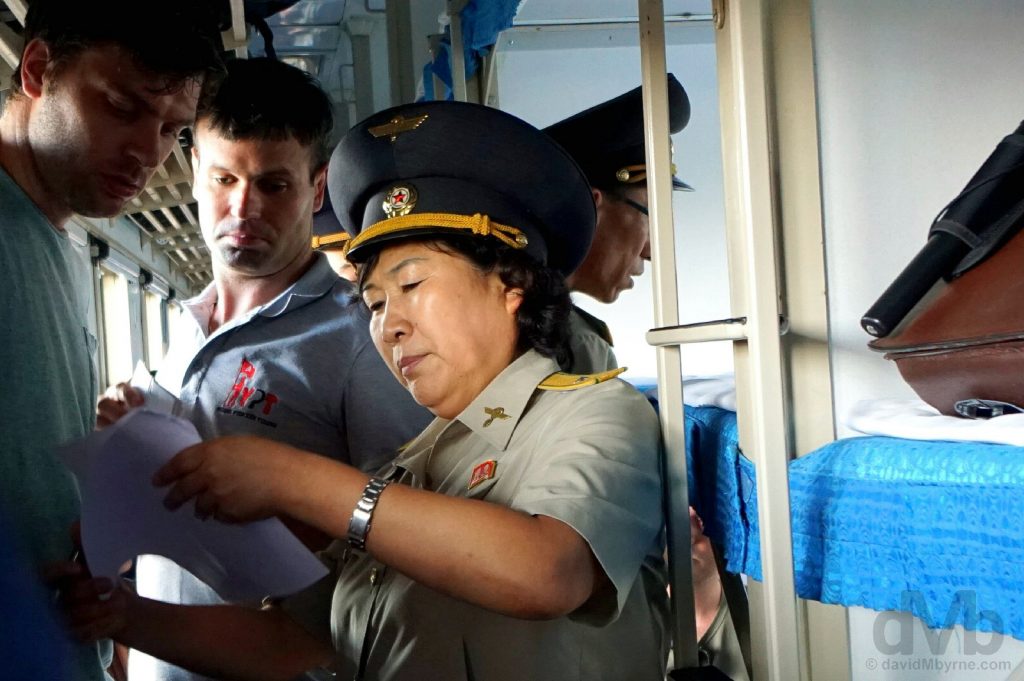 While the idea of "North Korea customs" might conjure intimidating imagery of strict, intense checks by stone-faced North Korea soldiers, most visitors to North Korea are struck by the reality that some of the first interactions they have with North Koreans either in Sinuiju coming on the train from Dandong or Pyongyang by flight from Beijing are quite different to their expectations, with a few quirks that surprise most travelers.
The customs officers are generally quite easy-going and want to make your entry / exit into North Korea as smooth as possible. This means they're prone to the odd joke here and there (and in some cases pinching the bum of a particularly tall YPT guide).
That being said, like all international border crossing, both Sinuiju and Pyongyang customs checks are indeed a serious affair that must be taken with the upmost seriousness and respect.
What shouldn't be brought into the country
There are a few prohibited items travelers are not allowed to bring into North Korea, including the following items:
Any media about Korea (books, films, documentaries, etc)
Guide books for North Korea, South Korea or Japan
Religious texts
Pornography
Camera lenses over 250mm
Drones
GPS navigators and satellite phones
Avoid bringing in magazines and newspapers of current events
While every smart phone and almost every new camera has built-in GPS, your YPT guide will also instruct you to ensure GPS is turned "off" on your cameras, which is sufficient in bringing in to the DPRK.
Get through North Korean customs by train
The entire customs procedure on the train takes just shy of two hours and happens inside the train carriages. Customs officers will count each traveler's electronics (to ensure you're also bringing them out of the country) and collect passports and DPRK visas for processing. Once these first two procedures take place, Korean ladies with trolleys will appear on the train platform selling DPRK food, drinks and cigarettes and all train-takers are free to stretch their legs with a beverage on the platform. Most travelers remark at how strange it is to be casually enjoying a North Korean beer in anticipation of passport control finishing.
Get through North Korean customs by plane
Flight takers experience customs much similar, in a much quicker time with immigration and customs taking place similarly to most international airports around the world (minus the North Korean beer, of course).
Exiting the country, it's important to make sure you don't have any North Korean currency in your wallet as on occasion customs officers will look through wallets and if local Korean won is found, you won't get in trouble, however you will be giving the respective customs officer a nice little tip. As with any border crossing in the world, the North Korean customs officials have the right to search your belongings. This includes any electronics you are carrying on you and memory cards, however more often than not photos are not checked on the way in and if they are on the way out it's mostly from a customs officer more interested in picking out the biggest, most expensive looking DSLR to see his or her capital city of Pyongyang through the eyes of a tourist.
Thankfully, all our North Korea group tours are led by our extremely experienced YPT guides who conveniently happen to enter and exit North Korea multiple times a month, so sit back and let us facilitate your safe entry and exit to North Korea.
About Post Author
.