Located in the new Ryomyong Science Street, the newly opened New Hope restaurant (Sae Hui Mang) is a little unique amongst the North Korean restaurants that accept foreigners. While hot pot is nothing new, with the Chongryu Hot Pot being an option since tourism to North Korea began, New Hope specialises in seafood and has a much better variety than what you'd usually see in Pyongyang.
The hot pot itself includes prawns, mussels, seaweed and seasonal seafoods. There are also numerous side dishes as usual, with the Chinese-style black pepper pork proving a hit with most of my group. It's also rare to have piping hot food in the DPRK as they have to cater to large groups, so the hot pot proved a hit on what happened to be one of only two wet days on our 11-day itinerary.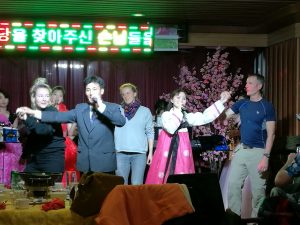 The atmosphere is pretty good and the décor is very much in line with the new style of interior design that we've seen in Pyongyang in recent years. For larger groups the restaurant also puts on a performance, but with a smaller space than places such as Haeyang or the Mansudae Art Studio restaurants, it certainly isn't amongst the most exceptional in Pyongyang.
Oddly, many of the doors around the restaurant open up into each other; I nearly got bowled over by someone rushing out of the bathroom, and saw one waitress nearly knock hot pot soup all over another who was leaving the kitchen. There also is no parking area for buses outside the restaurant, so you'll most likely have to walk a little to get there, which wasn't ideal on the rainy evening we went.
Those small inconveniences aside, with the option of a good hot meal, 5rmb for extra pints and a shift manager who spoke very good English, New Hope restaurant is definitely worth a visit and is a solid addition to the variety of places to eat in Pyongyang.
Fancy checking out Pyongyang's restaurant scene for yourself? Check out all the best restaurants — and a number of more obscure ones — on our DPRK Culinary Tour!
About Post Author
.