There's a few things that we really quite like at YPT. Some are more obvious than others, such as travel and communism. We also quite like trains and dead communist leaders. But how to combine all of these things we like? Obviously with our Ultimate Leaders Tour.
---
So what is the Ultimate Leaders Tour? In a nutshell, it's 4 weeks of mostly travelling by train and looking at all the mausoleums of the world that former Communist leaders lie in repose. In order: Uncle Ho, Chairman Mao, President Kim Il Sung, General Kim Jong Il, and then 8 days on a train for the founder of all this jazz, Vladimir Ilyich Lenin. Not a trip for your average Commie hunter, nor the faint hearted.
The Vietnam Bit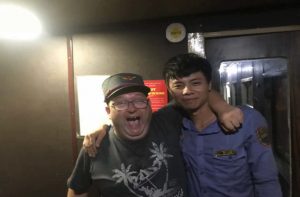 Merely flying into Hanoi and seeing Uncle Ho Chi Minh would not be very YPT, so we begin in Ho Chi Minh City – or as the cool kids still call it, Saigon – which is not only a great place to knock back a few beers, but also has lots of Viet Cong stuff such as the tunnels and the place where the chopper took the last guys out of Saigon back in the day.
Saigon dealt with, it's time to jump on our train to Nha Trang. China gets all the plaudits for its fast development, such as with its CRH fast train network, but travelling by train in Vietnam is back to old-school stuff with small locomotives, 4-berth cabins and Vietnamese vodka before a 5am arrival in Nha Trang.
Nha Trang makes a decent middle point to the tour with great beaches, bars and seafood, although it's slightly less Commie-kitsch than we'd like. Then it's train time again with the views from Nha Trang to Hue; a leisurely 14-hour journey (with soft sleepers) that's very much worth it.
I forgot something whilst mentioning the stuff that YPT like, namely DMZs and DMZ bars. Guess what: Hue has both! Our first port of call is a day out on the bikes – motorbikes that is – and a drive around the countryside of Hue. If you go to Vietnam, you really need to drive a motorbike.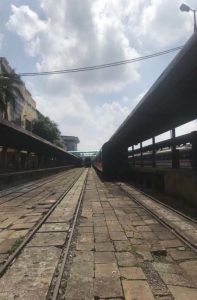 Day 2 in Hue is where it's at! We get in the YPT Vengabus and head down to the DMZ. It's easy to forget there used to be another DMZ where the North won, because elsewhere in Asia there's another North that claims they won and yet still have an active DMZ. But I digress. This a great day out for anyone with more than a passing interest in the Cold War. Another city done (and therefore more vodka): onto the 14-hour train to Hanoi.
Saigon gets all the hype as the city that doesn't sleep, and Hanoi gets crap as a city that does sleep (it sleeps at midnight), but there's much more to the city – such as cocktails WITH street food – and of course there's the mausoleum.
Step one on our journey: the Mausoleum of Uncle Ho Chi Minh! Great success!
There's a lot of reasons why we love part 1 of the Ultimate Leaders Tour – so much so that we run it every year. The groups might be small (which is good for the customer), but it's a great budget way to see Vietnam and a great start for mausoleum collectors.
To part 2!
---
Join YPT and meet the Leaders on our next tour!
About Post Author
.