Owing to the overwhelming success of this year's "Glorious Fatherland" Mass Games, the powers that be in the DPRK have just announced a further extension to the spectacular performance!
Formerly titled "Arirang"– named for a story long interpreted as an allegory for the forcible separation of the Korean Peninsula — the "Glorious Fatherland" Mass Games hit a more optimistic and peaceable note than the previous incarnation of the event. There has been a particular emphasis on friendship and peace, with special attention paid to the enduring friendship between the People's Republic of China and the Democratic People's Republic of Korea.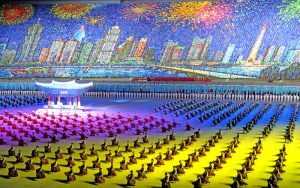 Originally starting in early September, the "Glorious Fatherland" Mass Games have been a massive hit with both Koreans and foreign tourists, drawing sell-out crowds to the world's largest stadium, Pyongyang's May Day Stadium. The inaugural performance was particularly notable for the attendance of Supreme Leader Kim Jong-Un himself, and a later performance saw South Korean premier Moon Jae-in attend!
As previously noted, the DPRK upped their technological game in this incarnation of the Mass Games. In addition to the unparallelled choreography that sees thousands of students form a living mural and many thousands more engaging in flawlessly coordinated mass dances, the "Glorious Fatherland" Mass Games were notable for the introduction of choreographed drones to the event. Spectators were awed as the unmanned craft demonstrated their own considerable skills, forming the flag of the DPRK over the stadium as the audience watched.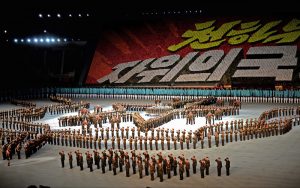 YPT have, of course, been on hand throughout the Mass Games' most recent incarnation. YPT guide Matt provided his thoughts and some phenomenal photos of the event recently, and YPT founder Gareth Johnson returned from a lengthy hiatus to see what had changed since the "Arirang" incarnation of the Mass Games some years previous. At what has been undoubtedly our busiest period of the year — and, possibly, the busiest period over the last several years — feedback from our tour groups has been overwhelmingly positive as people were privy to the return of the Guinness-World-Record-winning extravaganza.
With no word as of yet on whether or not the Mass Games will return next year, the extension represents a prime opportunity to witness this spectacular event first hand. Though no tour is running during the extended period, this unexpected extension provides an excellent opportunity to commission an independent tour in order to view the games at a much quieter period than the frenetic opening of the games!
Contact tours@youngpioneertours.com for more information. 
About Post Author
.