Introduction
The Mansudae Assembly Hall is located in Pyongyang and is the Seat of the Supreme People's Assembly, the DPRK's unicameral legislature.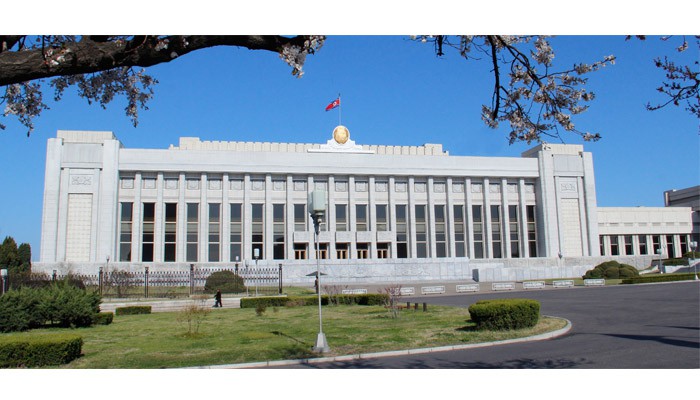 The Supreme People's Assembly consists of one deputy from each of the DPRK's 687 constituencies who hold five-year terms.
The Supreme People's Assembly meetings are held once or twice a year at the Assembly Hall. Matters dealt with during such sessions include the following: approving the national budget, appointing members of the Cabinet and other key state bodies, and passing laws.
The Mansudae Assembly Hall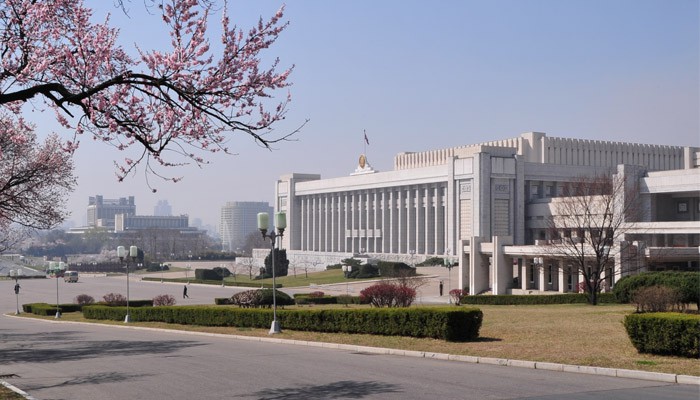 The Mansudae Assembly Hall was completed as the National Assembly Hall in 1984 and covers 45,000 square meters in total.
It is located in central Pyongyang nearby the Korean Revolution Museum, Mansudae Art Theatre and the Mansudae Grand Monuments.
The hall was built with a mixture of Korean and soviet architectural influences and is impossible to miss from the outside on your tour to North Korea.
The exterior of the building was completed with granite and marble and the interior of the building is immaculately kept with marble statues of workers present through the main corridor area.
There are also small meeting areas throughout the hall for high-level foreign diplomats to have talks with their North Korea counterparts.
The main auditorium of the Assembly Hall has a capacity of 2,000 for parliament members, and there is an interpretation system that allows for simultaneous translation of up to 10 languages.
Located at the back of the main auditorium hall are two large wax statues of Kim Il Sung and Kim Jong Il. When the auditorium was first completed, there stood a single white marble statue of Kim Il Sung. After Kim Jong Il's passing in December 2011, a white marble statue of him was erected next to the one of Kim Il Sung, and then in 2017, they were both replaced with the current wax ones that stand there today.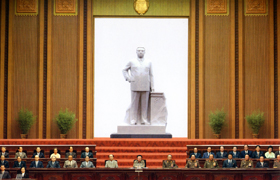 Pictured Above: The Marble Statue of Kim Il Sung as it appeared in 2003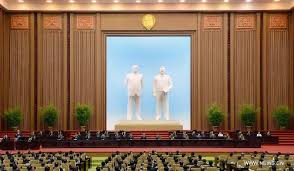 Pictured above: The Marble Staute's of Kim Il Sung and Kim Jong Il as they appeared in 2015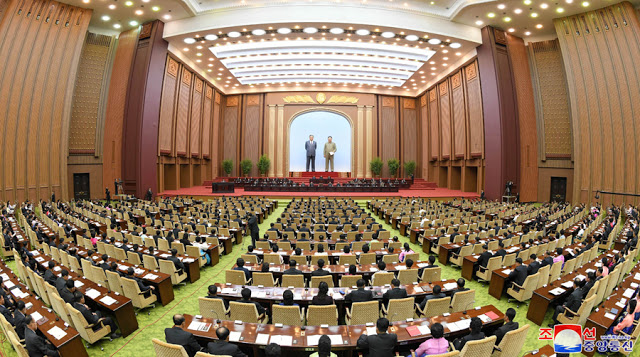 Pictured Above: The two new wax statues of Kim Il Sung and Kim Jong Il as they appeared in 2019
Visiting Mansudae Assembly Hall
As this is an important government building it is usually not open for tourists, but we have arranged visits in the past.
If you are interested in visiting the Mansudae Assembly Hall on an Independent Tour to North Korea, we recommend getting in touch with us early so we can begin making the necessary arrangements for your visit.
About Post Author
.