Introduction
The Mansudae Grand Monument or also known as Mansu Hill Grand Monument (만수대대기념비) is one of the most iconic spots in North Korea and features two large bronze statues of the former leaders, President Kim Il Sung and General Kim Jong Il. The height of the statues are 20 meters (66 feet) tall.
The Mansudae Grand Monument includes a mosaic mural of Mt Paektu shown behind them, which has deep symbolism attached to both leaders and Koreans in general. The final elements to the monument are two large statue groups featuring Koreans of all kinds, rising up to defeat the Japanese imperialists. To answer a question most commonly asked. Who does the Mansudae Grand Monument honor? Kim Il Sung and Kim Jong Il.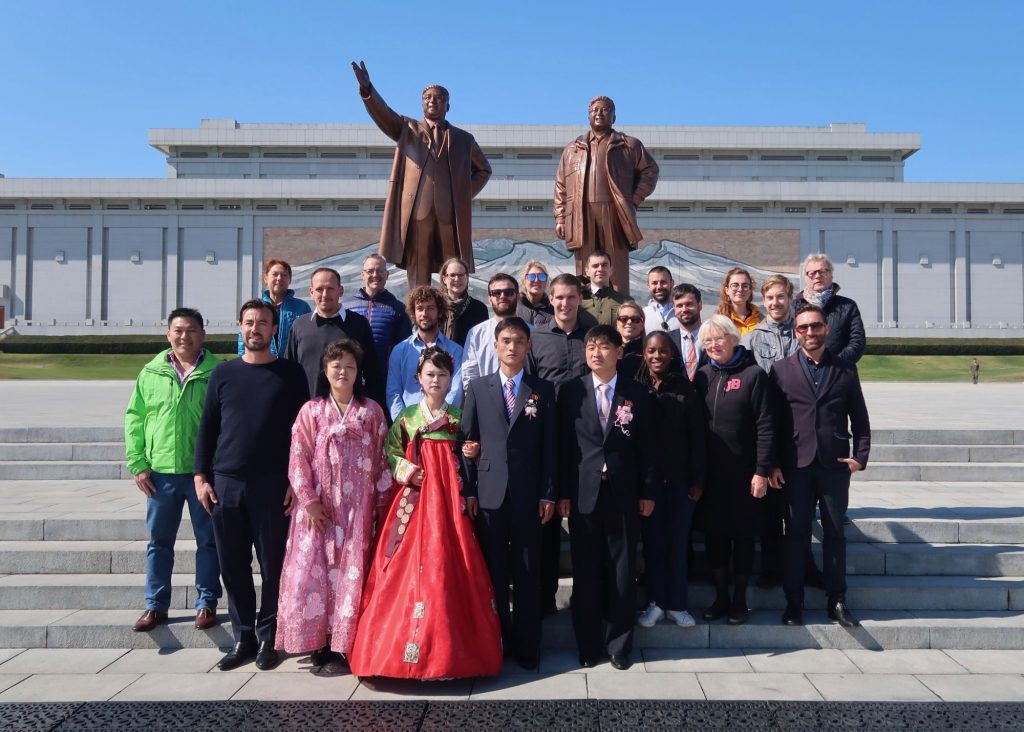 While most Koreans would hope to visit the statue at least once in their lifetime, most locals in Pyongyang will visit several times a year, for national holidays. It is also common for North Koreans to visit the statues for commemorative wedding photos.
The grand statues of the leaders are located in Pyongyang, the capital of the DPRK, and stand atop of a hill centralised in Pyongyang named Mansu Hill. Behind the statues is the Korean Revolutionary Museum, located nearby is Kim Il Sung Square, Grand People's Study House and Moran Hill.
Mansu Hill Grand Monument History
The statue was first unveiled on April 15 1972 for the special occasion of President Kim Il Sung's 60th birthday and produced by the Mansudae Art Studio. During this time, there was only one statue of a young Kim Il Sung. On December 17 2011, General Kim Jong Il passed away and a statue was erected of him standing next to his father on April 13 2012. During this process, the original statue of Kim Il Sung was removed and replaced with a new statue showing an older Kim Il Sung of what he looked before he passed away in 1994 and with a brand new smiling visage.
The statue of Kim Jong Il was designed to include him wearing a formal long coat. The statue was later removed in 2013 and replaced with one of him wearing his trademark snow parka jacket, which he wore constantly in his later life.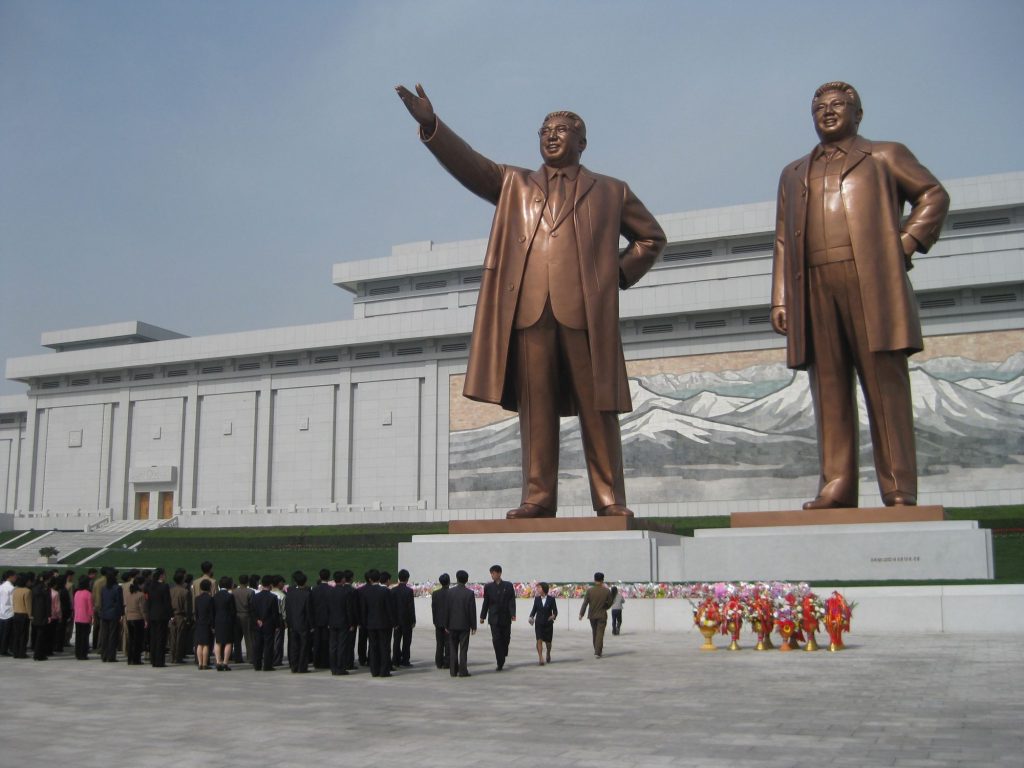 Regulations for visiting the Mansudae Grand Monument
Along with Kumsusan Palace of the Sun, the Mansudae Statues is considered a sacred site and not as a tourist attraction to the North Koreans. Whilst it is possible to visit the statues it is not mandatory for your visit to Pyongyang or other statues else where in the country. If you're travelling with a group tour you can choose to wait inside the tour bus, or if you're travelling on a private tour it can be excluded from your tour itinerary. The statues are available to visit all year round.
If you choose to visit the statues you must be respectful during your entire visit to this location. It is not possible to visit the statues without making a bow which is considered as a sign of showing respect in Korean culture. Below is what would be expected of you if you choose to visit.
There is a simple dress code for visiting the statues. For men it is required to wear long trousers and enclosed shoes (sneakers, travel/hiking boots are fine but no sandals or flip flops). For women it is required to wear long trousers or a skirt/dress that comes down pass the knees, open dress shoes are fine as are sneakers or shoes, but not flip flops or sandals. After visiting the statues you may change to more comfortable clothing if you wish. Shirts with large logos or slogans cannot be worn at the statues.
Before arriving, you'll be reminded you cannot chew gum, no running, no sitting on the steps in front of the statues, no shouting, do not separate yourself too far from the group, strictly no smoking, no drinking and backpacks or carry bags must be left on the bus.
Once arriving at the statues, you must first remain with your tour group, along with your YPT and local Korean guides. You have the option of purchasing flowers to show further respect to the Koreans. A bouquet of flowers costs 40RMB or 5 euros.
Approach the statues as a group, and for those who have purchased flowers may lay the flowers below the statues. The group will make one line in front of the statues and bow once simultaneously. While bowing, hats and sunglasses should be removed and any jackets or coats should be zipped or buttoned up. You may then step back and listen to an explanation of the statues given by your guides.
Once the explanation is finished you may explore the site and take photos. Whilst taking photos of the statues you must include the full view of both statues in every frame. If you choose to pose in front of the statues you should be sure to keep a respectful pose with your arms at your sides. Don't make any gestures with your hands such as peace signs or thumbs up.
Tips
There is a local photographer available at the Mansudae Grand Monument to take your photo and have it printed and displayed on a very North Korean-esque folder for 20RMB or 3 euros. Great for a souvenir.
Next to the Mansu Hill Grand Monument car park there are toilets as well as a small shop that sells water and North Korean snacks. It is possible to smoke in the car park. Feel free to offer your driver one, they super appreciate it.
Located next to the site is Chollima Statue and it is possible to walk beside the monuments to have a picture perfect view of the Chollima monument.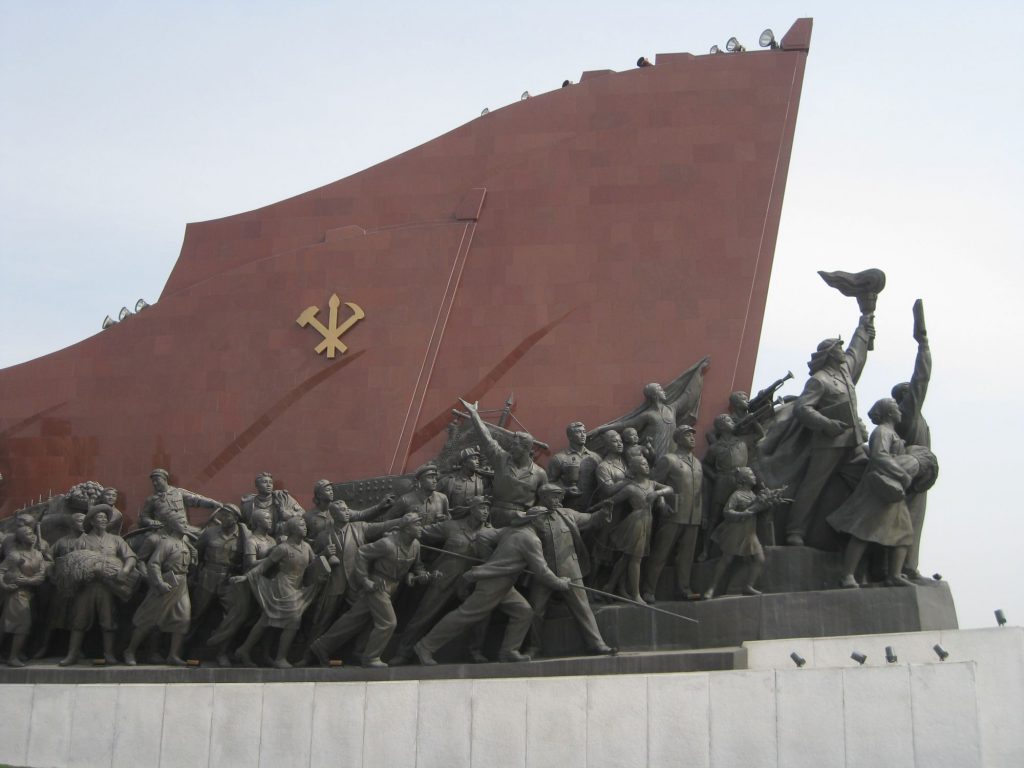 Explore the iconic statues for yourself and join our tour to North Korea
About Post Author
.