Svalbard has been the last frontier for a number of nations, from the Dutch and Danish to the Norwegians and, of course, the Soviet Union.
Longyearbyen is the foremost settlement in Spitsbergen, the main island of the Svalbard archipelago, with a population of a whopping 2000 (not counting polar bears or reindeer).
Being located where they are, you'll not be surprised to hear that there is no connecting road network between any of the main settlements. Transport can be done on a snowmobile in winter and each settlement has a port, though mainly for local ships, cargo or passenger.
Most visitors to Svalbard will, therefore, arrive by flight, and although it's not exactly well connected you may be surprised to find that getting to Svalbard is not as difficult or expensive as it previously was.
Most visitors will arrive at Svalbard Airport in Longyear, 3kms from downtown Longyearbyen. The airport is the only one on the archipelago and flights basically all come from Oslo or Tromsø. You can catch a flight on Scandinavian Airlines or the budget option of Norwegian Air Shuttle.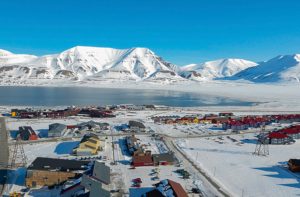 It was not easy to build an airport in Svalbard. The first one was built by none other than the Luftwaffe during World War Two. Back in the day flights could not land during darkness, a problem in the winter months when the area was almost completely dark all day long. There are tales of the runway being lit by paraffin lamps and parked cars.
In 1973 the airport, as seen now, was built. Constructed on permafrost with a runway insulated against the ground to prevent melting, the airport's hangar is actually frozen directly into the ground. Aeroflot and Finnair have both run flights to Svalbard, though they're discontinued at present. There are occasional charter flights from various countries though, and helicopter transport is available to the outlying settlements.
Join us on our Soviet Last Frontier: Svalbard Settlements tour in October!
About Post Author
.