I'd been looking to ways of visiting some of the least visited countries in the world, and more importantly working out the logistics of running such a tour for quite a while. So in October of 2017 I was really proud to announce our 2017 edition of the tour, which would involve us starting in the Marshall Islands, before heading for 5 days, and New Year in Nauru. We'd then spend a few days each in Kiribati, and the Solomon islands. All of this over balmy 12 days.
---
As the guide of the tour, I first had to somehow get myself to Majuro, the capital of the Marshall Islands. After research, it appeared that Port Moresby, the capital city of Papua New Guinea (PNG), was the flight hub for these pacific islands, and with 5 flights a week from both Singapore, and The Philippines this would be the weapon of choice.
The Marshall Islands
The start of my trip was a 5 hour flight from Manila to Jackson International Airport, where I would have a 4 hour layover. How to describe Jackson International Airport? Firstly if you are there for less 8 hours, they will not allow you outside. There is no food. There is no internet. There is no smoking room. They will arbitrarily take water, food, and open packs of cigarettes from you if you are transiting through Jackson Airport and Papua New Guinea. So what is my "guide" to transiting Jackson International? Either aim for a trip over 8 hours, or grin and bear being in airport purgatory. Although I have since learned that being a little economical with the truth is enough to get you out for a few hours…
"

There is no food. There is no internet. There is no smoking room"
After these 4 hours, we were onto our next layover, 12 hours in the Solomon Islands. Honiara airport is a real trip! Primitive and old worldy, but without in anyway trying to be pretentious. We spent the day checking out the sites that YPT would be visiting later in the tour, and generally got a pretty good feel for the country.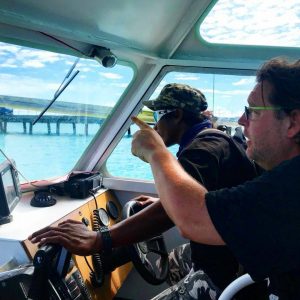 With our flight to Majuro (via a change at Nauru, and a stop in Tarawa), we headed to the airport 3 hours early. We were the only people there. The 3 hour rule does not apply in Honiara Airport! I thus found some street food. You cannot go wrong with chicken and rice at the side of the road, although some drinks might have been nice (they were not available).
After a few hours flying, we hit Nauru Airport, where we would be not only changing planes, but meeting 2 of our group. Two hours at Nauru Airport is not the most interesting to say the least! There's a little shop and that's about it, but hey Nauru is the least visited country in the world, so what can you say?
I decided the rest of this part of the trip would be nap time, and I "missed" the stop at Tarawa, the capital city of Kiribati, but apparently the views of the atolls at sunrise were sublime, something I was to later witness in all its glory.
Majuro Airport was a real cute airport, with the immigration and luggage collection placed outside, very slowly. But hey, this was island life. It also had a smoking area (in arrivals), a rare treat that gave me my jollies.
We were picked up by a bus from our hotel the Robert Reimers Hotel, and on arrival met two of the other guests, before all heading for a well-deserved rest.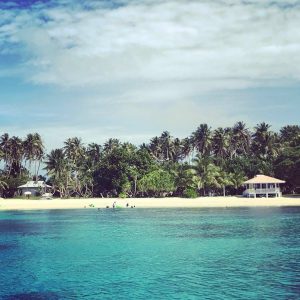 At night we had a few drinks in the hotel bar, before heading out for the buffet at the Marshall Islands Resort. The food here was amazing, with the fresh, locally caught tuna sashimi, being probably the best I have ever had. We then opted for a few drinks and an early night, in preparation for the next day's activities.
We'd arranged for a day trip to an island called Eneko, which lies about 30 minutes from Majuro, offering amazing views (and a chance to use my GoPro) on the journey in. The islands is amazing, offering great snorkelling, shelter for BBQ's and fruit that can be picked right from the tree. Obviously, we had stocked up on liquids, and a day spent eating, drinking and swimming on a beach is never a bad thing.
Nauru
As the trip sadly dictated, it was now time for us to leave the island (on new years eve), and head to Nauru, the least visited country in the world. The flight with Nauru Airlines, which is essentially the bus network for the islands, took us back to Kiribati (I looked out the window this time), before dropping us in Nauru. According to my visa, I was the 35th visitor to Nauru that year. Pretty impressive.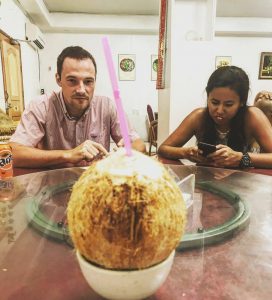 Again we were met at the airport and headed to the "Hotel Budapest", in some respects the best hotel in Nauru (although that's not saying much when there are only 4). We were the only tourists there, but not the only guests, with the rest being refugees stranded in Nauru. Some very friendly people, and with some amazing stories.
But new years eve, is new years eve, and YPT is YPT, so that night we headed to the Hotel Nauru for a beach/pool/restaurant party with an eclectic mix of refugees, expats and locals seeing in the new year in ultimate style! An amazing night (butterscotch schnapps anyone?), and certainly one of the most unique new years eves I have ever had.
We spent the next 4 days exploring every aspect of life in Nauru, eating in restaurants run by the refugees, checking out WW2 stuff, watching sunsets from the beach, and swimming. People have said that staying for 4 days in Nauru is a long time, but we genuinely filled every day from start to finish, and can honestly say we know Nauru better than probably anyone!
Kiribati
But all good things (even visiting the least visited country in the world) must come to an end, and now it was our time to visit the 3rd least visited country in the world the Republic of Kiribati. I can honestly say the arrival into Kiribati is the best into any country I have ever been, and the views from the plane are second to none.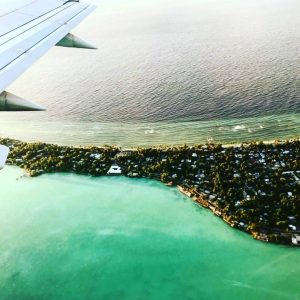 We were met and went to Mary's Hotel, a decent enough place and a good starting point for our WW2 tour that day. Kiribati is a WW2 fanatics wet dream, with guns, wrecks littered around Tarawa. We found a good local bar for dinner, had a few drinks and called an end to a successful day.
"To cut a long story short, we were supposed to leave at 4pm, but ended drinking and eating BBQ with the minister of the environment, and not leaving until 11pm. Island time is a real thing, and sometimes you just gotta roll with the punches."
Day 2 of our tour to Kiribati had us traveling an hour out to a village on an island. Whilst our island we visited in the Marshall Islands was set up for tourism, the one in Kiribati was a genuine village, with us getting the chance to see real, and very simple village life.To cut a long story short, we were supposed to leave at 4pm, but ended drinking and eating BBQ with the minister of the environment, and not leaving until 11pm. Island time is a real thing, and sometimes you just gotta roll with the punches.
With our two days up, we were then onto the last part of the YPT journey, the Solomon Islands, although again via Nauru, which was a weird experience to say the least after having spent 5 days there!
The Solomon Islands
After being picked up at the airport, we were taken to the Honiara Hotel. Without a doubt the best hotel of the trip, where we were greeted by the eccentric Chinese owner by some free drinks, and vouchers for massages. We straight away had a positive vibe about the choice to travel to the Solomon Islands! We spent the night watching the traditional dancing whilst supping a few local beers, and enjoying the buffet. Not our most energetic of nights, but dinner, drinks and dancing by a pool is never seen as wasted time.
During the day on day 2 of our tour to Honiara we hit up all the standard city sites related to WW2, and parliament, as well as the amazing Honiara market, which offered a real look into what it is like to live in the Solomon Islands, before heading off on some great hiking, and a lunch of street BBQ (amazing).
"

Not only has he met the queen (3 times), but is also a Sir!"
Tourist activities were finished with snorkeling around a sunken Japanese WW2 boat, which was pretty special, before heading back to the hotel, and what would be our last night in Honiara.
So this is where Mr Chan comes in, the eccentric owner of the Honiara Hotel, or as I should correctly call him Sir Chan. Not only has he met the queen (3 times), but is also a Sir! A very interesting businessman, and politician, we spent the night not only chatting to him, but he hooked us up with letting one of our guests stay in the same room that Prince William, and Kate Middleton stayed in when they visited the Solomon Islands.
The night was finished by the pool drinking G&T's like colonialists from some bygone era, before we all departed the next day to the airport together, and our own separate ways after 11 nights, and 12 days of travel together.
Without a doubt one, of the most interesting tours YPT have every run, and we are already looking forward to the 2018 edition of the Least Visited Countries Tour.
---
Click here for more information on the next Least Visited Tour.
Join us this year.
About Post Author
.