When it comes to the Iraqi visa, things can be quite cryptic. Since Iraq is not exactly the first mainstream travel destination, very few people are applying for visas, which means that the diplomatic missions of Iraq haven't had to clarify and standardise the procedure just yet. The basic procedure has been detailed in this previous blog. But today, we shall be specifying how to get an Iraqi Visa in Canada based on our up to date experience. There are multiple diplomatic missions of Iraq in Canada. A consulate in Montreal, another in Toronto, as far as we know, but today we'll be focusing on the main one, the embassy in Ottawa.
Please also note that this is to get a visa to visit Southern Iraq, or Iraq administered by Baghdad. If you are intending on solely visiting Iraqi Kurdistan, administered by Erbil, and are Canadian, you do not need a visa.
What you'll need to bring
Before you can even think of going to the embassy in Ottawa to get your visa. You should make sure you have the following things.
Copy of your letter of authorization (LoA). This is probably the most important thing. If you don't have that, they won't even let you in. This will be provided by the tour company you're going with (such as us!) or the company you're going to work for in Iraq.
The visa application form, which you can get here. Download it, open it from your hard drive (not from internet). Fill it and print it. There is no space to do so on the form but take the time to grab a pen and write your phone number on the form. If there's any problem with your paperwork, the embassy will want to call you.
50 US dollars. Yes, even though you are applying in Canada, the embassy wants to be paid in our southern neighbours currency
2 visa type photos
If you intend on having them sending your passport back rather than picking it up at the embassy, a pre-paid envelope with your address. Canada Post sells those
Getting there
The embassy is not hard to find. It is located at the 215 Mcleod Street and is right across the Natural History Museum of Canada which makes it easy to find. If you are an embassy geek (we understand and share your weirdness), you can also go by the closed-off embassy of Iran, which is a short walk from there.
If you need to get in touch with the embassy, you can call them at 1-161-3236-9177.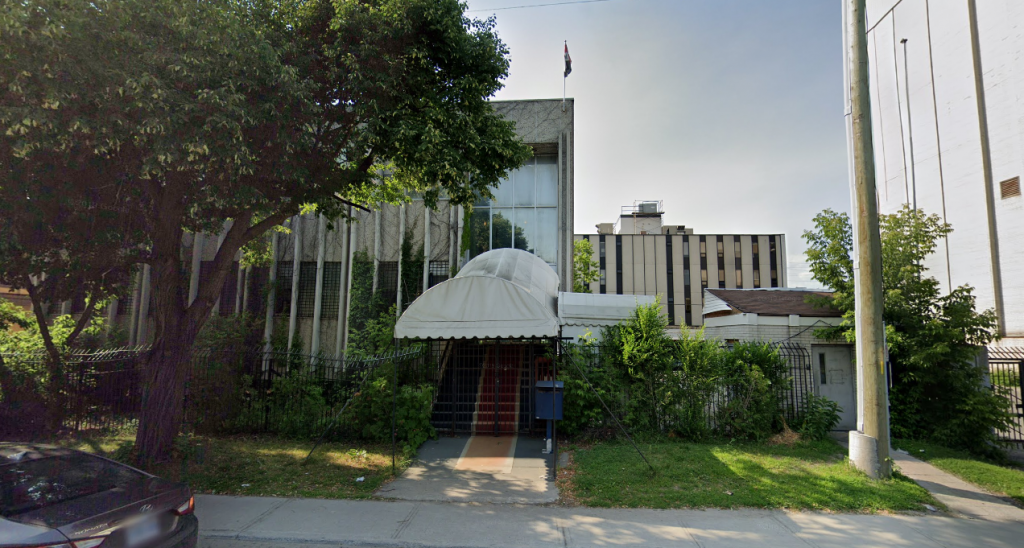 Here's what the building looks like. It is somewhat hidden by the trees but you should be able to see the Iraqi flag on top of it.
The procedure
To get in, first go to the little grey security shack. There, you'll be asked for the purpose of your visit. People speak English and Arabic. Then, you'll be led inside to a very small waiting room. You can expect it to be quite chaotic there. There are three windows dealing with different sections of the consulate, no numbers to pick or queue. Don't push and be polite but you'll need to assert your presence for your business to be taken care of. You'll need to submit all your documents to the window in the back (the one called Consular affairs). The staff here are quite nice and helpful. Once your application is given, you can either pick up your visa later, which should be done in a day but can sometimes take a few days, depending on how busy they are.
Alternatively, you could also post your things to the embassy directly, but where's the fun in that? If you do choose to post stuff, make sure you call the embassy beforehand so they expect it and you've established a relation in case your passport gets stranded or forgotten on a pile, in an office.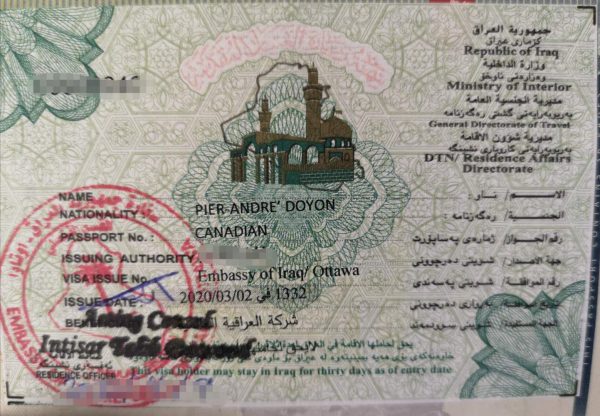 And that's it habibi, inch'allah you should get your visa for Iraq in Ottawa, Canada and be on a tour of Iraq with us in no time!
About Post Author
.