YPT first took groups to Iraqi Kurdistan, the autonomous region of Iraq run by the Kurdish people. This region has experienced remarkable stability in comparison to the region of Federal Iraq, and it offers a completely unique cultural experience.
We are currently offering the following Iraqi Kurdistan Group Tours for 2023 and 2024, but keep watching this page as we are always looking to add more Iraqi Kurdistan tours. Due to logistical restraints we can only hold spots up to 16 group members generally, so be sure to book quickly as our Iraqi Kurdistan Tours are very popular and places fill up quickly.
We are currently looking to add more Kurdistan tours that will take in Turkish Kurdistan and Iranian Kurdistan and Syrian Kurdistan – follow the page for updates.
GROUP TOURS TO IRAQI KURDISTAN
Our Iraqi Kurdistan Autumn Tour takes us to the paradise on Earth that is Iraqi Kurdistan. Home to more than 3500 archeological sites and one of the most ethnically and religiously diverse communities in the Middle East, Iraqi Kurdistan is a site to behold. h
From meeting with the Yazidis, one of the most misunderstood and persecuted religious groups to enjoying drinks with Kurdistan's Christian community, this tour offers and unparalleled look at one of the most fascinating and historical regions of the world.
Our Iradi Kurdistan tours combine well with our Southern Iraq tours. By combining these tours, you not only are able to see and understand the fascinating diversity and culture of Iraq, but you also receive a discount as part of our Whole Iraq Autumn Combo
Ring in 2024 in the most memorable way possible. Spend the end of 2023 exploring the only remaining Yazidi shrine in Lalish, exploring the deepest Gorge in the Middle East, and chatting with locals about their struggles with Saddam Hussein and ISIS.
Ring in the New Year with new local friends at one of the best cafes in Erbil while you watch fireworks from Erbil's citadel, the oldest continuously inhabited building on Earth. Together, we'll celebrate not only the most memorable News Years possible, but we'll also cheers to the future of Iraqi Kurdistan in a new era of peace, beauty, and stability.
Experience Iraqi Kurdistan in a completely different way during our Iraqi Kurdistan Newroz Festival tour. In addition to exploring all of the historical and cultural sites of Iraqi Kurdistan, we'll also celebrate Newroz, the most important Kurdish holiday of the year that celebrates the beginning of spring and the start of new beginnings. As the streets explode with Kurds celebrating the beginning of the Kurdish New Year, we'll join in all of the festivities.
This tour is the adventure of a lifetime, and for those who are wishing to explore even more, it combines perfectly with our Southern Iraq Ultimate Tour. Those who wish to combine the two tours receive a discount as part of the Whole Iraq Spring Combo.
Enjoy the best that Iraqi Kurdistan has to offer before the summer heat sets in on our Iraqi Kurdistan Spring Tour. On this tour, we'll explore the Mountains of Kurdistan, mingle with the locals in Erbil, and get the chance to meet with the Peshmerga, the Kurdish military that have kept this region safe, despite the intense persecution of Kurds under ISIS in recent years.
This tour offers the perfect opportunity to explore all that Iraqi Kurdistan has to offer, and for those who are wishing to explore even more, it combines perfectly with our Southern Iraq Spring Tour. Those who wish to combine the two tours receive a discount as part of the Whole Iraq Spring Combo.
SAMPLE IRAQI KURDISTAN TOUR ITINERARY
Day One:
Arrive at your convenience into Erbil – the capital and most populated city in the Kurdistan Region of Iraq which is well connected from many countries within Africa and most of Europe.
Those who arrive early can use this time to check out Erbil's bazaar or visit the Erbil citadel, one of the oldest continuously inhabited settlements in the whole world, with an opportunity to shop for souvenirs.
Pre-tour meeting will be held at the lobby of Karwan Saray Hotel at 6:00pm once the Southern Iraq group members arrive to discuss tour itinerary and to meet your fellow travellers and YPT guide.
Dinner and drinks will be in Erbil's Christian neighbourhood.
Overnight in Erbil.
Day Two:
We begin the day nice and early with breakfast, then begin a two-hour drive to Lalish. This is the most sacred town for the Yazidi people and is extremely interesting as it is now maintained by only a few families, waiting for the Yazidi refugees spread out all over the world to come back
We then head to the St. Matthew Monastery (Mar Mattei), the oldest Christian monastery in all Iraq and one of the oldest still in existence, period. Built into the side of Mt Alfaf in 363AD, it has a long and storied history of war and turmoil, yet somehow it has survived to the modern day.
Next, we drive onwards to Duhok, which is a pleasant old town with its roots in the Dasini tribe of Yazidis for our overnight stay.
On our way to Duhok, we'll stop off at a local restaurant for a traditional Kurdish lunch.
After arriving in Duhok, we'll kick off a city tour and be sure to visit the Grand Bazaar and maybe even the 'Dream City' amusement park for those feeling up for some rides!
When we're done exploring, we'll check out what tasty local food we can have for dinner in Duhok before checking out some nightlife.
Overnight in Duhok
Day Three:
In the morning, we'll be having our breakfast at the Peshmerga Martyrs Cafe. The Peshmerga are the Kurdish military and have kept this region safe from the likes of ISIS.
After this we continue to Gara mountain to see the Saddam Hussein's palace at the peak, featuring a truly spectacular view fit for a dictator.
From here, we go to Amadiya town, otherwise known as the 'City of the Sky'. When you get a look at it, you'll certainly see why! Perched atop a plateau, the whole town gives a beautiful view over the surrounding region. While here, we'll be checking out the local sites, including the ancient gate of Amadiya.
Following lunch, we embark on one of our longer journeys: the four-hour drive to Rawanduz.
We'll be stopping along the way for pictures at the Shamarda cave, an important archaeological site where remains of 10 Neanderthals were found between 1957 and 1961. We'll also stop for refreshments.
Walking tour of Rawanduz before we head for dinner and drinks.
Overnight in Rawanduz where we stay in our own cottages for a little cottage party!
Day Four:
After breakfast at the resort, we'll go to one of the waterfalls that is located in the deepest gorge in the Middle East.
Drive the famously scenic Hamilton road. The road was built by AM Hamilton in the early 1930's for what he hoped would unify the peoples of the region. Sadly, the road itself has been fought over many times, especially during the war with Iran.
We continue our journey stopping at various waterfalls and mountains for pictures.
Lunch at a countryside restaurant.
We take another scenic drive of around 3.5 hours to the second major city of Iraqi Kurdistan, and the most important regarding tourism, Sulaymaniyah. We will be stopping along the way for refreshments and picture opportunities.
In the evening, we take a walk around this historical city, visiting its parks and bazaar.
Sulaymaniyah has a great street food scene so we go to the bazaar to try some of the local specialities for dinner.
Overnight in Sulaymaniyah.
Day Five
After breakfast we visit the Red House Prison (Amna Suraka). Here, Saddam's regime imprisoned, and tortured Kurds suspected of being anti-Baath. We can visit the prison and torture cells used at the time. There is also a new part of the museum dedicated to the war against ISIS.
If there wasn't time to visit the bazaar the previous day, we'll be checking it out now.
Lunch at a local joint in Sulaymaniyah.
We take the 1,5-hour drive to Halabja. Halabja was the scene of the mass chemical attack on the Kurdish people by Saddam's Ba'athist regime that killed and wounded thousands. Here, we will look at the various shrines to the scene of this atrocity, as well as visit a local museum.
Return to Sulaymaniyah. If we've got time, we'll head to Goizha Mountain to see the beautiful view of Sulaymaniyah above when the sun sets.
Dinner in one of Sulaymaniyah's finest restaurants!
Overnight in Sulaymaniyah.
Day Six
Breakfast at a local place in Sulaymaniyah.
Early departure back to Erbil.
Stop by old Koya Caravanserai and the Koya Fortress – fortress towns in Kurdistan left over from the time when the Ottoman Empire had control over almost the entire Middle East.
We then complete the scenic two-hour drive back to Erbil.
We head to the Citadel for sunset, which, although it has seen better days, is still worth a look. We then head into the bazaar where your local guide will help you find some last minute bargains.
We have a farewell dinner near the bazaar.
It is fair to say you do not know a country until you have done a bar crawl, so we finish our time in Iraqi Kurdistan by seeing it off with a last night celebration
Overnight in Erbil.
Day Seven:
Breakfast at hotel
Tour concludes – YPT is also able to arrange post-tour accommodation or advice for flights.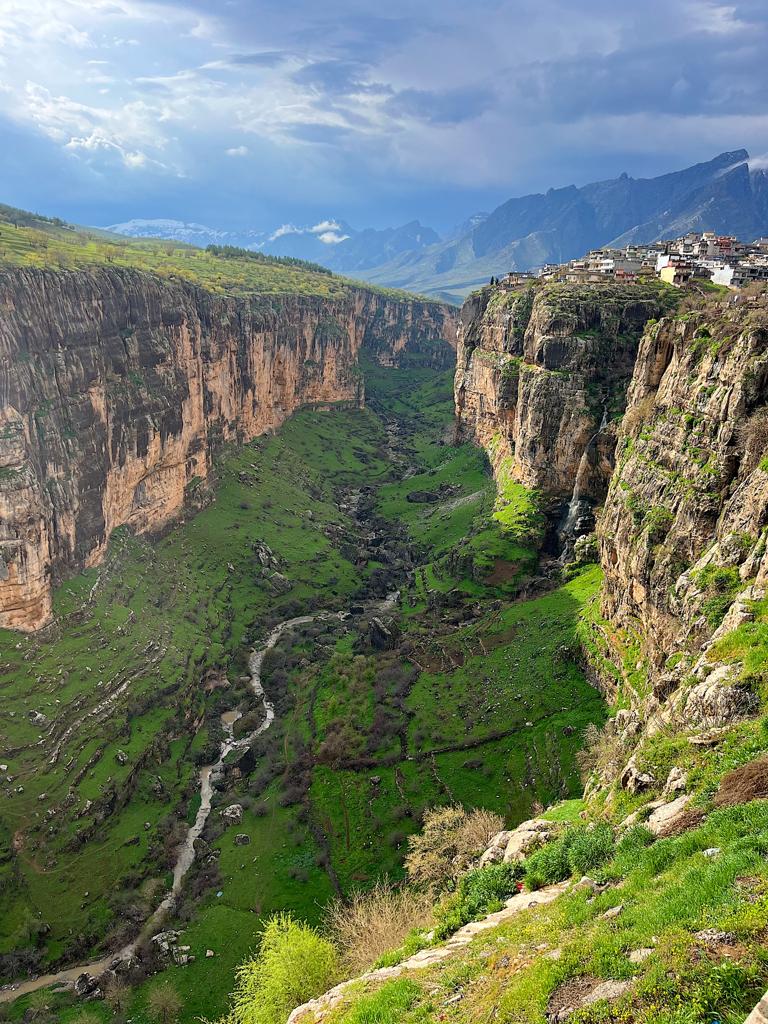 PRIVATE TOURS TO IRAQI KURDISTAN
If a group tour does not fit your calendar, you require something more specific for yourself or group then YPT can arrange a bespoke tour to Iraqi Kurdistan for you.
Prices genuinely depend on the number of people and what level of accommodation you require, but YPT can arrange everything you need for a perfect independent tour to Iraqi Kurdistan.
Tours to Iraqi Kurdistan can also be combined with trips to other places in the region, such as Federal Iraq, Iran, or Kuwait.
IRAQI KURDISTAN TOUR GUIDES
All of our local guides on our Iraqi Kurdistan tours speak English, or a translator is provided. For independent tours to Iraq, guides speaking other languages can be arranged. Additionally, all of our tours are curated by our expert YPT staff with years of experience in the region, and many of our tours are led by western YPT guides who also speak Arabic and specialize in the region.
IRAQI KURDISTAN TOUR VISA's
Visitors from Albania, Australia, Austria, Bahrain, Belgium, Brazil, Bulgaria, Canada, China, Croatia, Cyprus, Czech Republic, Denmark, Estonia, Finland, France, Germany, Greece, Hungary, Iceland, Ireland, Italy, Japan, Jordan, Korea, Kuwait, Latvia, Lebanon, Liechtenstein, Lithuania, Luxembourg, Malta, Netherlands, New Zealand, Norway, Oman, Poland, Portugal, Qatar, Romania, Russia, Saudi Arabia, Slovakia, Slovenia, Spain, Sweden, Switzerland, UAE, UK, and USA can all receive visa on arrival to Iraqi Kurdistan.
Most other countries are eligible to apply for an Evisa to enter Iraqi Kurdistan. The process is very straightforward, and YPT can provide all documents and information needed to obtain entry to Iraqi Kurdistan.