The rising star of North Korean football, Han Kwang Song, has joined Juventus in a deadline-day move — thus completing the highest profile transfer for a North Korean player in history.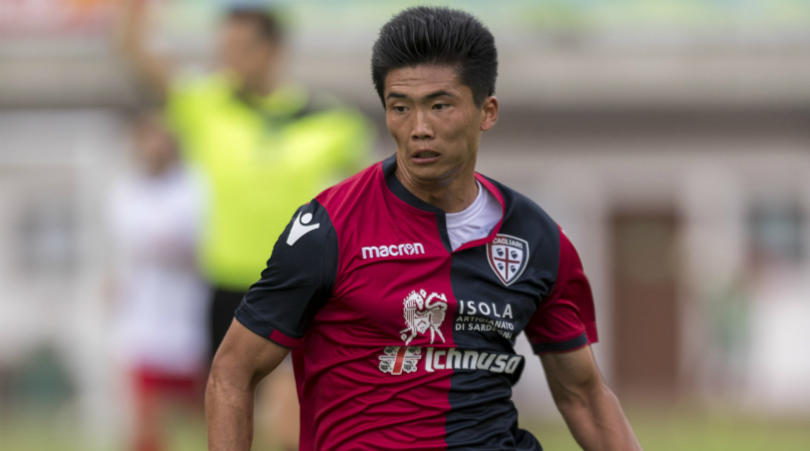 Han Kwang Song, who is one week shy of his 21st birthday, has signed on loan with an obligation to buy for a fee reported at €5 million, making him the most expensive player in North Korean history, and he is already clocking up various footballing records in Italy.
He was signed in 2017 by Cagliari Calcio and at just 19 was a member of their academy side. He soon made his debut for the first team playing the last 5 minutes of a 3-1 win over Palermo, thus becoming the first ever North Korean to play in Italy's premier division — Serie A.
Only one week later he scored his first goal for the club — in a 3-2 defeat to Torino — becoming the first ever North Korean to score in Serie A.
For the 2017-2018 season, Han Kwang Song was loaned to Serie B side Perugia, scoring a hat trick on his league debut. Recalled to the Cagliari side at the end of the January transfer window, his chances were limited and for 2018-2019 he was loaned back to Perugia, scoring 4 goals in 20 appearances.
His form for Perugia in Serie B has been enough to convince Italian giants Juventus to sign him for their Under-23 team, in what is the most extraordinary transfer in North Korean footballing history.
Football is probably the most popular sport in the DPRK with a domestic league that regularly gets large turnout to matches, and with teams such as April 25th AFC and Ryomyong Sports Club playing fixtures in the AFC, the second-tier international club tournament of Asia. Some North Koreans already play abroad, with Jong Tae Se having played in the Bundesliga and now playing in Japan.
Han also plays for the DPRK national team, having made 5 appearances already, and will be hoping to inspire his team in the upcoming qualification for the 2022 World Cup in Qatar. North Korea's campaign kicks off on the 5th of September at home to Lebanon before an away game against Sri Lanka on the 10th.
All eyes are on the fixture taking place on the 15th of October, when North Korea will play South Korea in a World Cup qualifier, at present the match is still scheduled to go ahead in Pyongyang, which would be only the second time the two teams have met in the DPRK.
Watch the historic match yourself as North Korea take on South Korea in Pyongyang on YPT's North Versus South: World Cup Football Tour!
About Post Author
.