If you want to get into the very geeky territory of the best North Korean footballer ever, you'd be hard pressed to argue against Mr Pak Doo-Ick, who famously scored the goal that knocked out Italy in the 1966 World Cup. But if you're talking about the best modern footballer then Jong Tae Se, AKA the people's Rooney, certainly takes some beating.
Jong Tae-se was not actually born in North Korea, but in Japan as a Zainichi Korean. Back in the day some Korean residents of Japan swore allegiance to South Korea, some assimilated into Japanese culture, and some – namely Chongyron Koreans – swore allegiance to North Korea. Due to this anomaly they are entitled to North Korean passports, and thus can represent North Korea internationally. This is why Jong plays for the DPRK.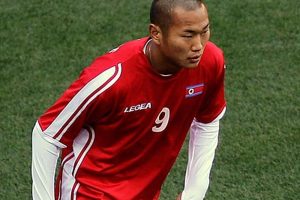 Jong was born in Nagoya to a father with South Korean citizenship, and a mother with Joseon (North Korean) citizenship. This meant he could have played for either of the Koreas, as well as Japan.
Jong began his career in 2006 playing for Kawasaki Frontale, and gained himself a strong reputation as a talented striker. He made his international debut for North Korea in 2007, and famously scored during their 2-1 defeat to Brazil during the 2010 World Cup – North Korea's first since 1966.
In 2010 he moved to Germany and spent 3 years there playing for FC Bochum and FC Koln, although he largely failed to live up to his potential.
In 2013 he transferred to Suwon Samsung Bluewings in the southern K-League, thus creating the anomaly of a North Korean international playing in South Korea.
In 2015 he moved back to the J-League with Shimizu S-Pulse, where he's been on prolific form as a fan favourite (and still representing North Korea internationally).
And why is he called the People's Rooney? Because the British press have nothing better to do than make fun of North Koreans! Jong actually compares himself to Didier Drogba.
If you want to see a football match in North Korea, join our upcoming June Football Tour.
About Post Author
.