A day when a nation celebrates a very important event in its history, National Holidays in any country usually involve mass celebrations and just a generally good vibe – meaning a perfect time to visit. YPT run numerous tours to various countries, taking part in national holidays around the world.  Sometimes, however, the choice is a bit too overwhelming… 
We asked our guides what their personal favourites are, and why.
---
John –
Cutud Lenten Rites
The Philippines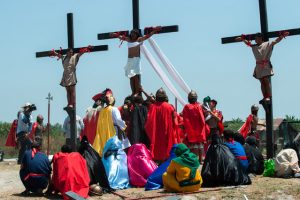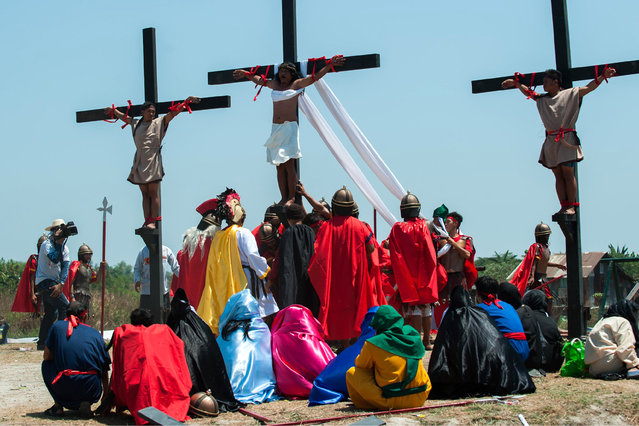 Whilst not strictly a national holiday, this unique and peculiar festival certainly deserves a mention. For some of us Easter is a time for chocolate eggs and a long weekend, but not for the Catholic Filipinos. They take Easter seriously, and every year on Good Friday we go to the Cutud Lenten Rites Festival in Pampanga to watch people self-flagellate and get crucified.
It's kind of like a Filipino cross between the Life of Brian and the Passion of the Christ and is not for the faint-hearted. First Jesus is captured, and then on the walk to the site people whip themselves on the back before Jesus and various other people are taken to the crucifixion site and hung on crosses.
This festival really has to be seen to be believed! Join YPT on a tour with a difference.
Click here for more information.
---
Matt –
May Day National Holiday
North Korea
You know that feeling when Spring has officially sprung, summer is only one month away and the weather is absolutely glorious? That's May Day in North Korea. Which, after the cold winter months is extremely welcomed by everyone. As a result, May Day is a packed day of outdoor activities and there's a particular energy and excitement in the air.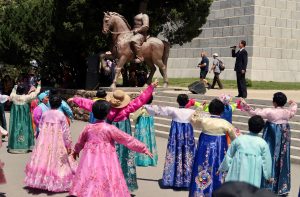 We usually start by heading to Mt. Taesong in Pyongyang, an area filled with amusement rides, families and friends picnicking, musical performances and locals playing games such as volleyball and other competitive games. What is surprising to many travelers is the amount of autonomy while we're here, as the group splits up and spends the afternoon however they like:
"So, wait, what?! You mean we can go off, do anything and meet here in an hour…by ourselves?!"
If you're prepared with some Korean phrases and ready with a smile, there's no reason you wouldn't be invited to join a picnicking group of welcoming locals out for the holiday (a 'chukbae!' (cheers) offering of soju always goes a long way too) or go head to head in an overly-competitive potato sack race.
I particularly like the feeling of May Day because it's also one of the few national holidays connecting North Korea to the rest of the world and other countries celebrating May Day, or, International Workers Day. To me, it's an example of how we're all not that so dissimilar from each other.
---
Eilidh & Ben –
Turkmenistan Independence Day
Turkmenistan
Turkmenistan Independence Day. Think North Korean Mass Games, now add Turkmen National dress, carpets, horses and yurts, and you've got the Independence Day concert.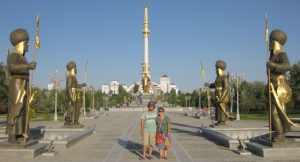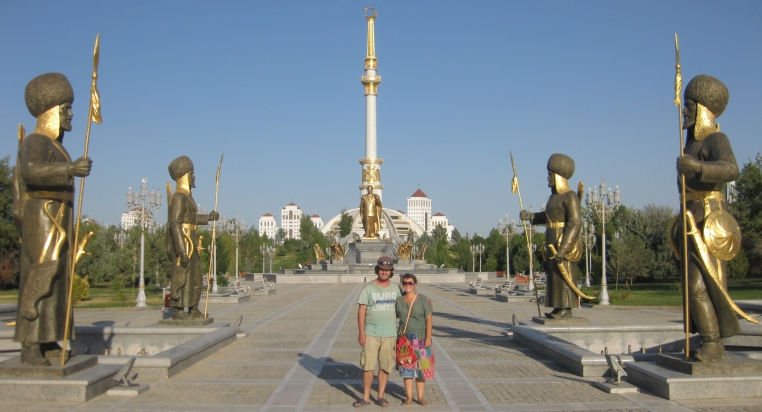 We're usually seated directly behind the President, because of course the other three sides of the stadiums are taken up by students and performers in columns or start shapes of matching coloured tracksuits, or holding materials to spell out words. In 2015 we were the first tourists to ever see this concert, and still every year we are the only ones.
Join YPT Central Asia for the here this year! 
---
Shane –
Eritrea National Day
Eritrea
On the 24th of May each year, Eritreans and their worldwide Diaspora put domestic politics aside briefly to celebrate their independence.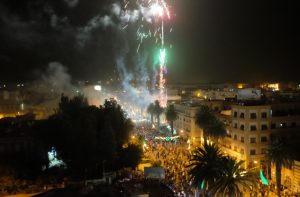 On this day in 1991, Eritrean People's Liberation Front forces moved into the capital Asmara, reinstating independence, following a 30-year-long battle against the Ethiopian military regime.
Typically in the days before the actual Independence Day, there are street concerts every evening featuring performers from all over the world. On independence eve there is a huge parade, fireworks display and street carnival atmosphere down Harnet street. As some of the few foreigners in town our groups were even interviewed for state TV. See the attached screenshot below!
On the 24th we were lucky enough to secure tickets to the military parade and show in the national stadium. We were seated just a stones through from the president's podium. It was a fascinating North Korea mass games – type event featuring thousands of performers all putting on a choreographed display for the president and his generals. There were more military officials in the stands there than civilians.
YPT run an annual tour to Eritrea, especially for this event.
Celebrations occur over the course of a week running up to the 24th and we're on the ground in Asmara from our central hotel – The Ambassador on Harnet Street to witness it all. 
---
Rowan –
National Day
North Korea
I have a few North Korean holidays I enjoy being in North Korea to celebrate but the next one I'm most looking forward to is the National Day holiday next year in 2018. National Day is on the 9th of September and it signifies when the DPRK became the DPRK back in 1948. What will make next year's celebration more exciting is that we are hearing early rumours that there will be a military parade held to highlight the national holiday being the 80th anniversary.
Contrary to what people assume, a military parade is not held in Pyongyang for every national holiday. However, the chances of a military parade being held when the anniversary hits a certain number like 45th, 60th, 105th, etc is very highly likely with Kim Jong Un making an appearance from Kim Il Sung Square.

Since foreign tourists were first allowed to watch the military parades since 2013, Young Pioneer Tours have attended every single military parade event held and they have certainly been very unique to watch.
We have three tours lined up to get you involved in the military parade action. Our 5 day National Day tour, our super cheap ultra budget national day tour, and our national day tour that includes a domestic Air Koryo flight up to the rural North East of North Korea for home-stay with a North Korean family.
About Post Author
.