Driving along the remote not-quite-dirt road in northeastern Turkmenistan, only a few kilometers from both Uzbekistan and Afghanistan, a strange shape on the side of a mountain up in the distance came into view. The landscape is very unusual around here – both green and fertile, interjected with odd rock formations in yellow, brown, red and orange. This thing was totally different though – a huge grey square carved into the side of a mountain is what it looked like from a distance.
But, in reality, our destination was actually a huge limestone slab perched at a 45-degree angle on the side of an otherwise green mountain. What makes this bizarrely placed limestone slab particularly note-worthy though is that on it is the world's largest known repository of dinosaur footprints. This isn't some conspiracy theory or something, or a story made up by locals based on myths and legends; this is the findings of world-renowned international scientists. And as you get closer, you realize just how unique and impressive this place is.
---
This bizarrely placed limestone slab sits on the world's largest known repository of dinosaur footprints.
---

Koytendag
As we arrived in Koytendag, the nearby village, everything was just lively and relaxed. Worlds apart from the pomp and ceremony of Ashgabat, there were people hanging around on the street, at the front of shops and houses, walking around laughing and talking. As we got out of our cars, we were immediately everybody's best friends and within minutes were exchanging phone numbers and VK details (a Russian site similar to Facebook widely used in Central Asia).
We happened to be visiting over the weekend of Health Day, one of Turkmenistan's many national holidays. Several industries had sent workers from the nearest big city, Turkmenabat, on holidays to Koytendag. So in a country where foreign tourists are so rare, in an area of that country where they're almost unheard of, we had the incredible experience of being here with hoards of local tourists. Having dinner in the village's one "restaurant", we were bombarded by a group of female doctors who wouldn't let us leave without a few shots. And a few attempted pick-ups of the males in our group.
"It was just like one big sleepover"
The guest house we were staying in (well the only guest house within a couple hundred kilometers), which would usually be lucky to have a handful of guests at a time, was totally full to the brim. We, of course, were given our rooms, but there were some sleeping four or five in two bedrooms, and we're pretty sure some people were sleeping in the dining room. Everyone was happy though – it was just like one big sleepover.
Dinosaur Plateau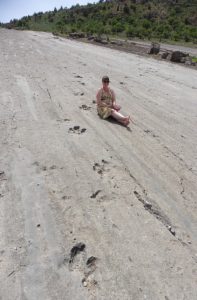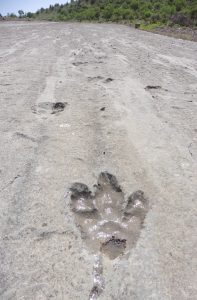 In the morning, after we were greeted with a "present" (a bottle of vodka and a couple of 2.5L plastic bottles of beer) from a fellow guest, we made our way to the fascinating limestone slab. It just became more and more impressive as we neared it. Again, the place was heaving with tourists from Turkmenabat. Unexpectedly there were also quite a few Belarusians who were doing one or two-year stints at a nearby joint-venture factory. After we parked, it took us about 45 minutes just to get from the car to the bottom of the walking track, being stopped by every person we passed to take a photo, exchange details, or simply have a chat.
"It was about 40 degrees Celsius, the incline was massive, and it was much further up the hill than it had looked from a distance."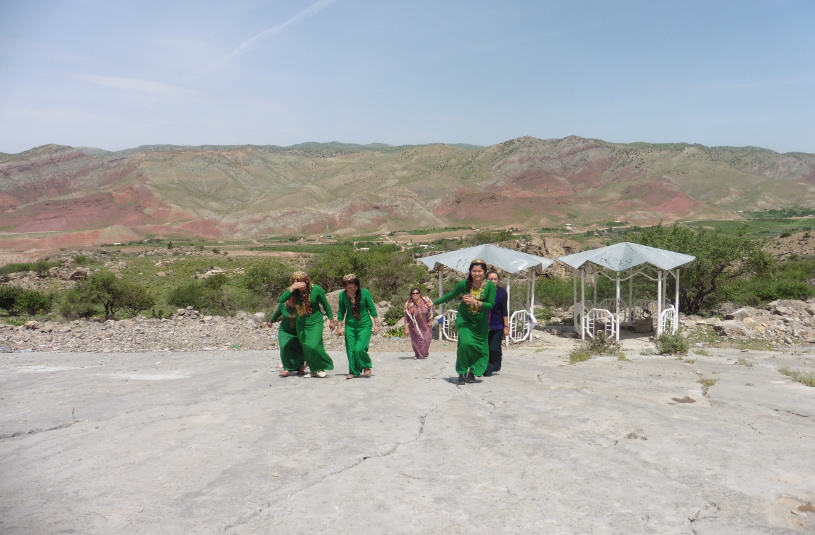 Beginning the ascent, trees were now hiding the limestone, and we started to feel like we'd never make it. It was about 40 degrees Celsius, the incline was massive, and it was much further up the hill than it had looked from a distance. Eventually though we made it through the throngs of interested Turkmens and wow, it was well worth it. There have been about 40 different species of dinosaur's prints identified, and we couldn't quite make out 40, but we could easily spot at least 20. There were huge ones, a typical sort of rounded three-toed shape, tiny bird-like ones, ones that seemed more like claws than anything else, and everything in between. Some of them were a bit faint, or in groups of only one or two prints, but many of them ran impressive threads right across the limestone. Totally flabbergasted (and also hot and exhausted), we sat down next to an impressive track near the bottom, and ended up staying there for ages taking a stream of selfies, self-timer and artistically posed photos with every local that passed.
This wasn't our only thing to see today though, so eventually, we had to say goodbye to this spectacular place and make our way down the hill. After a 20 minute conversation with a local English teacher who looked like she was about 100 years old, we made it back to the car and were on our way to the next spot on the itinerary.
---
Fancy checking this out for yourself?
Click here for more information on our tours to Central Asia, or
contact us for more details.
About Post Author
.