You've booked a tour to Turkmenistan, and you've got an extra day before or after the tour in Ashgabat, so you're wondering what to do with your extra time. Well you can explore Ashgabat by yourself, and there are plenty of things to do in the city that won't be on your main tour itinerary. "I thought I had to be accompanied the whole time I'm in Turkmenistan," you're thinking to yourself. Well the rule is actually that outside of Ashgabat, you must be escorted by someone approved by the government who's responsible for you, but inside of Ashgabat, the rule doesn't apply, and you're allowed to go around by yourself within the city.

Here are a few suggestions of things you might like to do:
Carpet Museum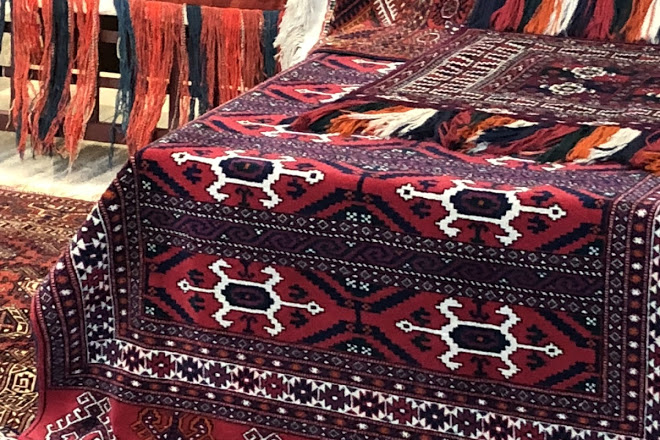 Do you like carpets? For most people, that's a resounding no; however, one thing that everyone has in common is a desire to see the world's largest carpet. The museum costs $10 to enter, sometimes they'll let you pay in Manat at the official rate (so it will actually cost about $3), but for those of you who only want to see the largest carpet and don't care about all the others, the good news is that you don't even need to pay. The largest carpet is actually in the lobby of the museum, so just go to the front, take a quick look and sneak a photo if you can, and you're done.
National Library
Whether you're a book lover or not, this library is incredible. You can take a tour for 20c – see the Ruhnama in whatever language you want, flick through old newspapers even from Turkmenbashy's days, get surprisingly close to Gurbanguly Berdimuhamedov's reading chair and browse all of the books written by the President.
Old Independence Monument
On all our tours, you'll visit the New Independence Monument, but at the other end of Independence Park, there's the seldom-visited old one. Like many buildings in Ashgabat, it's a strange-looking building, in the shape of a pyramid, surrounded by fountains, all of which are lit up in bright lights at night, of course. Most of the building is now a boring shopping centre, but on the top floor is a rooftop bar with air-conditioned glass booths and 360-degree views. It's a great place to have a beer and chill with spectacular views over some of the monuments, all the famous white apartment blocks and now the Olympic complex and horse stadium as well.
National Museum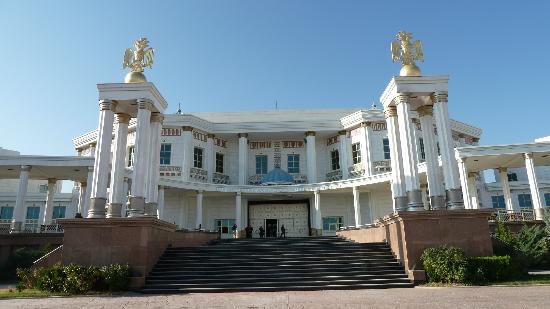 If you're interested in the ancient history of Turkmenistan, the National Museum is well worth a visit. A lot of the artifacts from Nisa and other Silk Road sites are preserved in this museum. Again it's $10 entry, though you might be able to pay in Manat at the official rate making it more like $3.
TV Tower
One of Ashgabat's many world records, this one is the largest structure in the shape of a star in the world. Of course, you need special permission to actually access the building, but you can get right up to about 100m away from the front entrance. Although the building looks weird and unique, built in the usual style of white and gold with pictures of Berdimuhamedov flanking the entranceway, it is the functioning TV tower for Ashgabat. Of course, you can't take photos up close, but if you go 200m away, you can quickly get a sneaky photo without the guards catching you. You'll also get great views over Ashgabat from the road on the way up.
If you are already booked onto one of our group tours to Turkmenistan why not extend your tour with a day trip of Ashgabat!
For more information regarding travel in Turkmenistan please click here to get in touch with one of our sales agents.
About Post Author
.