by Andy Khong
Bhutan, known as the "Land of the Thunder Dragon," is a small, landlocked country located in the eastern Himalayas. Nestled between India and China, Bhutan offers a unique and enchanting experience for travellers.

One of the remarkable aspects of Bhutan is its commitment to preserving its rich cultural heritage and maintaining its unique identity. The country is renowned for its stunning landscapes, including towering mountain peaks, deep valleys, and lush forests. Trekking through the Himalayan trails and exploring serene valleys allow visitors to immerse themselves in the country's untouched natural beauty.

Bhutan's cultural heritage is deeply rooted in Buddhism, and this influence is visible throughout the country. The iconic Tiger's Nest Monastery, perched on a cliffside, exemplifies the spiritual and architectural beauty of Bhutan.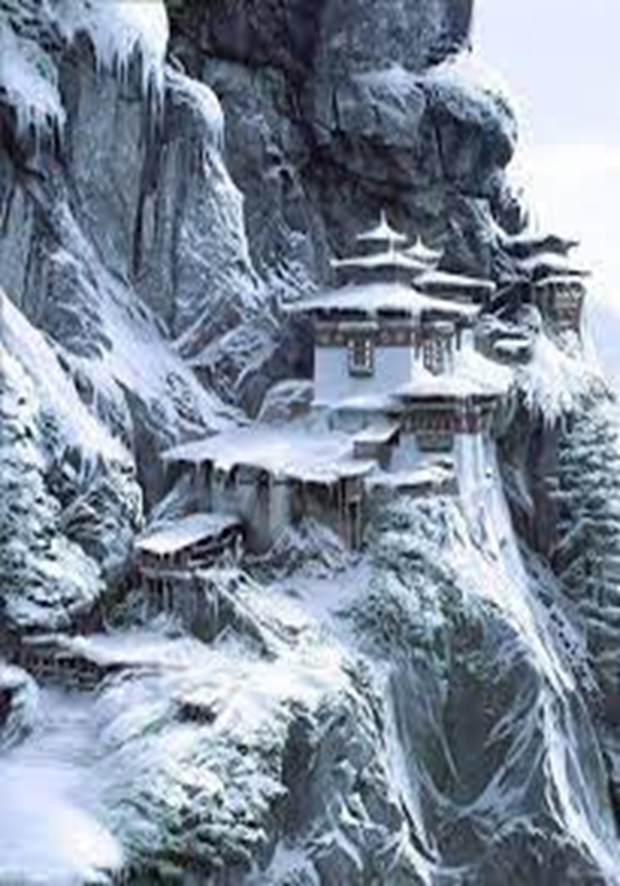 Tiger's Nest Monastery (Paro Taktsang) during winter.

The capital city, Thimphu, offers a blend of traditional charm and modern development, with attractions like the Tashichho Dzong, the largest Buddha statue in the country, and the vibrant weekend market.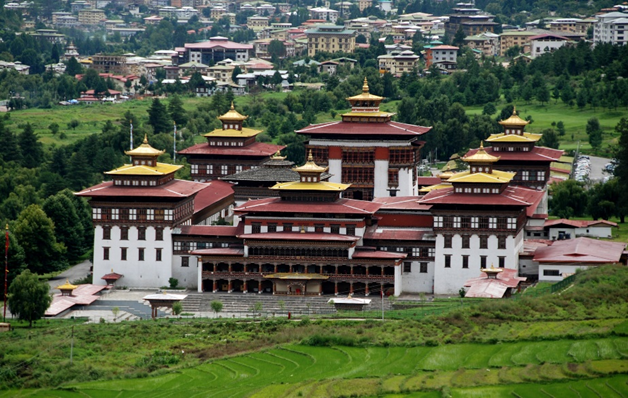 Tashichho Dzong, Thimphu.
The Punakha Dzong, located at the confluence of two rivers, is a magnificent fortress that served as the seat of government until the capital was moved to Thimphu. The Gangtey Valley, also known as the Phobjikha Valley, is a tranquil paradise famous for its migratory black-necked cranes and the Gangtey Monastery. In the remote Bumthang region, you can explore ancient temples, including the Jambay Lhakhang and Kurjey Lhakhang, which are revered as sacred sites. The beauty of Bhutan lies not only in its landscapes but also in the hidden gems that await your discovery.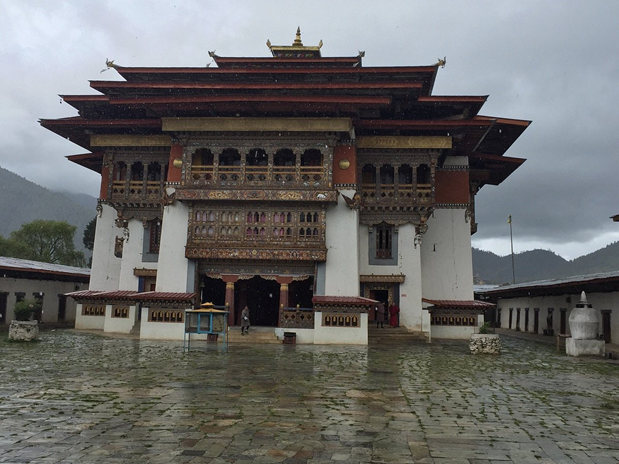 Gangtey Monastery, Gangtey Valley.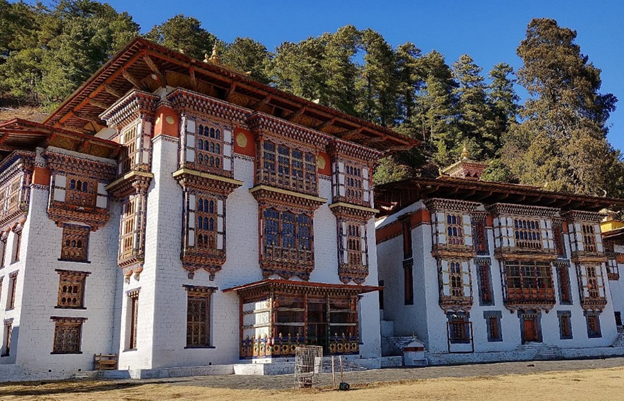 Kurjey Lhakhang, Bumthang.

The Bhutanese people take pride in their traditional way of life, and this can be experienced first-hand when visiting the country. Locals often dress in traditional attire, and vibrant festivals like the Paro Tshechu offer an opportunity to witness masked dances and religious rituals. Bhutanese hospitality is warm and welcoming, making visitors feel at home.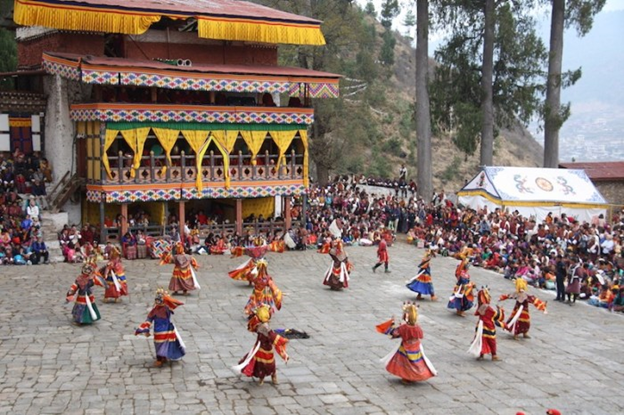 Paro Tshechu Festival.

Bhutanese cuisine is a delightful aspect of the country's culture. The cuisine is characterized by a unique blend of flavours and influences from Tibet, India, and neighbouring regions. The national dish of Bhutan is called "Ema Datshi," a spicy dish made with chili peppers and cheese. It is a staple in Bhutanese cuisine and is often served with red or white rice. Other popular dishes include "Phaksha Paa" (pork with red chili), "Momos" (steamed dumplings filled with meat or vegetables), and "Suja" (butter tea), a traditional hot beverage.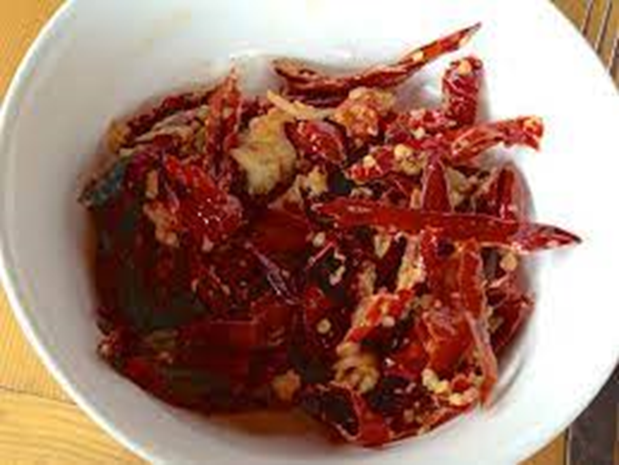 Ema Datshi – staple Bhutanese dish (chilli peppers and cheese).

In addition to its cultural and natural wonders, Bhutan stands out for its philosophy of *Gross National Happiness (GNH). The country prioritizes the well-being and happiness of its citizens over mere economic development. This unique approach to governance makes Bhutan a fascinating destination for those seeking a different perspective on life.

Bhutan's commitment to sustainable tourism is also worth mentioning. The government follows a "high-value, low-impact" policy to ensure that tourism does not harm the environment or compromise the country's cultural heritage. By visiting Bhutan, you contribute to the preservation of this extraordinary destination for future generations.

In conclusion, a visit to Bhutan offers a captivating blend of untouched natural beauty, spiritual tranquillity, and cultural richness. It is a place where you can find genuine happiness, peace, and a deep connection with nature. The warm hospitality of the Bhutanese people, their rich cultural heritage, and the delightful flavours of Bhutanese cuisine all contribute to making your experience truly unforgettable. Embark on a journey to Bhutan and let its charm captivate you.

* Read about Gross National Happiness (GNH) in detail:  https://www.youngpioneertours.com/gross-national-happiness-in-bhutan/ 

Previous Blogs on Bhutan: 

Why you should visit Bhutan  https://www.youngpioneertours.com/visit-bhutan/ 
Travel guide to Bhutan  https://www.youngpioneertours.com/travel-guide-to-bhutan/ 
Maps of Bhutan  https://www.youngpioneertours.com/maps-of-bhutan/ 
How to get to Bhutan  https://www.youngpioneertours.com/how-to-get-to-bhutan/ 


YPT's upcoming tour to Bhutan:  https://www.youngpioneertours.com/tour/bangladesh-bhutan-nepal-unexplored-south-asia-tour/ 

[Note: there are some recent changes to Bhutan's visa requirements and the current minimum daily spending policy. Please check with official government sources or consult YPT for the most up-to-date information]. 


About Post Author
.