One of the first questions I'm always asked by customers is how on earth I managed to get this job.
Most people only get the short version of the story: "Well, I travelled with YPT, hit it off well with the guides, and was lucky enough to get a 'yes' when I asked if I could come here." The real story is a bit longer and involves years of curiosity and hard work, coupled with six months of desire and perseverance.
---
Like any of YPT's staff, for a long time, I've had a deep fascination with North Korea. Coming from the United States, any media I ever heard was always critical and frequently absurd, and I certainly never considered North Korea as a place that anyone could visit. I began to seek out more information about the country, but wading through—or often drowning in—the nonsensical or overstated information makes finding the nuggets of truth difficult. And discerning between the two can be especially difficult for anyone who has never visited the country.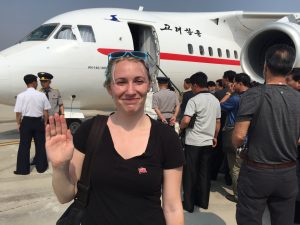 Boarding a domestic Air Koryo flight to Orang Airport
Eventually, during one of my frequent Internet browsing binges, I stumbled upon someone's pictures from their recent trip to North Korea. I looked through the images, fascinated. What struck me most was not the images of monuments or buildings, but simple images of people going about their daily lives. Yes, behind all the politics, inflammatory news articles, and crazy rumours, here there was a country with millions of people who wake up in the morning, go to work, and come home to their families in the evening just like the rest of us. One day, I thought, I'll see this for myself.
After that, life took me in many directions, working as a wilderness guide in the Sonoran Desert, an ambulance driver in Albuquerque (Breaking Bad fans?), meeting my other half, and eventually winding up in Hawaii to finish University.
During my studies I was introduced to a great professor who taught about Asian politics and governments, including North Korea. I never had trouble paying attention in his class and soaked up everything I could. One day, during a lecture about North Korea, he suggested that everyone should visit the country if they get the chance. I approached him later, and he enthusiastically asked me if I was considering a trip and encouraged me to go.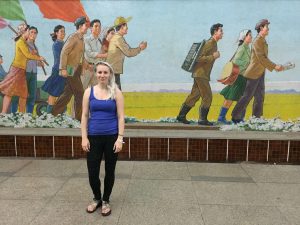 I began researching tours to North Korea nonstop, at first looking at trips for after graduation but ultimately deciding I didn't want to wait that long and would go in just a few months. I picked YPT based on a combination of their availability of a three-week long tour (All Koreas Tour), their great reviews, and of course their low cost (much friendlier for my student budget). If I was going to pay to go all the way to North Korea, I wanted to see as much as I possibly could—five days wasn't going to cut it for me. I contacted YPT, was put in touch with Rowan, booked my tour, and eagerly counted down the days over the next few months before my departure.
To say my trip to the DPRK was an incredible experience feels like an understatement. I know the cliché of travelling abroad being a life-changing experience, but there was truly something about this trip that was just that.
In Pyongyang I stayed up late every night, hanging out with a huge group of amazing travellers from all over the world. The last night of my tour in Pyongyang I said bittersweet goodbyes to the half of the group that was leaving, before departing in the morning on a domestic flight to Orang for our tour of the extreme northeast.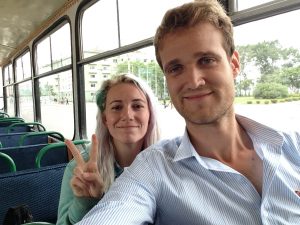 Riding the Chongjin trolley car with Rowan
In the northeast, I got to see rural Korean life, the amazingly beautiful scenery of Mt. Chilbo, and play with the most adorable children at the homestay village. After two long (yet somehow not long enough) weeks in North Korea, we then spent a week road-tripping in the China-DPRK borderlands, visiting Mt. Paektu (from the Chinese side), staying at some really strange hotels, and getting an interesting glimpse into DPRK-China relations. At the end of our crazy three weeks, YPT guide Rowan and I hung out with some DPRK football players on the train back to Beijing and reminisced about the experience. Three weeks together had made us great friends, and at the end, I sadly hugged all the YPT guides and departed back to America.
The flight home was an emotional experience. On one hand, I was excited to arrive home and reunite with my family and friends. On the other hand, I felt like I was leaving a huge piece of myself behind in China and Korea and I longed to return. I thought about what a dream job working at YPT would be, but knew I needed to focus and finish up my schooling. I settled back into my life at home, sharing my experience with others as often as I could and continuing my studies on North Korea.
Shortly after I got home, YPT guide Charlotte wrote a blog post about how she managed to wind up here. I remember reading that blog last year, after returning from my trip to the DPRK, and the pangs of envy I felt wanting to go back. The fire was lit, the desire was unrelenting, and I committed myself to diligently working towards the goal of getting a job with YPT after finishing school.
Graduation Day!
As I continued my last year at University, I kept in touch with Rowan and the YPT crew, and a few months before graduation approached Rowan about the possibility of coming to work with YPT. Over the following months as I finished school, Rowan and I continued discussing and finalising plans for me to join the team, and a week after graduation I packed up my bags and headed back to Beijing—this time with no return ticket.
I've been with Young Pioneer Tours since the beginning of the year and the spark that brought me here in the first place continues to grow. Many of those who've travelled with us to North Korea know the draw I'm talking about, there's just something captivating about the country and the people that can never be appropriately expressed in a blog or a photograph. Though I've worked some amazing jobs in the past, YPT is on a whole different level for me and I'm constantly excited for what the future at this job will continue to bring.
To top it all off, Rowan and I will be returning to the Northeast together next month, and you can certainly expect a few robust 'cheers' in honour of the long journey from my first tour to working as a guide.
Thinking back to reading Charlotte's blog last year, I can't help but imagine all of you out there reading this and the excitement of knowing some future YPT staff are out there in the mix. And when your day comes, I look forward to reading you 'how I got hired' blog as well.
Until then… hope to see you in the DPRK!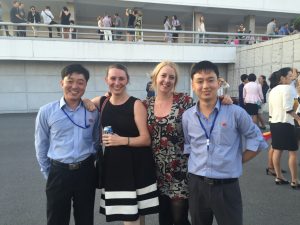 Celebrating National Day in the DPRK as a YPT guide!
About Post Author
.