When it comes to travelling in the Pacific, one Airline is becoming more and more of a big player. That airline is Air Niugini. The national airlines of Papua New Guinea has a fleet bigger than any of the other nations of the Pacific (with the exception of New Zealand and Australia) and seems like it has wind in its sails, err, wings with expansion, both domestic and international.
History
While Air Niugini doesn't have an history as interesting as, say, Nauru Airlines, it still has a few facts worthy of mention.
Air Niugini was the first non-Australian airline to operate in Papua New Guinea at the time of its formation in 1972. At the time, the government of Papua New Guinea owned a share of 60% of the company, with Quantas, TAA and ANSETT mentoring the project with the rest of the shares.
The creation of Air Niugini established a number of domestic routes which allowed locals and tourists alike to visit regions that were inaccessible before as they were only deserved by chartered flights or, simply not deserved.
In 1975, the airline became international, with its first flights to Australia, Manila and Hong Kong. In 1980, it was helmed for the first time by a Papua New Guinean, Joseph Tauvasa.
Since then, the company has been steadily increasing its offer.
The domestic fleet
When it comes to the Domestic Market, Air Niugini is extremely important. There are only two airlines in Papua New Guinea. Air Niugini, which is owned by the government, as well as PNG Airlines, a smaller, privately owned, Airline. Considering that PNG is a country made-up of many islands but also that the mainland of the country has yet to be fully connected by roads (it is impossible to go from, say, Mont Hagen to Port Moresby overland), air travel is still essential to connect the people of the country. As such, most of the cities of PNG have an airport with daily flights. In most cases, the capital Port Moresby, acts as the central hub and people wanting to go between two other cities will often have to transit through the capital first. The annoying thing is that most Air Niugini flights are in the morning, which means that often, going from city A to city B involves staying in Port Moresby for a night. Luckily, Port Moresby now has plenty of accommodation options and Port Moresby Jackson Airport is manageable and quite well-organised.
Travelling Air Niugini on domestic flights make for an interesting and fun experience hard to find elsewhere in the world. Most notably, some of the airports still provide you with handwritten boarding passes and write the schedule of the day on a white board. Flying is also memorable as, on more difficult terrain, Air Niugini still uses propeller planes.
On the Domestic front, the flight of Air Niugini consists mostly of Fokker 100 and Fokker 70 following the renovation of most landing strips to accommodate those bigger planes. Most flights last about an hour so don't go expecting too much in terms of service, a snack is served and sometimes beverages. It is funny to also consider the irregularity of the service. On one flight, the safety announcement might be done in English and Tok Pisin, on the other only in Tok Pisin and sometimes, simply not done at all.
Last but not least, on some of the domestic flights you'll be given Air Koryo's Mystery Burger long-lost cousin!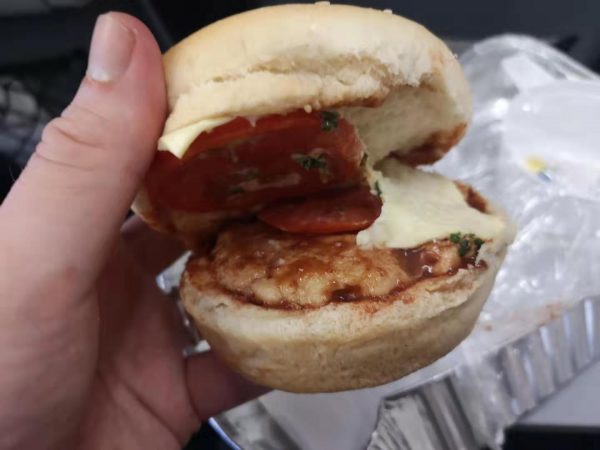 The international fleet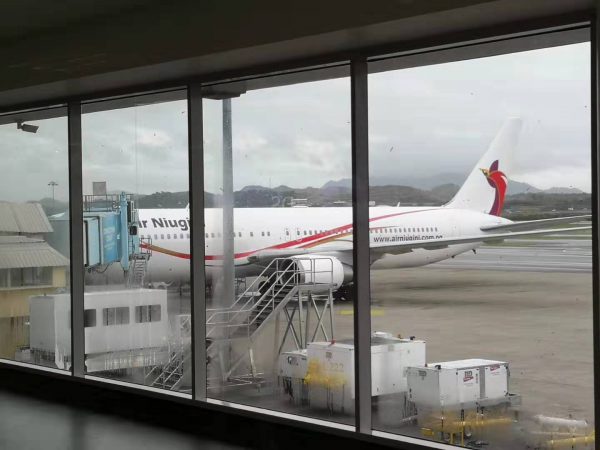 Air Niugini is trying to expand its reach around the world and connect Papua New Guinea with more countries of the Pacific. At the moment, there are daily flights to and from Manila and Australia but also frequent flights to Hong Kong, Fiji and Singapore. There are also seasonal flights to and from Tokyo.
Interestingly for travellers around the country, Air Niugini has a flight that goes from Port Moresby to Port Vila in Vanuatu, stopping in Honiara. This flight is, for many in Asia, the easiest way to reach those countries at the moment.
On its international flights, Air Niugini relies on its Boeing 737-700 and Boeing 737-800 (one of each). The 737 also operates some of the busier flights to Manus and Lae. The planes are quite comfortably arranged. It is much more than one would expect from an airline of the Pacific, with each seat equipped with an entertainment system. The food service, too, is not too shabby!
If you travel to Papua New Guinea, chances are that you will fly Air Niugini. It is an airline of the Pacific, so cancellations do happen and service can sometimes be… interesting with cancellations left not notified. However, the staff of Air Niugini are generally very helpful if you give them a call (emails are very hit or miss) or visit them at one of the office spread out around the country. The website, also, is quite functional so that is not a problem.
About Post Author
.