Central Asia Tours/Turkmenistan Independent Tours
Turkmenistan Overview
One of the most closed countries in the world, with even fewer tourists every year than North Korea, Turkmenistan is a truly unique place. Far from the beaten track, you will spend the entirety of your time in Turkmenistan being in awe of something, whether it be the "Dictator's Playground" as Ashgabat has come to be known, the giant flaming crater called the "Gates of Hell", the futuristic, unfinished, ghost town of a beach resort, Avaza, the incessant statues and pictures of the President and the former President, or the spectacular and completely untouched natural phenomenons of the Karakum Desert.
If our dates don't suit, the itinerary isn't what you're looking for, or if you'd simply prefer to travel alone, please contact us to arrange an Independent Tour. The types of tours that we can tailor for you are endless, including but not limited to 4WDing, hiking, natural sites, sporting, cultural, ancient cities and many more. If you have any suggestions of what type of tour you'd like to do tell us your idea and we'll see what we can do for you.
YPT Central Asia Group Tours
2017
| Name of Tour | Start Date | End Date | Details |
| --- | --- | --- | --- |
| Uzbekistan and Turkmenistan Secrets Tour | May 22nd | June 2nd | $1895 Tashkent – Uzbekistan – Fergana – Tashkent – Samarqand – Bukhara – Khiva – Darvaza – Ashgabat 11 nights, 12 days |
| Turkmenistan and Uzbekistan Summer Combo Tour | August 20th | August 29th | $1645 Ashgabat – Turkmenbashy – Ashgabat – Khiva – Bukhara – Samarqand – Tashkent 8 nights, 9 days |
| Turkmenistan Photography Tour | August 20th | August 29th | $2695 Ashgabat – Turkmenbashy – Kipchak – Kow Ata – Ashgabat – Mary – Turkmenabat – Kugitang – Turkmenabat – Ashgabat 8 nights, 9 days |
| Central Asian Summer Combo Tour | August 20th | September 6th | $2895 Ashgabat – Turkmenbashy – Khiva – Bukhara – Samarqand – Tashkent – Bishkek – Karakol – Bishkek 17 nights, 18 days |
| Silk Road Summer Combo Tour | August 20th | September 12th | $3095 Ashgabat – Khiva – Bukhara – Samarqand – Tashkent – Bishkek – Kyzyl Suu – Naryn – Kashgar – Hotan – Kuqa – Turpan – Urumqi 23 nights, 24 days |
| Kyrgyzstan Independence Day Tour | August 29th | September 6th | $1245 Bishkek – Karakol – Kyzyl Suu – Bishkek 8 nights, 9 days |
| Kyrgyzstan Independence Day and Xinjiang Far West Combo Tour | August 29th | September 12th | $1995 Bishkek – Karakol – Son Kol – Bishkek – Kashgar – Hotan – Kuqa – Turpan 14 nights, 15 days |
| Xinjiang: China Far West Tour | September 6th | September 12th | $795 Kashgar – Hotan – Kuqa – Turpan 6 nights, 7 days |
| Turkmenistan Indoor and Martial Arts Games | September 14th / September 14th / September 18th | September 25th / September 21st / September 25th | Ashgabat 12/8/8 days |
| Turkmenistan Independence Day Budget Tour | October 26th | October 29th | $895 Ashgabat 3 nights, 4 days |
| Turkmenistan Independence Day Tour | October 26th | November 2nd | $1295 Ashgabat – Avaza – Ashgabat 7 nights, 8 days |
2018
Ashgabat
Ashgabat, the capital city of Turkmenistan, is a sea of sparkling white and gold. Every building is made of white marble, and every trim is gold. Gold statues and busts of the President and former President flank the corners of every wide boulevard, and greet you on the way into every building. Images of prize horses, Turkmen carpets and the Turkmen coat of arms flash up on giant gilded television screens. We will visit the largest indoor ferris wheel in the world called the Wheel of Enlightenment, the statue of the Ruhnama, the book that Turkmenbashy wrote, the Monument to the Constitution, the Arch of Neutrality, and the giant thermometer, just to name a few. We might even get a chance to visit one of the many book and carpet exhibitions devoted to the President.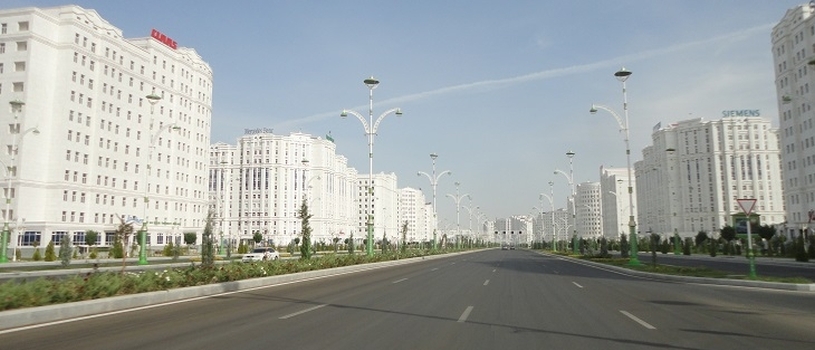 Around Ashgabat
Kow Ata
After several days of dry, dusty, Turkmen desert, you'll be relieved to descend 100m through a cave to Kow Ata, a natural underground lake. The vibrant blue, mineral soaked, thermal lake, is the perfect place to relax. We certainly won't be the only people here though since it's a very popular hang-out spot for locals of all ages. Then when your body is suitably refreshed and cleansed you can enjoy a freshly cooked kebab and a bottle of chilled Turkmen Cola from one of the stands in the car park.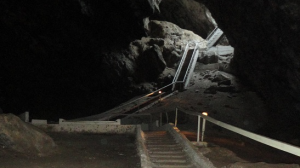 Nokhur Village and Cemetery
This almost-untouched village is a gem of traditional Turkmen culture, set in the Kopet Dag mountains on the border between Turkmenistan and Iran. Meet the people of the Nokhuri tribe, stay in a homestay overnight, and visit the unique cemetery in which the graves are adorned with the horns of mountain goats – one of the many relics of ancient tribal beliefs which has been incorporated into their modern Turkmen version of Islam.
Nisa
Nisa was once the capital of the Parthian Empire, one of the world's major powerhouses for some 600 years. Now a UNESCO site, beautifully nestled into the base of the mountains and surrounded by desert, it is hard to believe the thousands of years of history that this place holds. Although destroyed, there are extensive remains that can be visited, and it's still possible to make out the shape of the city.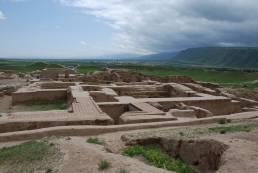 Turkmenbashy Mosque and Mausoleum, Kipchak
Adorned with a magnificent gold cupola and flanked by four 91m tall minarets (to represent Turkmenistan gaining independence from the USSR in 1991), this resplendent mosque is the largest in Central Asia. Built in honour of Turkmenbashy's mother, the space is said to be big enough for 10,000 worshippers, though it is usually empty. Words from the Ruhnama are carved into the magnificent marble walls, and the largest handwoven carpet in the shape of star lies in the centre. Next door is Turkmenbashy's mausoleum, a smaller version of the shimmering white and gold mosque, where he is buried next to his beloved mother, father and two brothers.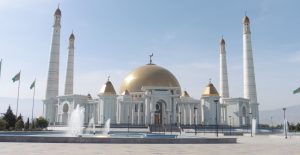 Geok Tepe
This is the site of the horrific massacre that lost Turkmenistan to Russia in 1881. General Skobelev was the general responsible and it is said that he commented on the massacre with the words "the harder you hit them, the longer they stay down". Every year January 12th is devoted to mourning the loss of some 50,000 Turkmens (mostly civilians) and a mosque with spectacular turquoise domes has since been built on the site as a commemoration.
West
Turkmenbashy
One guess who this town is named after… you got it, the great Turkmenbashy. Sitting on the Caspian Sea, this is Turkmenistan's port town. It doesn't have the glitz and glam of Ashgabat, or the breathtaking awe of Darvaza, but there is something charming about the simplicity of this ex-Soviet seaside town and you might even get a chance to meet some locals.
Avaza
This partially built futuristic ghost town, intended to be Turkmenistan's luxury beach resort, is almost entirely void of humans at all times. A selection of 5-star hotels, nightclubs, leisure centres and restaurants, all white and gold, and all extravagant and glamorous, line the coast, just sitting there waiting for the streams of tourists. All the facilities are there, it's just somehow completely lifeless, and aside from an army of cleaners, we may well be the only people there.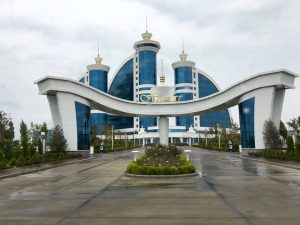 Yangykala Canyon
Think Uluru meets the Grand Canyon. With streaks of yellow, pink and red dissecting the steep canyon walls, this is a breathtaking natural attraction. The cliffs of the canyons are up to 100m high, and they stretch 25km through the Karakum Desert. If it was in most other countries this would surely be world famous, but since it's in Turkmenistan noone has ever heard of it. Many Turkmens don't even know that this place exists.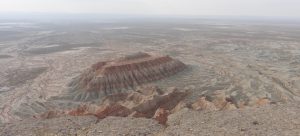 Mud Volcanoes on Cheleken Peninsula
An unbelievable natural phenomenon, these mud volcanoes are the result of intense pockets of natural gas bubbling below the surface of the earth, causing the mud to erupt in a collection of volcanoes. The pockmarked land with an array of large and small volcanoes creates an eerie moonscape like vision. You can either view from the edge of the mud plains, or if you don't mind getting your feet dirty you can get up nice and close and watch the mud simmer and erupt.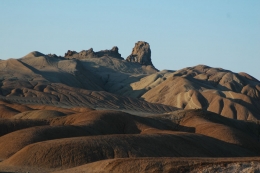 Central
Darvaza (The Gates of Hell)
One of the world's most awe-inspiring sights, this flaming gas crater really does look like it is the gates to hell. Far from civilisation and accessible only by 4WD, the glow from the fiery pit stretches for miles. The result of an explosion during a failed Soviet exploration in 1971, the 70m wide crater was set alight in an attempt to burn off the vast amounts of natural gas that was seeping into the atmosphere. Having never come across such extreme quantities of natural gas before though, they had no idea that there was in fact a big enough supply there to continue burning for hundreds of years, and has been on fire ever since. There is not a single signpost, warning sign or barrier, and noone has set up a shop or restaurant. Plans have been around for several years to shut it down because of environmental reasons, so if you don't get in quick, you might miss out. We'll camp nearby, literally in the middle of nowhere.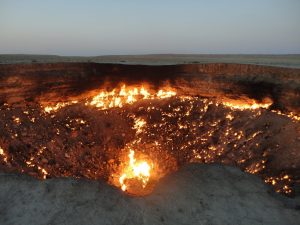 Erbent
One of the few nomadic villages left in Central Asia, this is your opportunity to see the Traditional Turkmen way of life. The Erbent villagers hand-make their own felt, bake bread in a traditional fire-oven, and milk camels to turn into Chal, fermented camel milk. Depending on the season we may even get to see them set up their yurts.
North
Dashoguz
Turkmenistan's third largest city, this is both a typical Soviet outpost and a mini-Ashgabat. There are even fewer tourists here than in the rest of the country, so be prepared to have some strange looks thrown your way. This is the border town backing onto Uzbekistan and the launching pad for Konye-Urgench.
Konye-Urgench
Once a thriving metropolis, this ancient city has been destroyed many times over the centuries, but is still home to some of the most interesting mausoleums and buildings in Turkmenistan. Sultan Tekesh Mausoleum is distinguished by its vibrant blue dome, the inside of which is covered in paintings of constellations, Il Arslan Mausoleum has an unusual shape, the pointed top of which sports a criss-cross pattern in the bricks, and Gutlug Timor Minaret, rising 63 metres towards the sky, was once used as a lighthouse to guide caravans through the desert.
East
Mary
Located in a large oasis in the Karakum Desert, Mary is Turkmenistan's fourth largest city and the main centre for the gas industry which contributes the majority of the country's economy. There is a fantastic museum of ancient artefacts that have been excavated from Merv, alongside displays of Turkmen carpets, national costumes, and precious stones. Only a stone's throw from the ancient city of Merv, this is the ideal place to stay while you're visiting the ancient city.
Merv
Merv is the oldest and best preserved ancient oasis city along the Silk Road. Now UNESCO listed, several areas of the city are able to be visited, each part showcasing a different aspect of the rich history of the area. There are towers, city walls, fortresses, temples and mausoleums, the most notable of which is that of Sultan Sandzhar Dar-al-Akhir which reaches forty metres into the sky, topped by an almost completely intact brick dome. Legend has it that he unknowingly married a fairy and when he discovered what she was, she left him and returned to heaven. He begged her to stay though and she compromised by promising that if he built her a special building, she would return as a pigeon for one night a year for the rest of eternity. This building became the Sultan's mausoleum and locals believe that the small hole in the top of the dome, directly over Sanzhar's grave, is for the fairy pigeon to come down to her husband.
Turkmenabat
The capital of the Lebap district, and a stone's throw away from the Farap border crossing with Uzbekistan, Turkmenabat is a nice mixture of Ashgabat's shiny modern architecture, and the more realistic suburbs of the regional cities. The markets in Turkmenabat, whilst not as extravagant or iconic as the Tolkuchka Bazaar, are a real delight, and this is your best bet to find local sporting clothes. But the highlight of your trip to Turkmenabat must be the Lebap Regional Museum. With everything covered in white marble and trimmed in gold, the museum fits perfectly with the glitzy ministry buildings of modern Turkmenistan. This impressive museum is filled with colourful displays of all things presidential, dioramas of ancient Turkmen life, a spectacular recreation of a traditional bazaar, and even a life-sized yurt. Then to top it all off there are models of whole caves, a depiction of the Dinosaur Plateau, but with dinosaurs on it, and an impressing range of taxidermy of local wildlife.
Kyrk Gyz Cave
In the remote corner of far eastern Turkmenistan lies a cave. As you leave the dirt trail and enter the cave it seems that there is something strange, but it's only after a few moments that you realise that the thick layer of stalactites dangling from the ceiling are in fact cloth rags. Legend has it that anyone who can fling a mud pie with a cloth attached to it, and make it stick, will have a wish come true.
Dinosaur Plateau
Walking up onto the Dinosaur Plateau, you'll see the largest repository of dinosaur footprints in the world. Although it sounds crazy, this is the scientific explanation, and there are other places where similar footprints have been found. Nowhere else has this many though. Discovered in 1980, the limestone slab that sits at a 20 degree angle on the side of the mountain, is covered in pre-historic footprints ranging from 20-70cm in size. Although scientifically explained as this, one local legend tells us that the plateau was a place where white elephants gathered to perform sacred dances, and another tells us that the footprints are those of battle elephants brought by Alexander the Great. Regardless of what you want to believe the story to be, nobody can dispute that it's a spectacular sight.