Pyongyang Marathon FAQ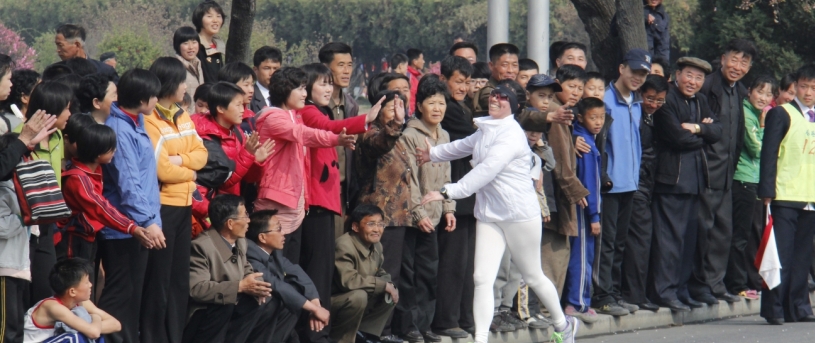 The Pyongyang Marathon is formally known in the Democratic People's Republic of Korea (DPRK or North Korea) as the Mangyongdae Prize International Marathon. It is held every year on the Sunday before the President Kim Il Sung's birthday (April 15th). It is ranked at present by the IAAF as a Bronze Label Road Race.
It begins and ends at the Kim Il Sung Stadium in Pyongyang. The race was opened to amateur runners and tourists in 2014 and will welcome any participants for future tours. There are three different distances available to runners: the 10km race, half marathon and full marathon.
The course begins at the Kim Il Sung Stadium then passes the Arch of Triumph, Friendship Tower, Eternal life Tower, Kim Il Sung University, Kumrung Tunnel No.2, Chongryu Suspension bridge, Munsu street , Rungra Bridge, Kurung Tunnel No.1, Ansangtaek street, People's Army acrobatic theatre and back to the Arch of Triumph. The 10km runners will complete one lap of this course and finish at the Arch, the Half and Full Marathon runners complete 2 and 4 laps respectively and finish in Kim Il Sung Stadium.
Asides from comfortable running clothing, entrants are also required to bring a tracksuit (jacket and trousers) for attendance of the opening and closing ceremonies. The size and number of any logos on clothing is regulated according to IAAF regulations, however the Pyongyang Marathon is notable for an extra rule – no American or Japanese flags are allowed on any items of clothing.
At the current time the entry fees for the marathon and time allowances are as follows, those may be subject to change by the ministry of sport or the Pyongyang Marathon Committee.
| Marathon | Distance | Cost of Entry |
| --- | --- | --- |
| Full | 42km/26 miles | $110 |
| Half | 20km/12 miles | $80 |
| Mini | 10km/6 miles | $60 |
A race timer is included in the price above. The maximum time limit for the full marathon is 4 hours, half marathon is 2 and a half hours and the mini marathon is 2 hours. All running participants will receive a Pyongyang marathon certificate titled to you, with the top three men and women in each distance receiving ceramic vases at the awards ceremony held in front of 70,000 people!
Registry for all marathon runners is on a first come first served basis and limited to 1500 runners in total, so if you wish to run, book now!
What do our runners from the 2014, 2015 and 2016 marathon say about us and the marathon?
"Pyongyang Marathon is an absolute must. Finishing the run with a lap around the stadium infront of 50,000 people was amazing. YPT tour guide (Chris Kelly) was excellent – had sound information on NKorea and Pyongyang, joined in all the fun and made it an unforgettable experience"
"What an unbelievable experience. We did the Pyongyang marathon which was one of the best experiences of my life – 70,000 people going mad in the stadium and the start and finale and more cheering you through the streets – as a non-professional athlete I would go just for the experience of feeling like one."
"I did the Marathon tour in April 2014 with YPT, and it was a blast! Had a great group of people and the whole experience was amazing… I would love to see more of the country, and when I go back I'll definitely join YPT again."