"My visa has been delayed"
These were the words we didn't want to hear on the eve of YPT's first ever tour to Saudi Arabia.
But our guide Marko was not exaggerating. His flight had been delayed too, things are never easy in this part of the world it seems.
So we faced a historical first for YPT, a tour going ahead with no guide! Fortunately, one of the people to sign up for the tour was none other than "wacaday backpacker" and Friend of YPT Jonny Blair, who was able to step into the breach for the first 24 hours.
An auspicious start to our first ever tour, but crisis averted, and the main thing was that we had a group in Saudi, soon enough with a guide too, and we had done what is really not easy to do.
The gossip is always that Saudi Arabia is going to open up to tourism, is going to start issuing tourist visas, but for us, we're not going to believe this until the day we can go to an embassy with the relevant documents and are met by a friendly smile on the face of a Saudi consular agent, a scenario we can well imagine not happening for another decade…
But we were in the country that is often the bane of the country collector, with a notoriously difficult visa, the Kingdom of Saudi Arabia.
We stayed in the kingdom for a packed 10 days of travel. Unfortunately, probably the most famous site, Mada'in Saleh, is closed for renovations that could take years, though you never know, this may be a sign that they really are preparing for tourists.

---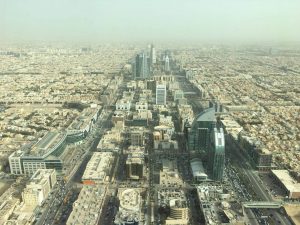 We spent 4 days in Jeddah, a city on the Red Sea coast, exploring the alleys of the old town and the very traditional souq, the old north gate, traditional housing, a coffee museum, and café, as well as of course the Al Shafi'I Mosque.
Going out to the rose festival in Taif was a great way to get out of the city and remind ourselves that Saudi is not just desert! We also stopped at the crossroads where the road split off the route to Mecca, inaccessible to our group of course.
Our group then took a domestic flight to the city of Ha'il, toured ancient sites and quirky museums in this historical city, headed out to the desert at Mashar National Park and out to see the ancient city of Jubbah complete with petroglyphs, before taking the train to Riyadh, an experience in and of itself!
Riyadh is all you could imagine of a modern Middle Eastern capital. From the Skybridge at the Kingdom Centre to the impressive Masmak Fortress, this is a city that just didn't seem to be like any other in the region we know.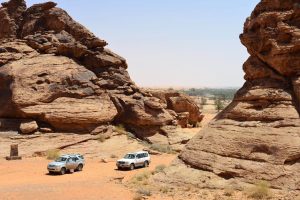 For our first trip to Saudi, we managed to combine many sites historical and modern, lots of drifting amongst the local people, getting out of the main centers and generally getting to know a part of the wider region often inaccessible to travelers.
See more photos here.
---
Tourist visas may become easier or may not, but if you want to come to the Kingdom of Saudi Arabia with Young Pioneer Tours, then watch this space for coming tours!
About Post Author
.