Socotra has always been a prized destination for travelers. It's outlandish flora, gorgeous beaches and dramatic mountains really have everything to charm anyone. Needless to say, it is also of great attraction for those who want to visit Yemen, but do not dare just yet to visit the Mainland as Socotra is very much safer. For a long time, Socotra was disconnected from the Middle East as it did not have any flights scheduled to its airport but nowadays Yemenia has been offering regular weekly flights there. Getting to Socotra was extremely hard.
Flights to Socotra with Yemenia are scheduled on Wednesdays. Every Wednesday, the flight departs from Cairo International Airport Terminal 2 around 2:00 AM and arrives in Socotra around 8 AM. The other way around, flights leave from Socotra on Wednesday also, around 9:45 AM and are supposed to reach Cairo in the afternoon. Flights are notorious for being late however. You also won't find them available on the internet and will have to buy them from a shop (YPT can help you with that, or you can join us on tour).
Boarding the flight
Get to the airport early! Socotra is not exactly Brussels and any kind of delay, changes, and irregularities might happen. By getting there early, you'll have more time to react if there is a situation. If there isn't any situation, you can just walk up to the check-in counter of Yemenia for their flight to Seiyun (it won't be written Socotra on the board) and get your boarding passes. At the check-in counter, you'll be asked to provide a copy of your Entry visa permit (We can arrange that!) and can then proceed to the get.
The Flight
From Cairo to Socotra, the flight is supposed to leave at 2:00 AM and stops in Seiyun around 5:40. Please note that there is a one hour time difference between Cairo and Yemen. A simple and not so delicious meal will be served on board. Around 5:40 AM (6:40 AM Yemen time), you should arrive in Seiyun and do a stop there for 45 minutes. Passengers heading to Socotra have to stay on the plane during this layover. In Seiyun, passports are taken by the cabin crew to be checked by the local authorities but no stamping is done there. It is also an opportunity for the staff to clean the plane and to refill fuel. The flight then takes off and it is another hour before arriving in Socotra.
The flight is served by Yemenia's own Airbus 320, in a 3X3 configuration.
Arrival in Socotra
Socotra Airport is small but functional. The tour company you have arranged your tour with (such as us) will collect your passport and get you stamped in as well as get your visa processed. You will also be given an exit slip, which you have to keep with you during your stay in Socotra.
You'll then go through X-ray. Since the airport is now managed by the Saudis, alcohol is now confiscated upon entry in Socotra. Gone are the days where the Emiratis allowed one bottle of one litter of alcohol per person.
Departure from Socotra
Get to the airport two hours before your flight. You'll first be taken through a safety scan and then asked to show your passport and a printed copy of your ticket details at the check-in counter. You'll then go through a second scan before being quickly stamped out of the counter. Socotra airport is actually quite nice but also too new. It is supposed to have a restaurant and an VIP lounge but both are not opened yet. It still has nice couches and AC.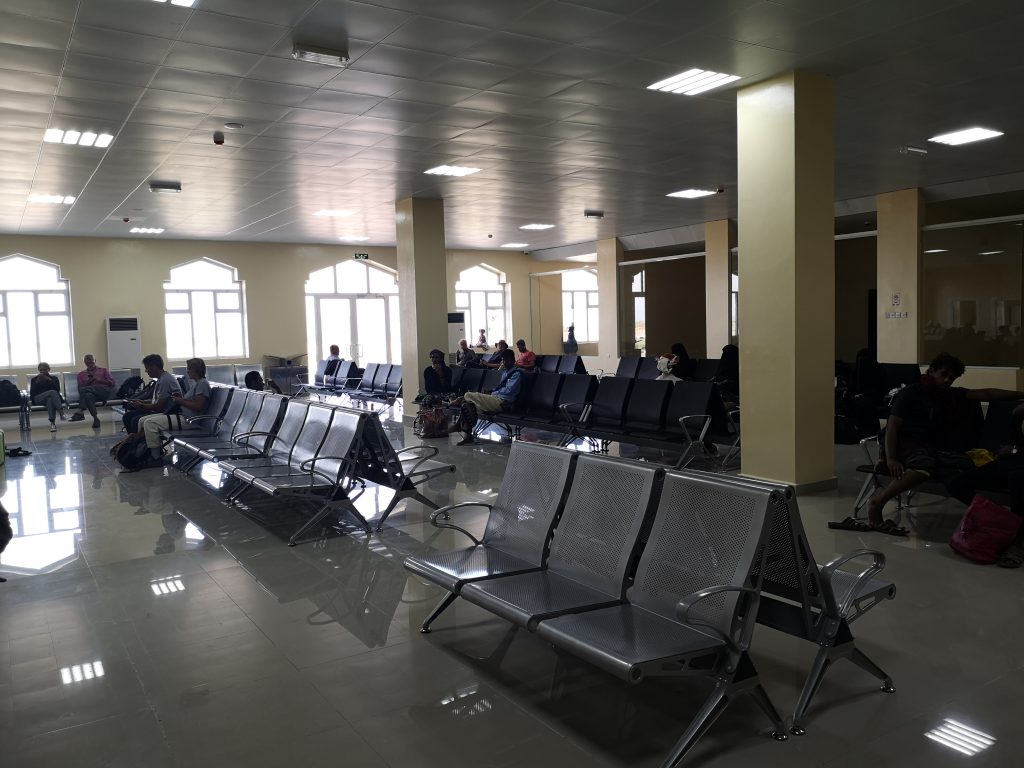 That's it! You've taken Yemenia's flight from Cairo to Socotra and are now ready to explore the Eco-paradise of Socotra Archipelago. The airport is about 25 minutes from Hadibo, the main city of Socotra, where the two hotels of the island are located.
The easiest way to visit Socotra is certainly to join one of our regular scheduled group tours and meet us in Cairo! Contact us for more details!
About Post Author
.