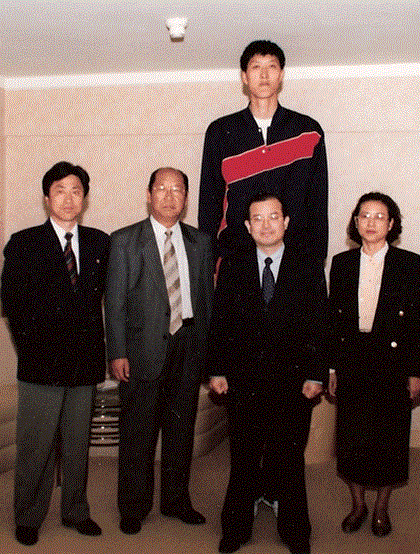 Many people talk about North Koreans being short, and whilst some of them obviously are, I know at least a few that are very tall. There's a guide I know called Mr Lee, everyone calls him tall Lee. I'll accept that's fairly anecdotal, but then there's Ri Myung Hun!
Ri Myung-hun, who referred to himself as Michael Ri, after fairly legendary basketball player Michael Jordan, was a North Korean basketball international, who came in at whopping 7 foot 8 inches, or 2.35 meters tall. That's even taller than YPT guide Rowan Beard, if you've ever been to North Korea with us (a whole foot in fact)!
And yes he is VERY tall for a North Korean – you can read about average Korean heights here.
Did Ri Myung Hun play in the National Basketball Association (NBA) ?
At one stage he was said to be the tallest basketball player on the planet, and like any basketball player or fan wanted to play in the pinnacle competition, the NBA (National Basketball Association), and even went to Canada for tryouts and to get himself ready for a tryout with NBA clubs.
Sadly, a little piece of legislation known as the "trading with the Enemy act", rather than North Korean reticence, put paid to Ri Myung-hun's chances of playing in the NBA and the deal never happened.
This was and is a real shame, when you consider a number of North Korean footballers have been allowed to go, and have flourished in foreign leagues, such as Jong Tae Se and Han Kwang Song, currently plying his trade at Juventus. Sadly though these were indeed different times.
Could Ri Myung Hun have been the Yao Ming of North Korea? We'd certainly like to think so and in our minds at least sanctions should not affect average everyday people, of which he was indeed one.
Sadly probably the highlight of his international career was in a game between mixed teams of players from both Koreas where Ri scored 26 points in 21 minutes, although the "dankyol" (unified) side narrowly lost 141–138 in the end.
Was Ri Myung Hun at the funeral of Kim Jong Il?
During the funeral of General Kim Jong Il there was an extremely tall person seen at the funeral, which like with most things garnered lots of press coverage, intrigue, guesswork and of course lies. Generally speaking, it is assumed that the tall gentleman was Ri Myung Hun.
It should be noted though that is has not actually been confirmed by any official media from the DPRK.
Did Ri Myung Hun meet Dennis Rodman?
We feel it would have been epic to have seen Rodman spar with Ri Myung Hun, but alas this was after his playing days were well and truly over.
The Rodman trip did though invigorate basketball within the DPRK and indeed interest in the "big man" that is Ri Myung Hun, although without any comeback.
Can you watch North Korean Basketball?
When the country is open we can arrange specialist tours to watch all kinds of sports, mainly football, but including basketball. Currently the team are not very active though and indeed are hardly beaters.
Due to inactivity related to Covid-19 the team are currently not ranked by the FIBA (the sports governing body), although back in the day they won both a gold and a silver medal in the FIBA Asia Cup and are expected to again come back strong. Ri Myung Hun! is expected to be part of a future North Korean basketball management team.
The North Korean women's basketball team have also been relatively successful having appeared in three FIBA Asia Cup's for women, although without yet taking home a medal.
You can check out our independent tours here.
About Post Author
.