I heard getting a Visa is hard, what should I do?
Getting a Visa to Turkmenistan is not exactly hard, but there's a very specific process, and it doesn't always work. In order to get a tourist visa to Turkmenistan you must be booked through a tour company that is registered with the Ministry of Foreign Affairs. In this way, every company has the same chance of success or failure in getting your Tourist Visa LOI approved. There are times during the year that are considered more sensitive in which the rejection rate for all Visa LOI's becomes higher. But, your tour operator will pay close attention to when these times are and take every precaution we can to avoid getting any rejections.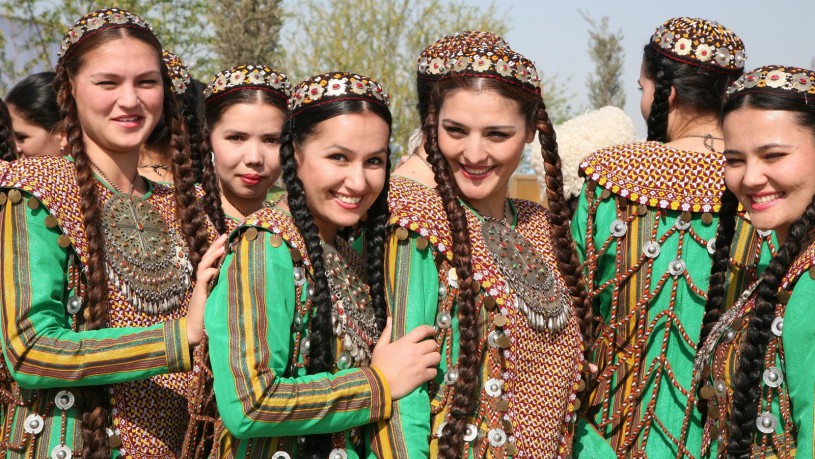 What is an LOI?
An LOI or Letter of Invitation is actually what you receive when you are approved for your Tourist Visa. This is the most important document as it means the Ministry of Foreign Affairs has approved your visit. Once you have your LOI you are entitled to get a Visa at your nearest embassy or at the Airport on arrival. Some embassies are cheaper than at the airport thus why some people will choose to get it in their own country. But, once you have the LOI, the visa itself is just a stamp in your passport essentially.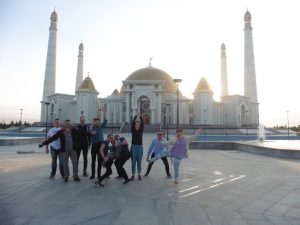 What about getting a Transit Visa?
For those who really really don't want to go on a tour of any kind there is one option – A Transit Visa. A Transit Visa allows an individual to travel between countries which border Turkmenistan. It's not all smooth sailing however. The first criteria is that the two countries in question mustn't have any transit route between them other than through Turkmenistan. Uzbekistan to Iran is the most popular route but some have also used Uzbekistan to Azerbaijan as an excuse. Before you can apply for a Transit Visa, you must have a visa for both of these countries in order to prove that they are the two countries that you are travelling between. You can apply at most Turkmenistan embassies however there is a very high rejection rate and processing time can take up to one month.
A Transit Visa also legally limits you to the quickest route between your entry border crossing and your exit border crossing. They are usually given for 3, 4 or at most 5 days.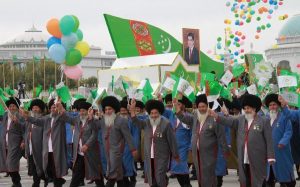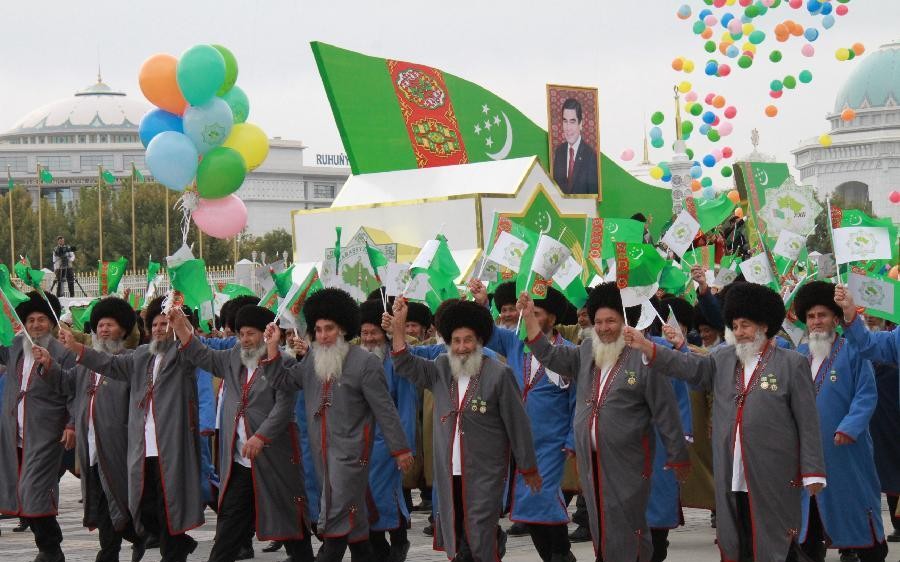 Do I have to go in a group tour?
No, you don't. At Young Pioneer Tours: Central Asia, we can also organise independent tours. Essentially you can tell us where you want to go, what you want to see, your budget and your time frame and we can organise a trip for you. It is of course more expensive as on a group tour the costs are shared between many people, as are the memories.
When is the best time to go?
The best time of year to go in is Spring or Autumn. Summer can be really hot in Turkmenistan, getting well into the 40's (Deg. Celsius) and can go for weeks without even a single cloud in the sky. Winter can also get quite cold, especially in the dessert, with snow falling and temperatures dropping well below 0.
Click here for information on our Turkmenistan Easter Tour.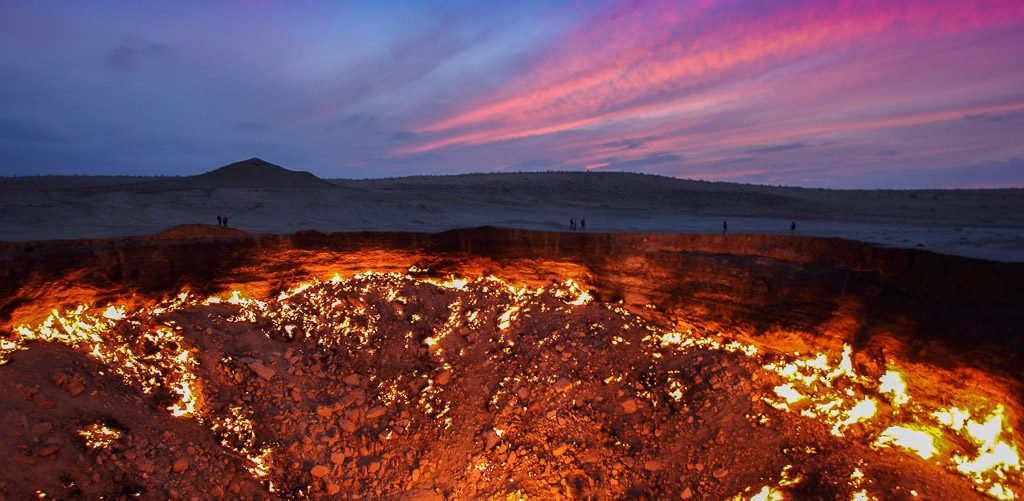 What should I see?
It all depends on how long you've got. The top of everyone's list should always be the Gates of Hell (Davarza, above). This is one of the most spectacular sites in the world and all because of a drilling accident in the early 70's by Soviet engineers. If you've only got 3-4 days then other than your trip to the Gates of Hell (Darvarza) you should stick to exploring Ashgabat – The White Marble city, and its surrounds. Around Ashgabat is Kow Ata, the Turkmenbashy Mausoleum and the Ancient city of Nisa.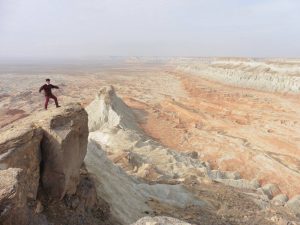 If you're planning on spending a week in Turkmenistan then a trip to Nohkur for a family homestay, as well as venturing further west to Turkmenbashy (the city, not the person). Here, you can go to the Yangykala Canyons and see the deserted beach resort of Avaza. This will be well worth it.
If you've got any longer than a week, head east to Mary/Merv, the Kyrk Gyz caves and the Dinosaur plateau, where the largest Dinosaur footprints in the world are allegedly located.
Is it safe to travel to Turkmenistan?
Turkmenistan is one of those countries that in actual fact is amazingly safe for tourists. Everything is very strictly controlled and as such there are never incidents of petty crime against tourists. As a tourist, you just need to ensure that you don't say or do anything that could offend the local people.
D
o I need to take cash?
This is a part of the world where cash is still king. While there are some ATM's in Ashgabat, they often won't have any cash, or might just not be working, so bringing your spending money with you means you'll never have problems.
---
Think you're ready for a trip to Turkmenistan? Check out our Central Asian tour here.
About Post Author
.