The Kingdom of Saudi Arabia used to be one of the toughest countries to visit as a tourist. Tales of extreme bureaucracy and difficult manoeuvres were quite common for non-Muslims who wanted to travel and explore the closed-off country.
As of September 27th 2019, the tourist visa regulations have radically changed and it is now possible to get a e-tourist visa for Saudi Arabia within 30 minutes.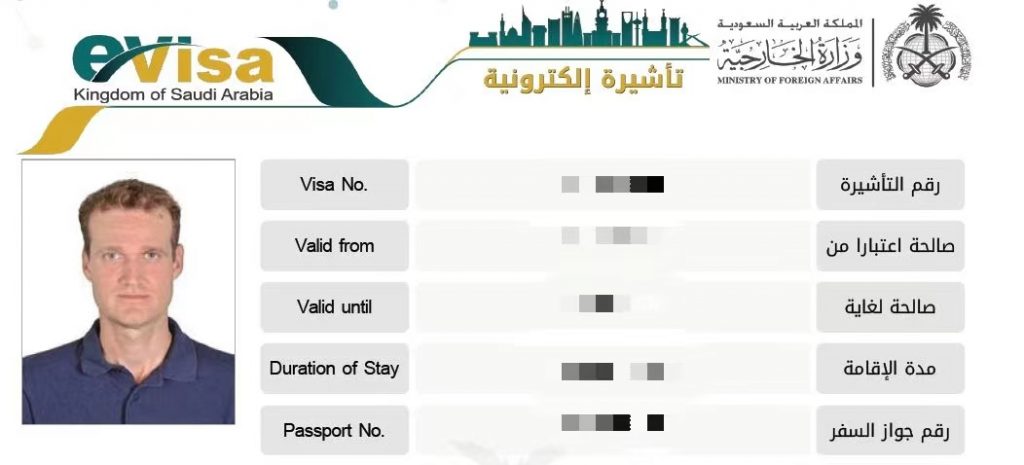 Where to apply for the e-visa?
To apply for your Saudi Arabia tourist e-visa you'll first need to head to the official government website. The first step is to create an account which will be tied to a nominated email address of yours. Then you simply login, fill in your passport details, your dates of intended travel, the hotel address of when you first arrive which if you're joining our tour we will inform you of this, and make the visa payment. Your e-visa will then be sent to your inbox. Depending on your nationality it can be instant, or take a few days. For more steps on this process keep reading!
Who can apply for the Saudi Arabia e-visa?
There are a total of 49 nationalities eligible to apply for a Saudi e-visa online.
Andorra, Australia, Austria, Belgium, Brunei, Bulgaria, Canada, China, Croatia, Cyprus, Czech Republic, Denmark, Estonia, Finland, France, Germany, Greece, Holland, Hong Kong, Hungary, Iceland, Ireland, Italy, Japan, Kazakhstan, Liechtenstein, Lithuania, Latvia, Luxembourg, Macau, Malaysia, Malta, Monaco, Montenegro, New Zealand, Norway, Poland, Portugal, Romania, Russia, San Marino, Singapore, Slovakia, Slovenia, South Korea, Spain, Sweden, Switzerland, Ukraine, United Kingdom and United States.
As well as holders of Schengen visas, US visas, or UK visas.
Both male and female travellers can apply for the visa.
The Saudi Arabia visa specifics
The e-visa that is given to applicants at the moment is a 1 year, multiple entry, tourist visa. The year starts on the date of application. This visa allows up to 90 days in the country within that year. These 90 days could be spent in a single visit or divided into as many visits as you would like.
This visa does not allow people to visit Mecca nor does it allow people to work in the country.
The steps to apply for a Saudi visa application
1. You'll need to create an account. Simply access the website, enter your details along with your email address that you nominate to receive your e-visa. If you have not received a verification email within 15 minutes (check your spam box).
2. Once you have received this verification email, simply open it and click on the link to active your account. You can then log in with the credentials you are given. You'll be asked to provide another verification code, which will be sent to you.
3. You're finally in! From here, the process is quite straightforward. You'll have to input minimal information about yourself, such as passport details and residential address. You'll then need to upload a visa-type photo of yourself. This photo must be a square-shaped 200X200 pixel photo of under 100 KB, so you might have to use an image editor to crop and compress a mugshot of yourself.
4. Next you'll need to enter your expected date of arrival in the country. Since the visa is a multiple entry visa, you only need to put an estimated date of your first visit. Likewise, you'll be asked for an hotel in Saudi. You do not need to provide confirmation of booking so a short visit on an accommodation search engine will do the trick.
5. You'll be asked to buy medical insurance. It is provided by the website, you simply need to tick the box. You can read the specifics of each insurance if you wish.
6. Finally, you'll have to read a declaration saying that you'll abide by the laws of the KSA (no drugs, no alcohol, no indecency while in the Kingdom), tick a box, and submit your application.
7. Make payment. The total payment will include your insurance policy and your visa fee. Both included is usually around $140USD.
Within minutes, you should receive an email containing your e-visa! Simply print it and take it with you as you travel to Saudi Arabia!
YPT does two tours a year to Saudi Arabia in March and October, and now the visa is incredibly easy to apply for now is your chance to explore the Kingdom of Saudi Arabia!
About Post Author
.