Read days 1-3 here.
Day 4 – Russia:
Time travel on the TS
Highlights:
Stop off in Mariinsk

Breaking language barriers
A bizarre wake-up on day 4 suddenly made reality set in on the distance we were covering, and how long it was taking us. After an early-ish night (without being kept up until 3am for border controls) we decided an early morning would also be in order. I'd set my alarm for 7pm, and felt delightfully refreshed despite the vodka the night before. After the obligatory social media catch up, I noticed to my horror that it was now 6:07.
Whilst having a phone that changes time zones automatically is convenient, it's also quite an inconvenience when you're in a timewarp cruising across several different time zones, without acknowledging it.
"Train lag" is never a problem, since you're never sure what time it should be and how you should be feeling…
I was then thoroughly confused as to what time it actually was, what time it should be, and how much sleep I'd managed to get.
Jet lag, or rather "train lag" is never a problem, since you're never sure what time it should be and how you should be feeling…
This was a sensation that was to carry on all the way to Moscow.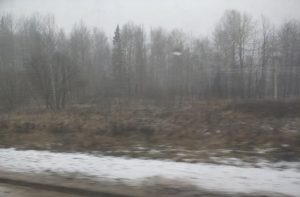 The train timetable is in Moscow time all throughout your time in Russia, however, the train's daily life is carried out through Beijing time (i.e. when you wake up, dining cart opening times).
We realised pretty quickly that we'd been spoiled with the landscape for the past few days. The past few days, the ritual morning curtain opening has brought a delightful now or desert filled surprise. This morning we awoke surrounded by rows and rows of thick birch trees. This suddenly made the fact we have been on the train now for 4 days very real, giving a claustrophobic feel to it.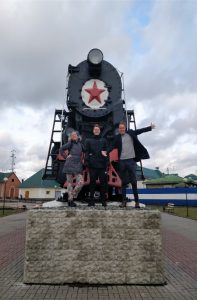 We made the most of the stops for the next few hours by buying vodka and having snowball fights at any opportunity. Our two main stops for the day were Mariinsk and Novosibirsk. Mariinsk was home to a token soviet-looking model train that offers a great photo opportunity, and our stop at Novosibirsk included a 20-minute Chinese-Russian-English translation session with the local Chinese choir we'd befriended. YPT tour guide Ben soon realised that being multi-lingual is both a blessing and a curse.
The evening was spent in probably the most Trans-Siberian way possible. Drinking vodka with Russians whilst dining on cold meats and pickles. Luckily at this point, we'd already got onto the good side of the sassy Russian dining cart lady, so she didn't mind us bringing our own alcohol into the dining cart, and sharing it with everyone else.
Day 5, Russia:
Cabin Fever
Highlights:
Train

Games

Silver birch trees

D

ay 5 finally ending
Day 5, and our final full day on the train seemed to be never-ending. We awoke to a 2-hour sunrise as we cruised through yet more time-zones and raced the sunrise. When the sun finally came out properly, we were met with some more silver birch trees on the way and flat landscape as far as we could see. We were still far away from civilization, and we dared not look on our maps to see how far we had to go. Needless to say, it was rather chilly in the middle of nowhere in central Russia.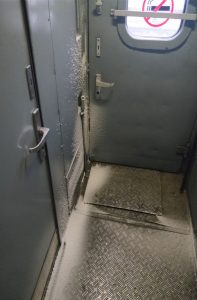 This was by far the longest day on the train. This was due both to the fact that we gained a few hours because of time difference (although we were entirely unsure when and at what point we gained or lost time) and also the fact that it was our fifth day on a train, and time was bound to be going a bit slower. Previously, we had passed the days by enjoying the view and novelty of being on the train. There was always something exciting to wake up to; moving train carts, deserts, snow, different countries… Now we'd been in Russia for two days, the landscape hadn't changed, and there were no new surprise carriages on the train. After a bit of YPT work, we had to find some new entertainment.
Right on queue, one of the Russian train ladies comes round with a basket of goodies – including some playing cards. Together with some pens and paper, this was us set for an afternoon of gaming and passing the time away. In between, of course, enjoying the occasional drink and dinner from the dining cart.
We moved our train games to the dining cart for the evening and started making very good friends with those working there, and had some fun of our own behind the bar.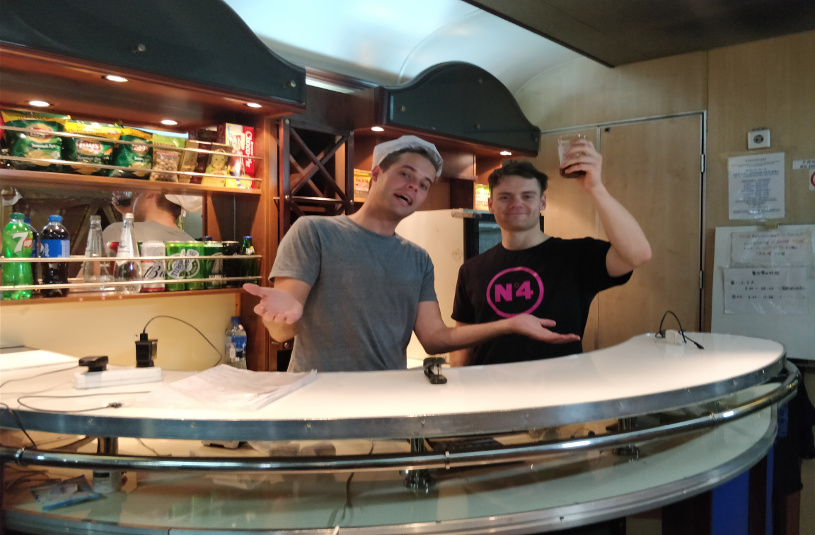 If racing the sunrise was bad enough in the morning, waiting for the sun to set was even worse. Day 5 truly was a very long day on the train, that seemed entirely never ending. This was almost a blessing, however, since we'd never wish away our time on the Trans-Siberian, and were happy to make the most of the adventure as possible.
We did end day 5 early-ish though, ready for our arrival the next day in Moscow!
Day 6, Moscow:
Leaving our Metal Holiday Home
Highlights: 
Nuclear Powerplants

Stop-off at final stop 

Arriving in Moscow
Day 6 was our final and shortest day on the train. It was bittersweet. Our previous day we had spent almost wishing the trip was over (almost!), and now it was time to get out of the train and move onto our next adventure. It had been our home for the past few days, and we'd definitely become attached to our small cabin. We had previously joked about decorating it; adding some posters to the walls, kitting it out with some flowers. We hadn't done this, but it had housed us well for a few days.
We got up at… No idea what time. I checked my phone which said 5:30am, but according to train time and what we'd previously been wo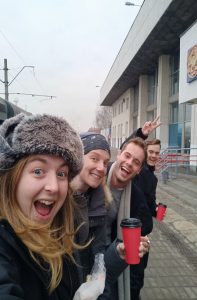 rking on, it was much later. No idea how many hours of sleep we got, but I was defintely feeling way too refreshed for it to be 5:30. Or maybe just excited to get off the train… Either way, it was a strange sensation to feel wide awake and open your blinds and see that it's still pitch black.
Since it was 5:30, we had quite a few hours until we arrived in the afternoon. We decided we'd kill a few hours whilst it was still dark outside by packing all our stuff away. Our cabin hadn't looked so clean since we first arrived, and it was nice to finally have some space again.
We spent the rest of the morning spending our last few hours in the Russian dining cart, hanging out with our new Russian pals who work there and had been looking after us the past few days. We carried on the train games from the night before, and spent a good few hours with our heads and minds out the window, watching as we draw closer and closer to civilization.
Our final stop before Moscow was ironically probably one of the best. There was a wide range of cafes and shops to stock up in, great coffee, and excellent hot dogs. Pumped up on our lattes we were ready for the final leg of the journey.
---
Arrival in Moscow!
---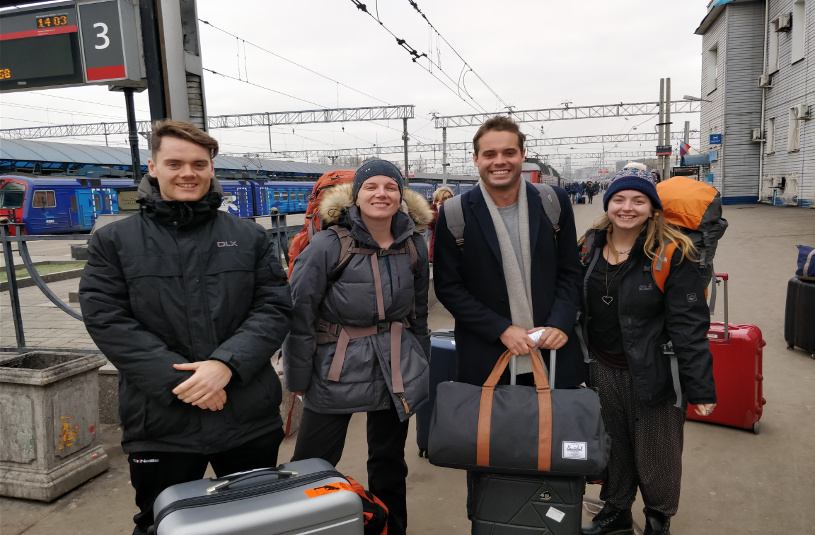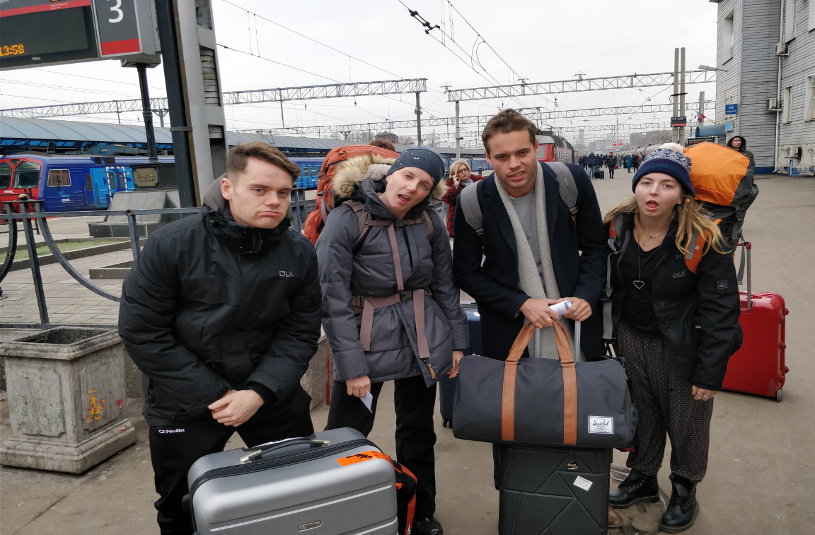 These two pictures perfectly describe our feelings exciting the train. Pure joy to be out and head onto our next adventure, and also absolutely knackered and kind of sad to be leaving our moving home.
---
If you're wanting to join us next year on a Trans-Siberian adventure, head over here for more information.  
About Post Author
.