Do you want to plan a fun and spooky trip to the Las Vegas Strip in October? Visiting Las Vegas and the Strip in October is an excellent idea because you can enjoy the cool fall temperatures and the fun decorations and festivities associated with the Halloween season. You are never too old to enjoy a special Halloween event or décor.
Below are the top five things to do on the Las Vegas Strip in October.
1) Criss Angel Mindfreak
October is a month to be thrilled and surprised. One of the best magic shows in Las Vegas in October with unworldly tricks, illusions, music, and intensity is Criss Angel Mindfreak at the Criss Angel Theater of the Planet Hollywood Resort. His unique powers provide a revolutionary illusion and immersive experience unlike any other in Las Vegas.
Criss Angel will demonstrate over 75 new and classic illusions within one 90-minute show. He uses innovative technological effects, music, lights, and other surprises to keep your mind mesmerized without feeling bored for one second. It is a great way to enhance your October entertainment experience in Las Vegas.
2) Mandalay Bay Beach
October is the first month you notice the weather getting cooler in Las Vegas. After dealing with the hot summer months, you now have an excuse to spend more time outside. What better way to enjoy the new October weather in Las Vegas than by going to a manufactured beach at the Mandalay Bay Hotel on the Las Vegas Strip?
Las Vegas may be a city in the middle of the Nevada desert, but that doesn't mean you won't find a beach-like environment there. The Mandalay Bay Hotel has created a spectacular 11-acre manufactured beach with artificial waves and a white sandy beach to imitate an actual beach alongside the ocean.
Forget about a trip to Florida in October because you can get your beach fix by visiting Mandalay Bay Beach in Las Vegas instead. You can realistically simulate the relaxing beachside experience by tanning, swimming, or relaxing under the shade in a cabana. And if you get hungry or thirsty, a crew of poolside waiters and waitresses can deliver what you want.
3) Explore the Las Vegas Strip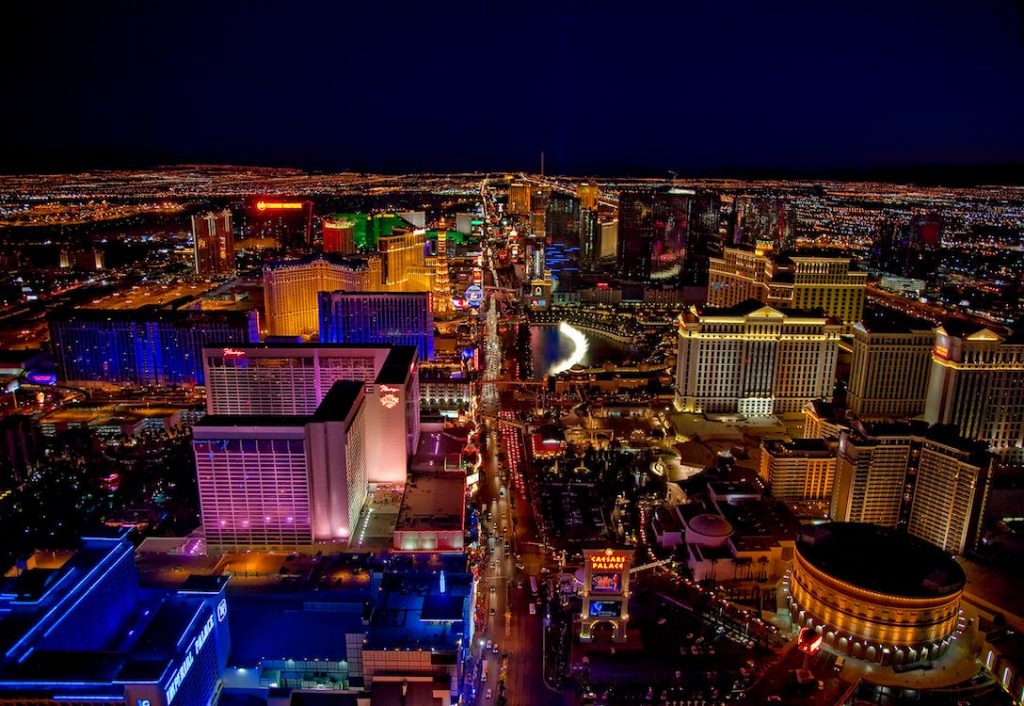 Take advantage of the cool weather and Halloween themes by walking the entire Las Vegas Strip on foot. The Strip is worth exploring from one end to the other because it features the city's best hotels and free attractions. Some free Las Vegas Strip attractions include the erupting artificial Volcano at the Mirage Hotel and the gorgeous Bellagio Fountains in front of the Bellagio Hotel.
If you are tired from walking on the Las Vegas Strip, a more comfortable alternative for exploring the Strip is to take the Hop On Hop Off Big Bus Tour. The sightseeing tour bus goes up and down the Strip at different times of the day and night. If you have an all-day pass, you can enter and leave the Big Bus Tour at various bus stops throughout the trip.
4) Cirque du Soleil Shows
Cirque du Soleil productions are the most popular shows on the Las Vegas Strip. Each Cirque show offers a stunning display of death-defying acrobatics, stunts, visual effects, original storylines, exciting costumes, elaborate set designs, and more. Sometimes the Halloween season will also bring enhanced effects and visuals to the Cirque shows.
In October, the most popular Cirque du Soleil shows on the Las Vegas Strip are Mad Apple, Mystere, Ka, O, Michael Jackson ONE, and The Beatles LOVE. Would you like to receive special discounts for tickets to any of these Cirque du Soleil shows on the Las Vegas Strip? Vegas Lens can give you the best offer on tickets and provide further information on the storylines and context of each show.
5) Madame Tussauds
Madame Tussauds is one of the most famous wax museums in the world. It is best known for displaying realistic life-size wax figures of celebrities, such as actors, sports athletes, politicians, comedians, and even fictional Marvel superheroes like The Incredible Hulk, Iron Man, and Captain America.
The museum lets guests take selfies and photographs next to the wax figures. Imagine the reaction you will get from your friends on social media if you start posting selfies of yourself standing next to a realistic-looking Johnny Depp, Lady Gaga, Elvis Presley, and Captain America.
Madame Tussauds is free for guests who have the Go City pass. Otherwise, you will have to pay a low price for admittance into the museum. And if you're going in October, you may also see a few Halloween surprises there.
Conclusion
These are only five top shows and activities on the Las Vegas Strip in October. As you search for different things to do on the Strip that month, you may want to add more things to your schedule to enhance your travel experience in Las Vegas. Some tourists can fill an entire travel itinerary around attractions on the Las Vegas Strip alone.
About Post Author
.