What are the North Korean websites? Although small in comparison to many other countries a number of North Korean government agencies have an online presence in Korean, and on occasion English.
We have also included a few links to NGO's, or people like Chongryon who are extremely close to the government of the DPRK
North Korean Websites by the government
The following are North Korean government websites that are hosted in the DPRK.
Ministry of Foreign Affairs – http://www.mfa.gov.kp
The most "senior" website of the DPRK (government wise) online. The website is in English, and Korean, and although it often carries similar content to other focal channels, occasionally makes official government announcements.
Financial Intelligence Agency – http://www.fia.law.kp
A truly fascinating website that represents the North Korea agency that overseas financial affairs, such as illegal payments. How the works in a sanctioned country is anyones guess. Not much on the website, and almost exclusively in Korean.
Maritime Administration of DPR Korea – http://www.ma.gov.kp
North Korean agency overseeing merchant shipping in the country in both English and Korean with a whole host of information about where ships are registered amongst other things.
DPRK Website Portal – http://www.dprkportal.kp
Website where technically at least you can look up all websites based in Pyongyang, or are using the .kp TLD. Korean language only, but with advertisements for various websites, as well as a contact e-mail and phone number.
Government North Korean websites outside of the country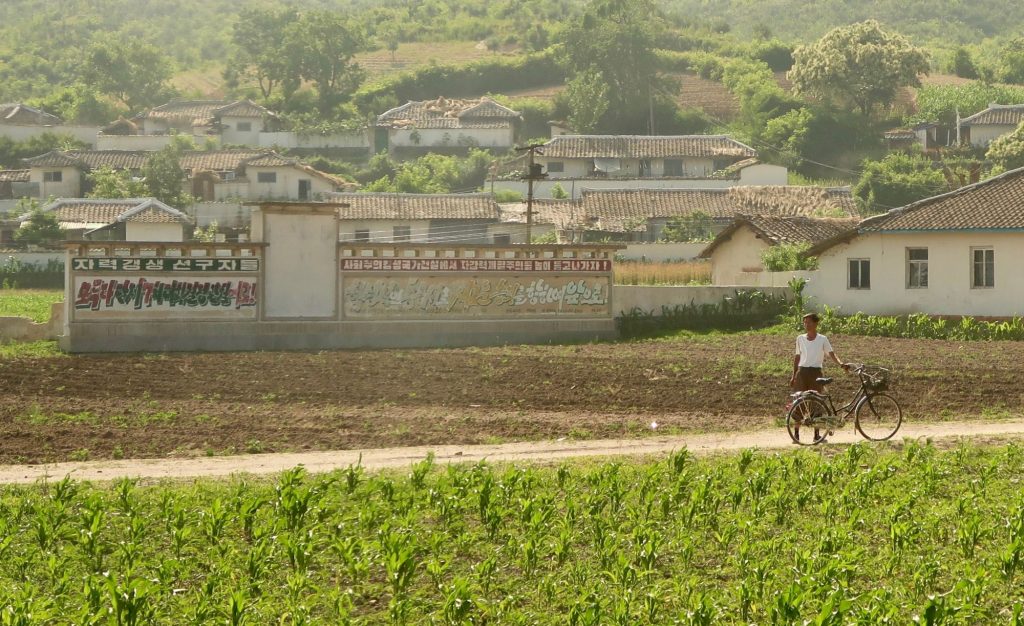 Chongryon – http://www.chongryon.com/ Official portal in Korean and Japanese for the General Association of Korean Residents in Japan, abbreviated to Chongryon. They represent the North Korean residents of Japan, and act as an unofficial embassy between the DPRK and Japan .
Business websites of the DPRK
Despite the heavy sanctions regime against the government of North Korea there are still a number of state websites promoting business. We've also included links to joint-venture companies, and the few companies that are active in providing business consultancy in the DPRK.
Korean National Insurance Corporation –
The first and one of the most interesting on the list. Site is in English and Korean, and ignoring the various controversies that have been attached to it represents the national insurance company of North Korea.
Manmulsang – http://www.manmulsang.com.kp/
Company website that promotes the many products of North Korea that are available for export. Website is in Korean, English, and Chinese, and has contact details.
North Korean business websites located outside of the country
Taedonggang Patent & Trademark Law Office – http://www.tptloffice.com/
Website about patents and legal issues in Korea. States it is based in Pyongyang, but site has not been updated for many years. Exclusively English language website.
Pyeonghwa Motors –
JV between North Korea, and the staunchly anti-Communist Reunification Church (Moonies). Their "Peace Car" is one of the few advertisements you will see in the DPRK,
North Korean websites – foreign businesses
Pioneers Korea – www.PioneersKorea.com
Chinese based business consultancy that specializes in navigating the world of doing business in North Korea.
Hay, Balb & Associates –
Very dated website, but the main thing to come up when you search for business consultants dealing with North Korea. Lawyers too! Website in multiple languages.
Korea Business Consultants – http://www.kbc-global.com/
This website is currently offline, but deserves special mention as Roger Barrett was (previoulsy) at least at the forefront of trying to open up the DPRK to foreign investment. Something he had mixed success with.
North Korean Websites – Travel
There is no independent travel to North Korea, and all travel must go through government agencies such as KITC. We've included links to all government travel websites, as well as to private companies providing culture exchanges, or something different to just holidays in North Korea.
National Tourism Administration – http://www.tourismdprk.gov.kp
Or as thus that know them through tourism the NTA. The direct agency below government for tourism in North Korea. A very good looking website by North Korean standards with quite a lot of information about tourism in the country, as well as information and links to the 6 state travel agencies.
Korea International Youth and Children's Travel Company – http://www.kiyctc.com.kp/
KIYCTC are technically a travel company that deals with youth, but in reality they act as the second most important state travel agency behind KITC. Why KITC do not have their own website is anyones guess.
Air Koryo – http://airkoryo.com.kp/
There are many pretender websites to the official state airline of North Korea, but this is the real one. Technically at least you can see schedules and buy flyghts here
Foreign North Korean travel Websites
There are websites for the Wonsan Air Festival, Pyongyang Marathon, and Pyongyang Film Festival that purport to be government websites, but are actually run by private companies, so we have not listed them here.
Young Pioneer Tours – www.YoungPioneerTours.com
One of the largest travel agencies devoted to North Korea, and with by far the widest range of destinations on offer to the DPRK.
Visit the DPRK – www.VisitTheDPRK.org
A travel agency that specializes more in educational and cultural exchanges to North Korea.
Choson Exchange – https://www.chosonexchange.org/
A great organization, and tough to decide whether to put them as a cultural, business, or travel website. Run many programs in the DPRK.
North Korean Websites – News publications
North Korea produces number of digital news publications in many languages both from Pyongyang, and abroad. We have also listed the most major non-biased news outlets related to North Korea, such as NK News, amongst others.
Korean Central News Agency (KCNA) http://www.kcna.kp
The KCNA is the main state run organization for the DPRK. The website is a little dated, but reliable, and has stories in Korean, English, Russian, and Spanish. Generally stuff is posted daily, and this can be considered the main propaganda piece for North Korea
The Rodong Sinmun – http://www.rodong.rep.kp The Rodung Sonmun is the main daily newspaper in North Korea, and the main mouthpiece of the ruling Workers Party of Korea. There are PDF versions of the
daily version s of the newspaper, and the website is reliable and in Korean, Chinese, and English language.
The Pyongyang Times – http://www.pyongyangtimes.com.kp
The Pyongyang Times is the only daily English language newspaper produced on a daily base, and probably one of the most purchased souvenirs purchased by tourists to North Korea! Pretty good website by DPRK standards, and updated daily.
Voice of Korea – http://www.vok.rep.kp
The Voice of Korea is the Korean communist equivalent to Voice of America. They broadcast in 9 languages. There's lots of recordings you can listen to on their site, and it gives you a real feel for how North Korean propaganda works.
Grand National Unity – http://www.gnu.rep.kp
Website for the Korean Radio broadcasting station aimed at Japanese, and South Korean citizens. No English on their website.
Ryugyong Programming Centre – http://mediaryugyong.com.kp/
A very interesting new website in Korean, Chinese, Russian, English, Spanish, French, and Spanish. Focusses on videos and photos from North Korea. Updated less regularly than others.
News websites of the DPRK located outside of the country
Choson Sinbo – http://chosonsinbo.com/
The online news source created by the Chongryon organization that represents the "North Koreans" of Japan. Formerly published English language articles, but now exclusively in Japanese and Korean now.
Uriminzokkiri – http://www.uriminzokkiri.com
One of the most interesting websites on the list. Based in China, and publishing snippets from North Korea as well as original content mostly attacking the west. They publish in Korean, Chinese,English, Russian, and Japanese, and previoulsy ran a number of social media accounts.
International North Korean Websites
NK News – http://www.nknews.org
NK News is the most important website for North Korean watchers, having not only the most in depth coverage, but probably being the most neutral.
North Korean Websites – Education
A number of the top educational establishments in North Korea have very informative websites, we've also included some culture website to help beef up the list!
Kim Il Sung University – http://www.ryongnamsan.edu.kp
Kim Il Sung University is by far the most important university in North Korea. The website is in both Korean, and English, and list research done by the university, as well as information about study.
Kim Chaek University of Technology – ttp://www.kut.edu.kp
North Koreas main technological university named after the Korean war hero Kim Chaek (who also has a city named after himself. Lists lots of information about computer programs, and international cooperation from the university.
Korean Association of Social Studies – http://www.kass.org.kp
Korean Association for study of the Juche Idea. Very informative website in Korean, Russian, English, French, Spanish, and even Japanese.
Mirae – http://www.mirae.aca.kp/
Science website introducing the achievements in the science and technology sectors. Korean and English language sections.
Cultural North Korean Websites
We've included a number of interesting cultural websites about North Korea that cover a real range of subjects from cooking, to cultural exchanges. We have avoided foreign based organizations such as the Korean Friendship Association, or various study groups.
Naenara – http://naenara.com.kp/en/
With Korean, English, Spanish, French. German, Russian, Japanese, Chinese, and Arabic this is the ultimate cultural exchange website. Officially it is about political, economic, cultural and all other affairs of the DPRK.
Korean Association of Cooks – http://www.cooks.org.kp
Want to learn how to cook food the North Korean way? This website lists hundreds of recipes for North Korean foods. You'll need to speak Korean to navigate this site.
North Korean Sports – http://www.sdprk.org.kp
This website appears to be down, but when it was up it was the main site for sports in the DPRK.
Friends of Korea – http://friend.com.kp/
Officially a website promoting friendship with North Korea, but seems to merely repost news from other organizations in English. Not to be confused withe the Korean Friendship Association.
Korean Film Corporation – http://korfilm.com.kp/
Website for the North Korean film productions, as well as being the actual official website for the Pyongyang International Film Festival. Website is in Korean and English. Tourists regardless of who they visit with are welcome at the Pyongyang International Film Festival.
Korean Books – http://www.korean-books.com.kp
The only official (Pyongyang based) company to sell the publications of the DPRK. It is not exactly that e-commerce friendly, but comes in 9 languages, and is a generally well working site.
Other North Korea Websites
Quite simply any North Korean website that doesn't fit into any of the other categories, but also major non-North Korean based, or run websites that would be of interest to North Korean academics, as well as casual observers.
Korean Friendship Association – https://korea-dpr.com/
Run from Spain and with a fairly intense website and various chapters.Sometimes painted as government agency, although they are an independent company. Run expensive travel programs, and are involved in business constancy.
DPR-Korea – NZ Friendship association –
Independent of the KFA, and of interest if you happen to live in New Zealand and be into the DPRK.
Retro DPRK – https://www.retrodprk.com/
One of the coolest websites pertaining to the DPRK. Their aim is to compile retro propaganda from 1945 onwards. Some really cool stuff on this website!
DPRK 360 – www.dprk360.com
A pictorial project by Singaporean Aram Pan. The website is a little dated, but the photo project overall is very good.
Pyongyang University of Science and Technology – https://pust.co/
PUST, as the cool kids call it has been included here rather than in education as it is a slightly different place. The only "private" university in North Korea. Most of the foreign teachers are Christian, but there is no religion taught here.
About Post Author
.