North Korean snacks might not be famous the world over, but they are interesting and a highlight to any trip here.
Without question, one of the elements of travel that I love most is sampling the local cuisine of any new country I'm lucky enough to visit. From local market street food to traditional foods, experiencing the food of any place can provide a fascinating window into the culture, history and tradition of a people.
While there's no shortage of fascinating and unique snacks in North Korea to sample, if we absolutely had to narrow it down to seven for arbitrary list-making reasons, we totally could. Without further ado, then: the 7 BEST North Korean snacks
Best snacks in North Korea
Talpi AKA Beer Fish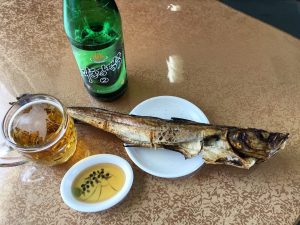 This is the quintessential of North Korean snacks. First up is the often controversial – but not nearly as scary as it looks – talpi, otherwise known as dried and salted pollock (beer fish). This is an essential snack to accompany your Taedonggang beer and is basically fish jerky, best consumed with a light soy sauce and wasabi for extra salty moreishness. You'll find everyone from men in beer halls to families on the train en route to Pyongyang eating this humble snack.
Where to try it? Any of our North Korea tours, but definitely as a snack on the train to or from Pyongyang in the charming dining cart.
Gongmiri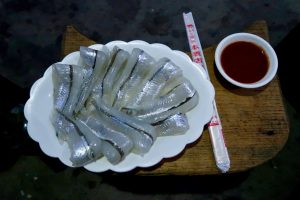 When it comes to North Korean snacks this one takes some beating. No trip to the east coast beachside city of Wonsan is complete without sampling some fresh gongmiri on the local pier. A skinny, shiny and silver fish is caught from the pier by the local fishermen and sold at small stalls dotted along the pier. This North Korean food is expertly prepared and eaten raw, sashimi-style, with a chili dipping sauce and swig of rice wine to wash it all down.
Where to try it: on our Liberation Day & Summer tour when you hit Wonsan.
Roasted ginkgo nuts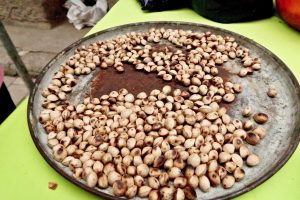 Any visitor to the Koryo Museum in Kaesong may remember the giant 1000-year-old ginkgo trees growing inside the entrance of the museum. Come autumn time, these trees and many more in the surrounding areas yield delicious ginkgo nuts that are slowly roasted on a smoky fire, producing an extremely moreish and very healthy snack to tide you over on the long bus ride back to Pyongyang.
Where to try it: on our Party Foundation Day & Mt. Kumgang tour as autumn begins to break in North Korea.
Chilbosan mushrooms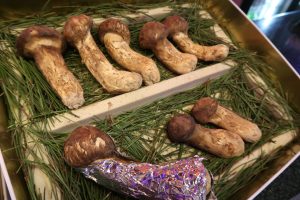 With Marshal Kim Jong Un gifting South Korea's President Moon Jae In two tonnes of these ultra-expensive, truffle-esque pine mushrooms valued at over 1.83 million USD, these are certainly a treat for the foodie among us with a bit of cash to splurge. With an extremely light umami flavour, these mushrooms crop up in North Hamgyong Provice's extremely picturesque Chilbo Mountains.
Where to try it: our Real Deal DPRK tour for the freshest picks of this North Korean food direct from the Chilbosan source.
Injogogibap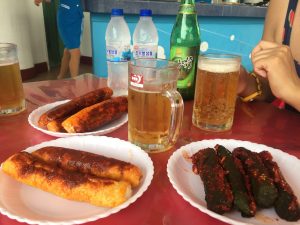 Perhaps with one of the most interesting back stories, injogogibap literally translates to "fake meat with rice" and came about during the Arduous March, otherwise known as the famine of the 1990s in North Korea. Made with rice, kimchi, soy bean paste and soy bean oil, this North Korean food is made by wrapping rice in a light skin made from leftover tofu and dressed with a chili sauce, creating a meat-like texture. This North Korean snack is still popular today and eaten across the country.
Where to try it: any visit to Kwangbok Department Store's food court.
Petrol Clams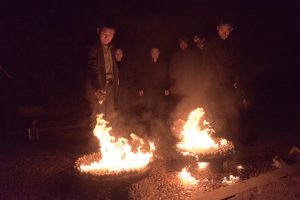 Without doubt the most theatrical of all North Korean food is the wild culinary experience that is "petrol clams" on any trip to the west coast city of Nampo. For the uninitiated, locally farmed clams are meticulously arranged upside down on a large, round concrete slab and ceremoniously doused with gasoline before being lit with a match and cooked within their shells. The result? A smoky (and let's be honest, mildly petrolly-smelling) BBQ'd clam that's an essential experience to any trip to Nampo. Wash it down with a swig of soju and dig in!
Where to try it: our DPRK Winter Essentials tour or any tour heading to Nampo
North Korean Snacks and Pyongyang Street Food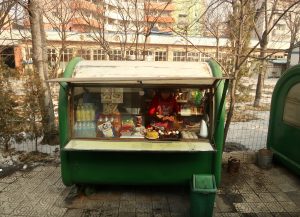 With more and more street food stalls dotted around Pyongyang, these curious little huts are the providers of some of the best on-the-go snacks to be found in Pyongyang. With sausages, kimbap, steamed buns and even ice-cream machines available, there's a treasure trove of interesting snacks available to locals (and some lucky tourists) at these stalls.
Where to try it: Our very first DPRK Culinary tour, sampling some of Pyongyang's best street food as well as the most interesting and unique restaurants Pyongyang has to offer!
About Post Author
.