If you've lived in China any amount of time you could be forgiven that thinking the only border crossing you know is stepping over the metro from Hong Kong. Most places couldn't be much further from a national border!
But there's more to travel than taking a flight, or crossing the land border to Hong Kong or Macau! China offers a wealth of borderland adventures which are fascinating not only because they are places to see two nations and culture collide but also because they are often in Chinese ethnic minority areas.
So here's my list of the top 5 accessible land borders in China.
How many have you done?
---
Manzhouli, China-Russia
China borders Russia in its northeast as well as in Xinjiang in the far west. The two countries went from communist allies in the 1950s to nuclear armed foes in the late 1960s, with border conflicts erupting. From the 1980s relations began to normalise, and one of the Chinese cities that has gained from this is Manzhouli in Inner Mongolia.
When you're in Manzhouli you already feel like you could almost be in Russia. Now a relatively big urban centre, it links with the Russian city of Zabaikalsk, and is located right on the Trans-Manchurian Railway from Beijing to Moscow, the original design of the Trans-Siberian.
Hop on the Trans-Mongolian Railway with YPT on our annual
Eurasian Adventure
Mengla, China-Laos
It was hard to decide over the Laotian or Vietnamese border, but in the end I chose Laos because you can simply take a train from Nanning to Hanoi, and trains are somewhat cheating.
The best way to get there is from Kunming to Mengla in Xishuangbanna, the tropical region of southern Yunnan province. Again, in Mengla you already feel like you're not quite in China. And from here you can catch a bus across the border to Luang Namtha, or just head straight to the beautiful northern Laotian town of Luang Prabang. And if you think China has a lot of ethnic minorities, just check out Laos!
Tumen, China-North Korea
The Yanbian Korean Prefecture in Jilin province in China's northeast is a great place to go if you just want to take a look at North Korea from the safety of Chinese territory. From the main square in the city of Tumen you are literally 20 metres away from the Korean bank, and you can look at the villages, farmland and guard posts placed sparsely along this seemingly non-existent border!
Even better, you can cross the border and step into Namyang city, visiting North Korea with YPT. It is one of the only border crossings in China where it is possible to simply check out of the Chinese side and walk across a narrow footbridge into another country, and one of the borders unrivalled as an experience.
Join All Koreas Part 2 to cross into North Korea this way yourself!
Khunjerab Pass, China-Pakistan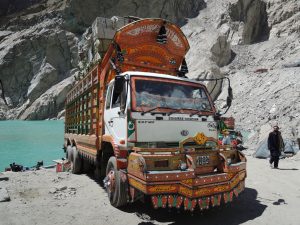 Travelling along the Karakoram Highway is pretty much as close as you can get to feeling in the middle of nowhere as you can get. Yet it is absolutely stunning. Head out from Kashgar in far west Xinjiang, past the Karakul Lake and towards Tashkurgan, an autonomous Tajik part of China.
You cross at the Khunjerab Pass, over 4500 metres high, usually under deep blue skies with snow topped mountains on either side. And hey, it's one of the only borders in the world where you drive up to it on the right side and away from it on the left!
Join YPT's inaugural journey along the
Karakoram Highway
this year!
Zhangmu, China-Nepal
My favourite land border crossing from China though is over the Sino-Nepal Friendship Bridge. The setting itself is spectacular, in a deep valley across the Sun Kosi River. It was closed after the earthquake in Nepal in 2015, but has recently opened up again.
What makes it my favourite crossing is also the journey to and from the bridge. From Lhasa through Gyantse and Shigatse, up to Everest Base Camp before driving down towards the border, it is impossible to stop looking at the mountains, lakes and glaciers, let alone the herds of yaks. And the drive on the other side down to Kathmandu, seeing the change from Chinese and Tibetan society to a Nepalese one is one of the drives of a lifetime!
Come join us on this border crossing this autumn on our
tour from Lhasa to Kathmandu!
About Post Author
.