I remember the strange look on my Couchsurfing host's face when I arrived in Odessa in 2013 and told him that I'm vegan. Tofu might as well have been space rocks. However, there are great vegetarian and vegan options around Odessa and Kiev, and they're also both great cities.
Before you show up in Ukraine on your upcoming YPT tour, here are some great things to jot down. Of course, as I've said before, tell your guides in advance that you're vegan, so they can help you. So, here we go.
---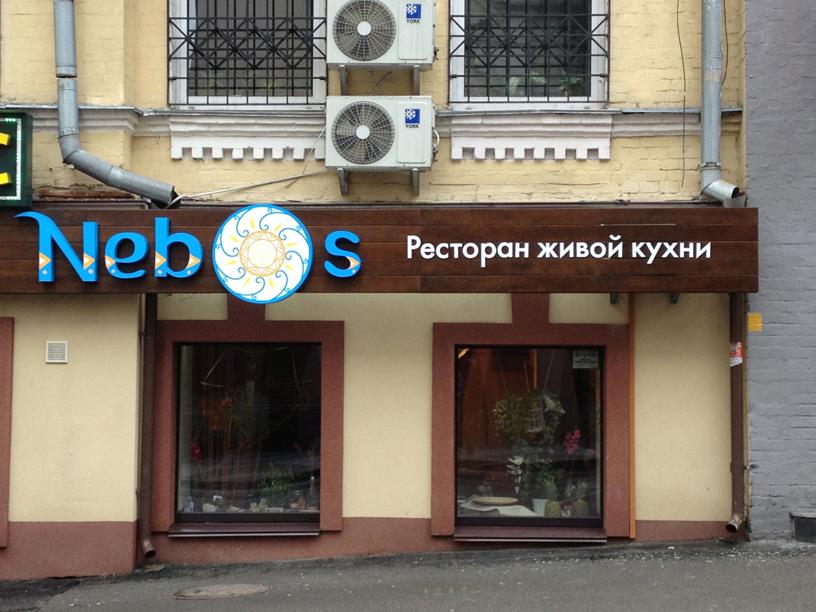 In Odessa, there's a great little store called Vegetus. There are several 'health food stores' around the city, but this is your best option. It was literally run from a broom closet at a supermarket in 2013, but it's happily upgraded to something bigger and better now, located near Tyraspilska Square, near lots of trams and buses. Here, you'll find all kinds of snacks, soy meats, things to cook at home, or things to throw in your backpack for a day of sightseeing. Highly recommended.
Restaurants
For restaurants, I have 3 recommendations.
Momincube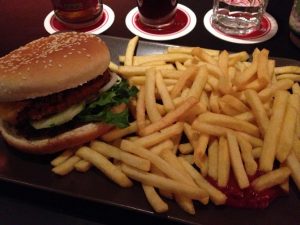 Number 1 is a small café, almost like a coffee shop on steroids. It's called Momincube, and there are 2 locations: one in the city center near all of the museums, and one in the southeast, near the Muzkomedi Teatr. They have coffee, sandwiches, snacks, and juices, and many of these are vegan or can be slightly altered to be vegan.
Zelen
Also in the southeast of the city, near the Muzkomedi Teatr and Kulykove Pole Square, you'll find Zelen. This vegetarian restaurant is a bit pricey, but it has a wide range of options on the menu and clearly labels items, which makes finding vegan things very easy. There's no English menu here, so the indications on the menu can definitely help. Save room for the desserts.
Vegan Hooligano
I've saved the best for last. Vegan Hooligano is an all-vegan fast food spot with limited seating, so getting takeout for the nearby Pryvokzalna Square and eating while people watching might be your best bet. There's no English menu, but most of the employees know enough to help you order, and everything being vegan makes that much simpler. Given the small quarters, DIY ethic, and younger staff, I've heard people complain about the lack of 'proper' restaurant approach, but the food is filling, they wash their hands, and you get a big smile from people who appreciate a foreigner trying out their restaurant. It's definitely worth a visit.
If you're out with a group in the city center, a good option is Hevron, located near the Babel Monument and the Brodska Synagogue. They serve Ukrainian and Israeli food, have an English menu, and there are vegan varenikis (think dessert dumplings/pierogi) with potato & cherry that you should try. English-speaking staff is familiar with veganism, and they have the default vegan options of hummus & falafel, if all else fails.
---
Kiev
Kiev is one of my favorite cities, and you're likely planning to head to Chernobyl while you're there. You'll be happy to know that the only restaurant in the exclusion zone around Chernobyl has a 'fasting menu' that is especially popular during the Lent time before Easter, but you can ask for this with some advance notice. Let your guide know to request this for you when making the reservation. That's an easy one!
Read more about being vegan in Chernobyl here.
If you're looking for snacks to put in your backpack, a great natural foods store is Eco Chic, inside Bessarabsky Market. It's closed on Sunday, FYI.
While you're at Bessarabsky Market, also check out Green 13 Café, which is a takeout counter offering all vegan sandwiches, wraps, soups, and sometimes desserts. There's also an English menu.
There's a Vegano Hooligano in Kiev, also, but it's not the same as the one in Odessa. This one is an art space meets vegan restaurant meets bar after 9pm. There's a full menu of vegan options here, whether you're dining in or taking out. Try the bruschetta set for a little sample of multiple items.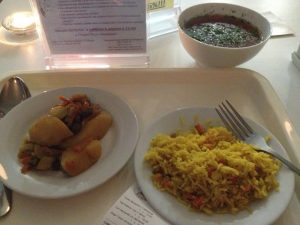 A cool 'mostly bakery' with a bit more than that is B2 Bike and Bakery, near Kontraktova metro station, so go here after you visit Vegano Hooligano. Most of their items are vegan, and they specialize in baked goods and candy, plus pancakes and toasted sandwiches. Get the hot cocoa with coconut milk. There's a reason it's the most popular item! Cash only here.
While not overwhelmingly impressive, the Ayurveda Café near the Ministry of Education offers a lot of vegetarian food for a little price. Grab a tray, slide down the line, and choose what you'd like. Practice "ya veganska" here, because I didn't find any English spoken by the staff. However, a nice woman who overheard me struggling came up to help me choose items from the buffet. Lots of food for a little price is the main selling point here.
I've once again saved my favorite for last. Nebos. It's undoubtedly one of the best restaurants I've tried in my life. For the local area, it's considered a bit pricey. If you're coming with dollars or euros in your pocket, it's cheap. There's very limited English spoken, but I found the staff super helpful in trying to get past that. It's conveniently located near Independence Square, and you absolutely must save room for the banana-chocolate cake.
It's undoubtedly one of the best restaurants I've tried in my life"
For typical Ukrainian fare that's either vegan or easy to make vegan, look at cabbage rolls (inquire whether they used butter or oil or margarine). There are also pickles available almost everywhere, almost all the time. I love pickles, so that's a great filler snack. Ukrainian markets/bazaars are a sight to behold. Given the location, foods from Europe, the Middle East, and North Africa wind up here, so look for all kinds of nuts, fruits, and vegetables—even those you may have never tried before. Look for the stall selling pomegranate juice, guaranteed at every bazaar in Kiev and Odessa. Delicious!
Ukraine might feel very 'old world' in many ways, but there are also tons of vegan options laying around, if you spend a bit of time to look.
---
Fancy testing out the food for yourself?
Book yourself a YPT adventure here.
About Post Author
.