Much like North Korea, traveling to Tibet requires people of all nations to get a permit before they can enter the Tibetan Autonomous Region of China. It's not hard though, with YPT's help.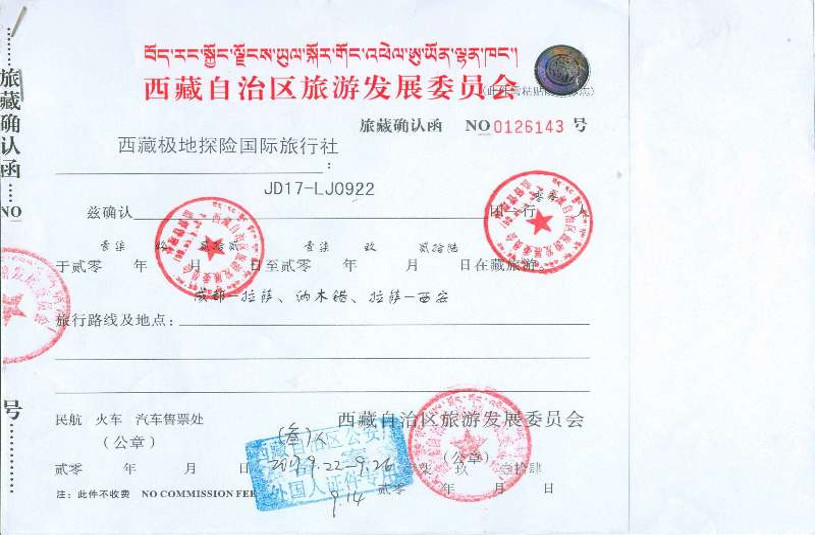 ---
I already have a Chinese visa, why do I need a permit to travel to Tibet?
Firstly, yes Tibet is part of China. However, it is the one part of China that requires all foreign nationals to have a permit. This has been the case since at least 2008, with intermittent application of the law before then too, and is because of the sensitive nature of Tibet and the prominence of the Free Tibet campaign outside China.
You need to first book a tour. And of course, you need a Chinese visa. But for this, YPT can also send supporting documents to ease your application.
You can book a tour by sending an email to YPT at tours@youngpioneertours.com and once you are booked up we can send you supporting documents for the Chinese visa.
Is Tibet like in North Korea and we have to stay in our hotel rooms?
No, most definitely not. Although you have to join a guided tour, your guide will only be with your for the daytime tour, and when he or she leaves at 5pm or so you will be free to wander the streets of Lhasa or other cities and do whatever you please!
What do you need from me?
Once you have booked a tour and got your Chinese visa, we just need:
A copy of your visa

If you are resident in China; a copy of your residence permit and proof of work, a document from your place of work proving you are employed there.
Do I need to send you my actual passport?
Nope. When we meet you at the start of the tour we will give you your Tibet permit which you will need before boarding the train or flight to Lhasa.
Do I need a double/multiple entry Chinese visa to visit Tibet?
No, because Tibet is a part of China and you won't be leaving Chinese territory at all. If you go on to cross the border from Tibet to Nepal you will be leaving China, but a single entry visa is still sufficient.
How much does it cost?
The Chinese visa varies in price around the world. If you're American or Canadian you might be able to get a 10-year multiple entry visa, if you're British you will get a 2-year multiple entry visa, but many other nationalities only get a single or double entry visa that must be used within 6 months.
For the Tibet permit the cost of it is included in the Tibet tour!
Can I get the Tibet permit on my own?
No, unfortunately only a tour company can get the permit for you once you have booked onto a tour, but fortunately for you, YPT is here for you!
---
About Post Author
.