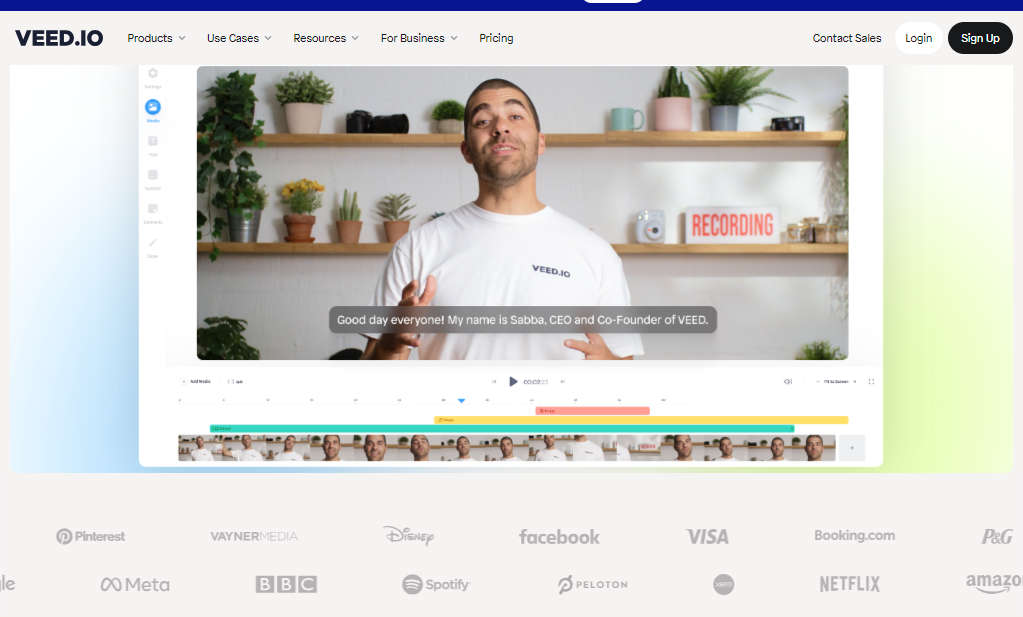 Making captivating videos is an excellent method to save and share your travel memories since they deserve a stunning visual depiction. VEED online video editor provides a variety of editing tools to meet the demands of travelers who are also video producers. The amazing capabilities that VEED has to offer will be covered in detail in this guide to help you create beautiful travel videos.
1. Trim and Cut: Streamlining Your Footage
Start by refining your video clips to showcase the main attractions. With the help of VEED's Trim and Cut tools, you may fine-tune your movie by cutting out pointless sections and accentuating interesting portions. Your viewers will be drawn to the highlights of your journey if your video is condensed into a brief, insightful description.
2. Captions and Subtitles: Engage a Wider Audience
Your travel video's accessibility and understanding can be improved by adding captions and subtitles. With VEED's easy-to-use Subtitle Editor, you can add captions manually or utilize the platform's automatic subtitling feature to generate text in various languages. Including subtitles will communicate the story of your travels to an international audience.
3. Text and Titles: Adding Context to Your Video
Your video's storytelling element will be improved by adding text overlays and titles to help set the scene. VEED's Text Editor offers an array of fonts and customization options to accentuate the narrative of your travel video. Use titles to introduce locations or personal anecdotes, creating a memorable and informative experience for your viewers.
4. Filters and Effects: Conveying the Atmosphere
Transport your audience into the atmosphere of your journey by establishing a visual ambiance. VEED's assortment of filters and effects allows you to emulate the mood of a location, be it the warmth of a tropical destination or the crisp air of a mountain range. Experiment with these tools to develop a captivating visual theme that complements your travel story.
5. Transitions: Seamless Scene Shifts
Keeping your viewers interested in your video requires maintaining its pace. VEED's Transition tool offers a variety of options, including cross-fade, slide, or wipe effects. Use these remarkable transitions to move smoothly between scenes and capture the essence of your travels in a coherent manner.
6. Audio Editing: The Sounds of Travel
Soundtracks and audio clips can enrich the sensory experience of your travel videos. With VEED's Audio Editor, mix background music, voiceovers, and natural soundscapes to captivate your audience. Balance audio levels, fade in and out, and choose from the platform's vast library of royalty-free tracks to evoke emotions and showcase the sounds of your adventure.
7. Progress Bar: Highlighting Your Journey
Showcase the timeline of your travels with VEED's Progress Bar feature. Your viewers may follow along as the travel progresses by adding a progress bar to your video to visually reflect your journey.
8. Compressors: Optimize for sharing
VEED allows you to compress and optimize your video, which means that it will take up less space on your device or in your Dropbox account. This means that it will be easier to share with friends and family members who may not have a fast internet connection or unlimited data plan.
9. AI Video: Personalized AI
No need to shoot your own footage to create videos. Now, with AI, you can create amazing-looking videos by combining VEED's AI tools and stock media. Create professional videos by adding audio and video clips from our collection of royalty-free stock media—or start with a video template.
Final Thoughts
With these remarkable VEED editing tools at your disposal, you have the creative power to elevate your travel videos to extraordinary heights. Dive into the world of video editing, share your memorable experiences with others, and inspire future adventurers with the stories you unfold.
About Post Author
.