by Andy Khong
Nestled in the southern reaches of Laos, there exists a hidden paradise – Si Phan Don, meaning "4000 Islands" in Laotian language. This breath-taking destination is a harmonious blend of natural wonders, serene waterscapes, and a leisurely atmosphere that beckons travellers to explore a world like no other. In this article, we'll embark on a comprehensive journey through Si Phan Don, unveiling its myriad charms, attractions, and compelling reasons that make visiting this extraordinary place an irresistible adventure.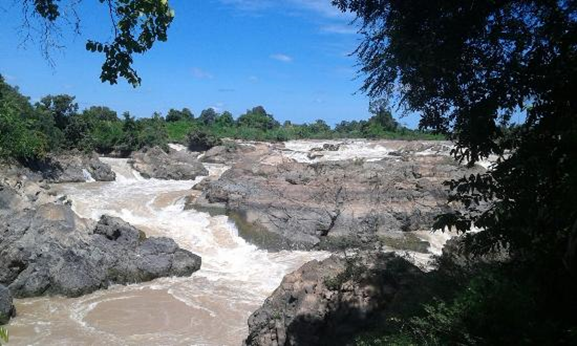 The 4000 Islands: A Natural Marvel
Si Phan Don is a vast archipelago of islands and islets situated on the Mekong River, not far from the Cambodian border. While it doesn't precisely consist of 4000 islands, this name encapsulates the region's essence, characterized by numerous islands of varying sizes. Among these, three islands have become prime tourist destinations: Don Khong, Don Det, and Don Khon(e).
Don Khong: As the largest of the three, Don Khong serves as the heart of exploration in Si Phan Don (capital of Khong District). Here, you can hire a bicycle and immerse yourself in an authentic Laotian experience, meandering through lush rice paddies, rustic villages, and engaging with friendly locals.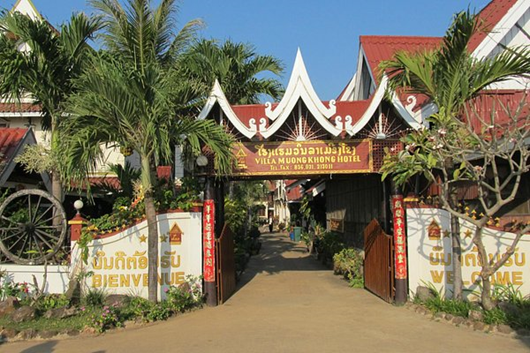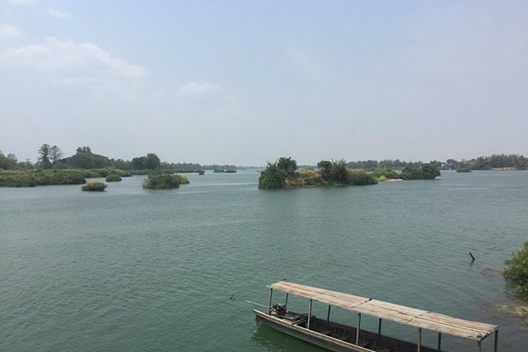 2. Don Det: Don Det, often hailed as a backpacker's paradise, is known for its affordable accommodations, mesmerizing sunsets, and a laid-back, bohemian vibe. You can rent a bicycle to explore the island's stunning landscapes, including waterfalls and tranquil river views. Don Det is the busier than Don Khon(e) as it has the most choice when it comes to bars, restaurants, and accommodation.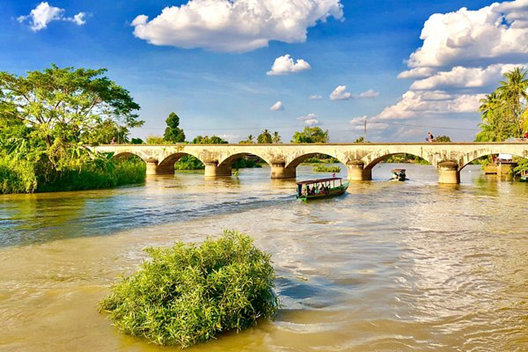 3. Don Khon(e): Connected to Don Det by an aged French railway bridge, Don Khon(e) boasts the famous Li Phi Falls also known as the "Devil's Corridor", and the historical remnants of a French-built railway and port, offering a glimpse into the area's past. Li Phi Falls create a breath-taking spectacle as the Mekong River narrows, and the water rushes through a series of dramatic rock formations. Witnessing the power and beauty of Li Phi Falls is a moment you'll treasure forever. Don Khon(e) quieter and has a more authentic feeling compared to Don Det as it has less restaurants, accommodation, and bars.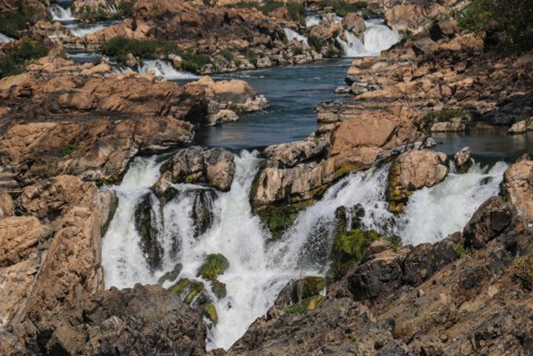 The "Four Thousand Islands" offer a serene escape from the hustle and bustle of urban life. Visitors have the freedom to explore these islands at their own pace, revelling in the unspoiled beauty, warm hospitality, and timeless allure of the region.
Mekong Dolphins
Si Phan Don is also home to one of the world's rarest and most endangered species – the Irrawaddy dolphins. These gentle creatures can be observed on boat tours that take you to their habitats near Don Khon(e). Witnessing the playful dolphins in their natural environment is a profound and heart-warming experience.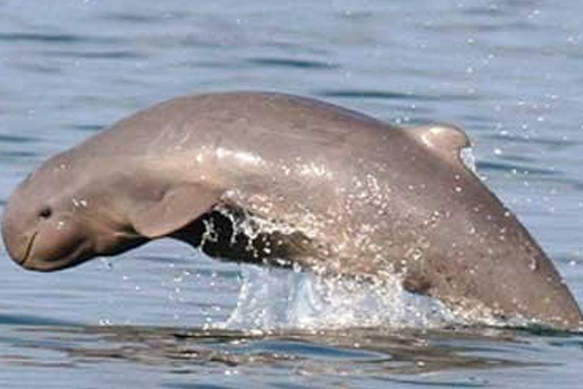 Why You Should Visit Si Phan Don
With an insight into what Si Phan Don has to offer, let's delve into the compelling reasons why this hidden gem should be on your travel radar:
Natural Beauty: Si Phan Don is an oasis of unspoiled natural beauty. From the peaceful river landscapes to the verdant greenery, you'll find endless opportunities to connect with nature.
Tranquillity: These islands provide a serene retreat from the urban hustle and bustle, offering the perfect setting to unwind, recharge, and find inner peace.
Cultural Experience: Immerse yourself in the rich Laotian culture and witness the unhurried, traditional way of life in local villages.
Adventure: Whether you seek kayaking, cycling, or leisurely exploration, Si Phan Don caters to adventure seekers and those looking for a more relaxed getaway.
Affordability: Si Phan Don offers budget-friendly options for accommodations, dining, and activities, making it an accessible destination for all.
Si Phan Don, the "4000 Islands" of Laos, is a captivating destination where time feels suspended. It's a place that beckons travellers in search of serenity, adventure, and a deep connection with nature and culture. From the awe-inspiring waterfalls to the playful dolphins, this region promises experiences that will leave an indelible mark on your heart. If you're yearning for a distinctive and unforgettable escape, Si Phan Don should unquestionably be at the forefront of your travel plans. Pack your bags and embark on a journey to discover the enchantment of Si Phan Don – a hidden gem waiting to be explored.

Articles of interest:

Luang Prabang – well preserved UNESCO townscape

Plain of Jars – Enigmatic Plains

Monkey Mia – where dolphins swim to you (Western Australia)

This is a sample of YPT's South-East Asia Tours 2024. To view future tours to South-East Asia, go here.

About Post Author
.