2015 was an eventful year in the DPRK. From the lows of the early year border closure to the highs of the Liberation and Party Foundation anniversaries, it's been a roller-coaster.
YPT's Shane shares with us 5 of his favorite shots/moments in the DPRK from 2015 . It's extremely difficult to choose just 5 shots from an action packed year but here goes, hopefully you'll agree that each one is unique in it's own way!
---
1. The first shot was taken underground in the Pyongyang metro. In stark contrast to other world cities, the metro is one of my favourite places to hang out in Pyongyang. Apart from the sheer Soviet style beauty of the place, foreigners and locals get so close and personal that it makes a great place to strike up a conversation, make some kids laugh or just interact with everyday Koreans. Interactions that you and them alike will remember for a long time. Here a father and his colourful daughter react to seeing a bunch of strange looking foreigners step off a train. Seconds later she would be climbing on his back waving us goodbye as they boarded on the opposite platform. This image goes far to dispelling the myth that the entire country is grey and uniform.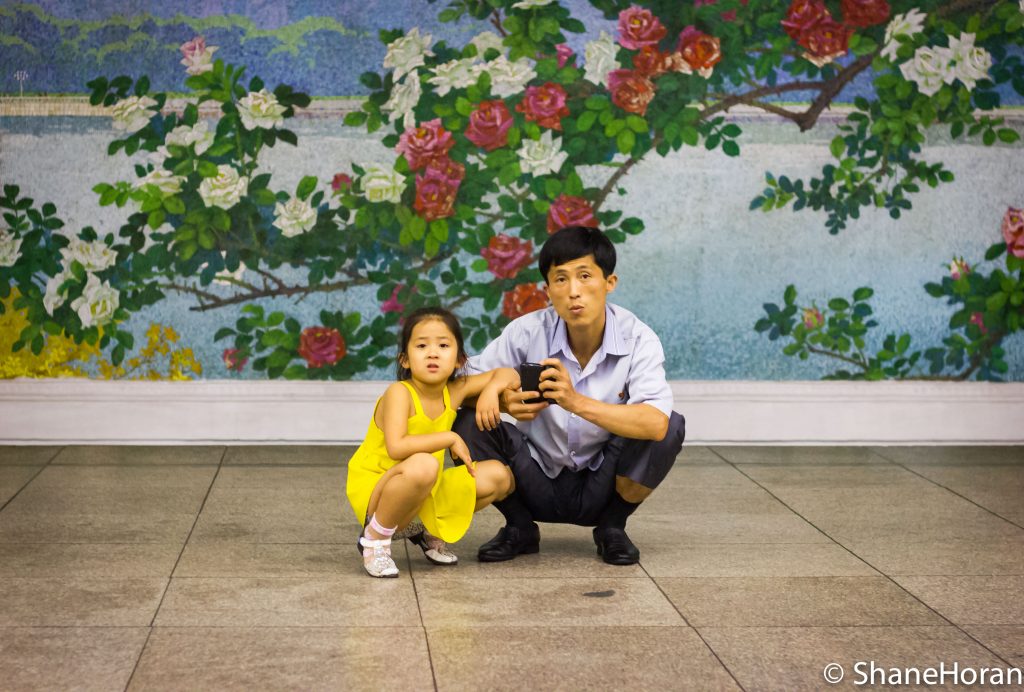 2) This shot was taken in Pyongyang in September. I, like many other frequent visitors to North Korea, have a little obsession with Pyongayng's traffic girls (I may or may not have a traffic girl doll beside my bed and a painting above my desk). They are they beautiful and disciplined in their sudden yet hypnotic movements. Unless you possess a telephoto lens, they can also be quite difficult to photograph. I have to confess for this shot I hid behind an electricity supply box and then jumped out and surprised her as she turned around. She scowled and gave me stare I'll never forget. Luckily the passing bus framed her quite well!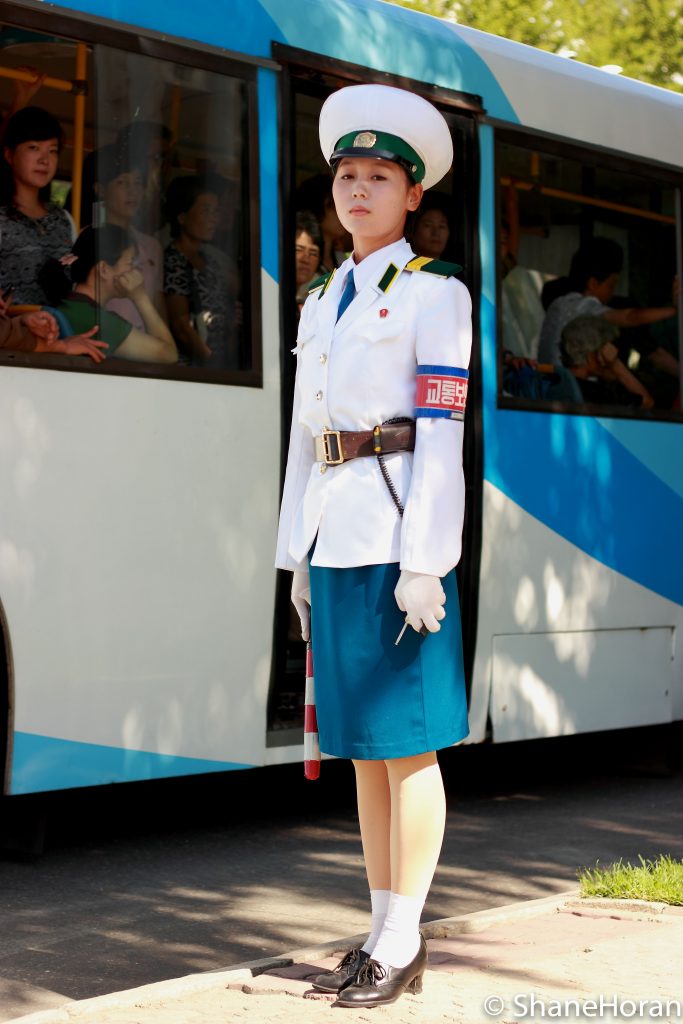 3) The third shot is from Rason Special Economic Zone, North East Korea, taken in June. Here we visited the middle school at the beginning of their English class whilst the teacher was writing sentences on the white board. The first sentence he scribbled was particularly noteworthy given the DPRK's proud – "nothing to envy" self-reliance, it's strong stance towards the outside world and the importance placed on it's leaders who appear at the top of the shot. I've included the photograph because it can be interpreted in several different ways so I'll leave that up to you!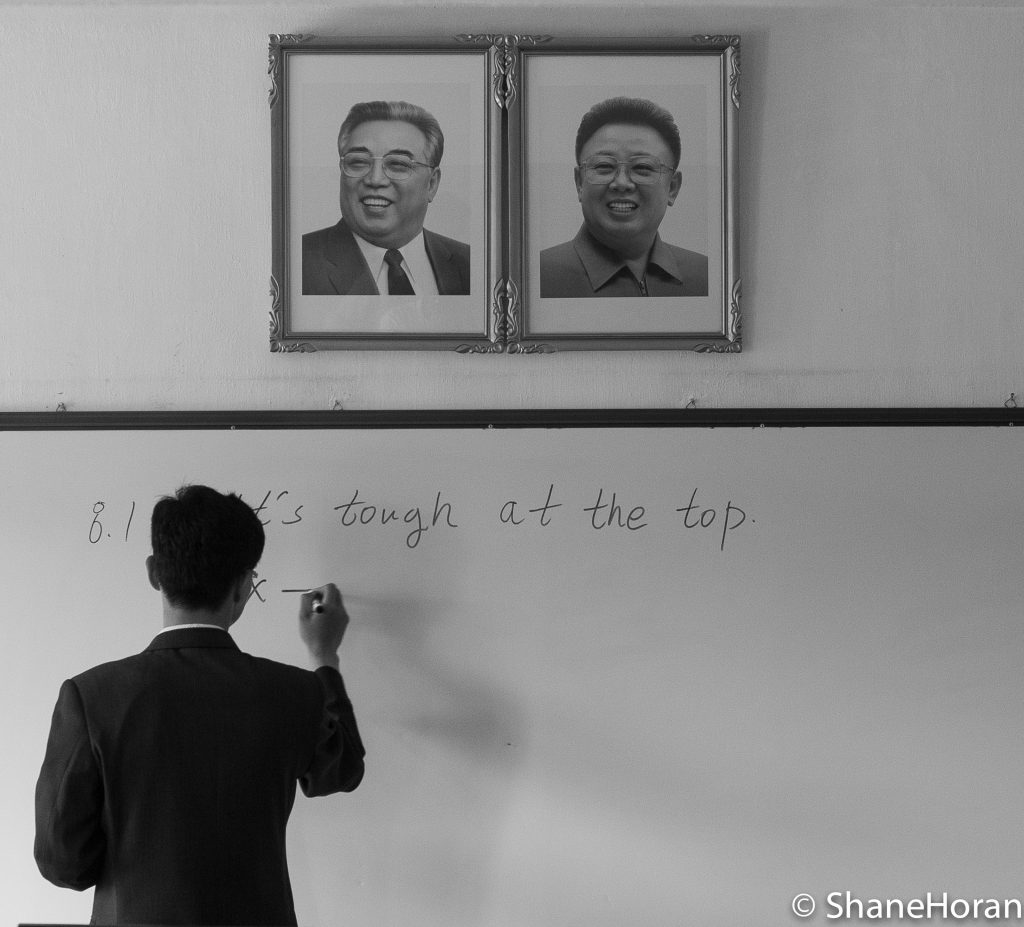 4) The fourth shot was taken on Wonsan beach in August. Here I went for a walk away from the group further down the crowded beach. I was shooting swimmers and fisherman casting off from the pier when literally out of blue, this timeless looking character walked towards me with his daily catch of fresh clams, flashing a cheeky smirk as he glided by. For a brief moment I felt like i was in the middle of a 1960s Jaques Cousteau film.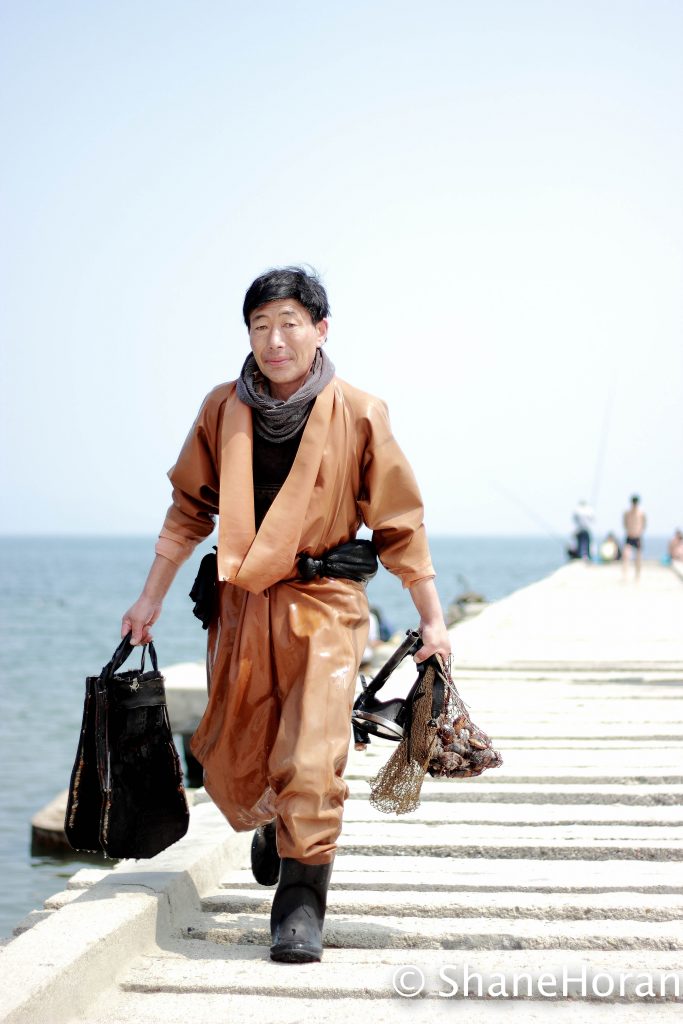 5) This shot was taken moments before the start of the Pyongyang Marathon in April. 2015 didn't start the way we would have liked, with the border closure over the Ebola crisis. Travel was banned from October 2014 to March this year It wasn't until the Pyongyang marathon of mid – April that the year really kicked off with a bang. On the morning of Sunday April 12th, Kim Il Sung stadium was filled to a 50,000 strong capacity and thousands more lined the streets outside. After months of complete isolation suddenly there were scores of foreigners in the capital receiving an overwhelmingly warm welcome from the locals. This brief moment of engagement above captured the emotions that were in the air on that crisp morning. As the participants were warming up for the race and waving to the crowd, an American runner and Korean spectator went in a little closer for a proper handshake.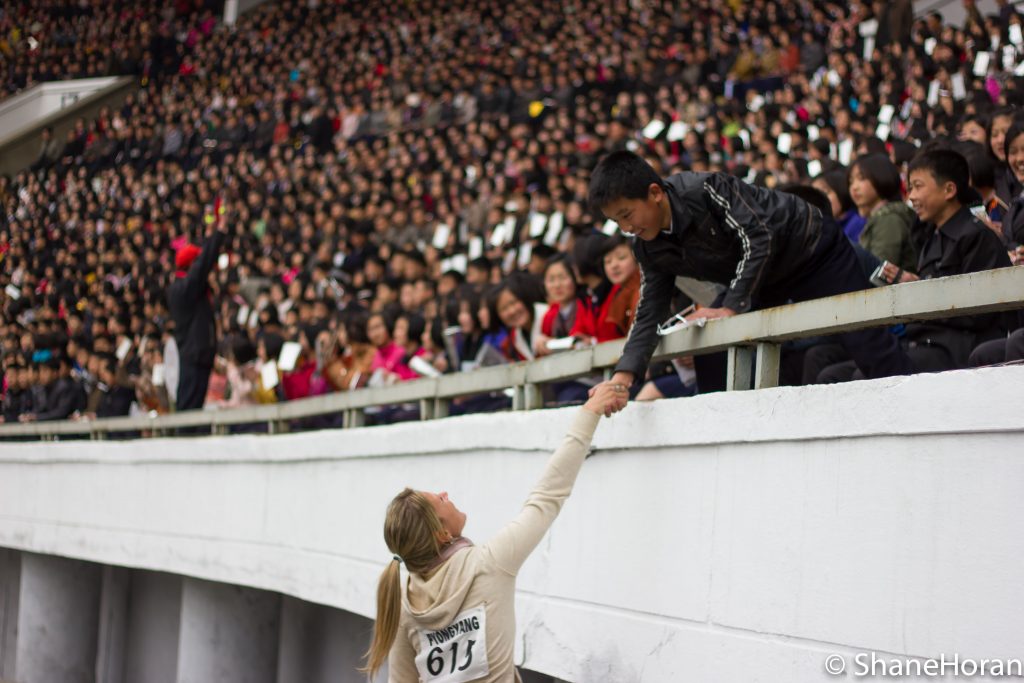 ---
Want to get your own snaps of the DPRK?
Click here for more information on YPTs various group and independent tours.
About Post Author
.