On our recent Chechnya and North Caucasus tour, YPT naturally spent a lot of time in the revitalised city of Grozny, which is rapidly becoming the centre of the North Caucasus. Gleaming and flashing, this city had a far worse reputation a few years ago. It was labelled as the most destroyed city on earth by the UN and Chechnya was branded the most dangerous place on the planet, where kidnapping and death was almost guaranteed. Luckily, that's in the past and today, you can enjoy a cappuccino or a pizza on the main street, called Putin Prospekt, worry free.
We were impressed with Grozny Chechnya so we decided to list our five favourite attractions in this amazing city.
Akhmat Kadyrov Museum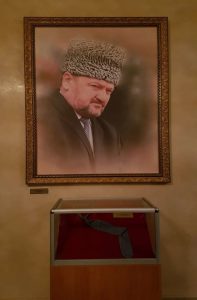 Ramzan Kadyrov, the ruler of Chechnya, is infamous around the world for many reasons — but mainly due to his online presence. The Instagram of Ramzan Kadyrov is littered with his adoration of President Putin, his MMA skills and his love of holding dangerous animals such as wolves, lions and bears. Under his reign he has rebuilt Grozny with Russian money, building impressive football stadiums, one of the biggest mosques in Europe and gleaming business centres.
It's no secret, however, that he is nowhere near as popular as his murdered father Akhmat Kadyrov. In the centre of Grozny is the Akhmat Kadyrov museum, which is the definition of dictator chic. Upon entering you are greeted with sheer marble and stunning chandeliers. The museum is overwhelmingly a shrine to Akhmat and Ramzan. You can see the clothes Akhmat was wearing on the day he died, original photographs of the explosion that ripped him apart, gifts from tribal leaders and heads of other Russian republics as well as books he and Ramzan have written about themselves. Upstairs is an art gallery of various paintings people have donated including some fetching portraits of Ramzan, Akhmat and their grandfather in tribal clothes with an intimidating glare.
Grozny Business Centre helipad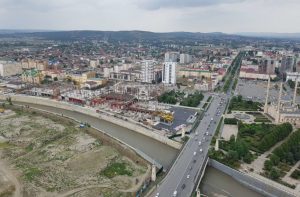 Labelled ''the most destroyed city on earth'' by the UN in 2000, Grozny is now a reborn and refurbished city. At the end of Putin Prospekt is the Grozny business plaza where for a few Rubles you can take an elevator to the helipad of one of the buildings, enjoy a few (non-alcoholic) drinks and look down upon Grozny below. Bear in mind that there are warnings not to photograph from one angle as it faces the president's palace. This rule is serious and not meant to be broken under any circumstances.
Akhmat Kadyrov Mosque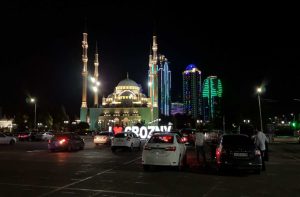 The pride of modern Grozny is the Akhmat kadyrov mosque also known as ''the heart of Chechnya''. One of the largest in Russia, it is of typical Ottoman style with a set of 62-metre (203 ft)-tall minarets. It was opened in 2008 in a ceremony in which Ramzan Kadyrov appeared and spoke with Vladimir Putin. The area of the mosque is 5000 square meters and has a capacity of more than ten thousand people. The same number of faithful can pray in the mosque adjacent to the gallery and the area of summer. The interior is stunning and well worth a visit inside.
FC Akhmat Stadium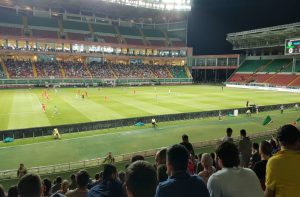 If you're lucky, your trip will coincide with a football match. Our YPT group tour did and I wasn't sure what to expect but Chechen football is a great atmosphere and you'll likely see president Kadyrov sitting in his executive suite balcony watching the match. The stadium is very high-tech as the team is owned by Ramzan Kadyrov himself; expect high security on entry and to be thoroughly searched. Unlike at British or American football matches, where a beer and pie or hotdog is a staple on the menu, at football matches in Chechnya you will be given Pepsi and Russian pancakes. No alcohol is for sale anywhere in or around the arena.
The Personal Museum of Adam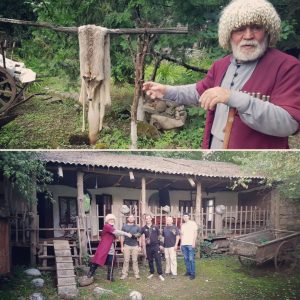 Whilst not, strictly speaking, in Grozny, this museum is located on the outskirts of the city and is absolutely unmissable. The curator, Adam, is a close friend of the president and a former wrestling champion with the nickname ''The George Clooney of the Caucasus'' due to his handsome looks. Easily in his mid-60s, Adam will still challenge the strongest looking men he meets to an arm wrestle. Do not resist or be fooled by his age, because he will win! More famous than his wrestling antics is his personal museum. During the Chechen conflicts, Adam drove a Lada Niva into downtown Grozny during heavy Russian bombing and rescued artifacts of the history of the Chechen people before they were destroyed. Today, he displays them in his compound home. The display features everything from T-Rex eggs and military cannons to Civil War relics and the hide of an infamous sheep-killing wolf that Adam himself hunted down and killed as a favour to a local Chechen tribe. After his tour his wife will cook you some traditional Chechen food (don't miss the cheese bread with sour cream!) while Adam takes a series of alpha-male photos with everybody, likely featuring cannons and swords.
And there we have it – a dangerous, 'destroyed' city no longer, Grozny is well worth a visit if you happen to be in Chechnya or the North Caucasus!
About Post Author
.