Introduction
Travel might be an obsession of Young Pioneer Tours, but when we can combine that obsession with great food, we get into our happy place.
Mongolia is one of favorite places to travel to and has terrific cuisine. Although not so much if you are a vegan, with it being described as the least vegan friendly in the world.
To read more about vegan food in Mongolia click here.
If you'd like to learn some amazing facts about Mongolia click here.
To read about the cuisine of inner-Mongolia click here.
Mongolian Cuisine
The cuisine of Mongolia is extremely heavy in meat (hence its designation as not being particularly vegan friendly), yummy animal fats, and unlike the rest of East Asia, the wonder that is dairy!
They also eat amazing meat-filled dumplings called buuz. Due to the intense climate of the region, vegetables have not played much in the Mongolian food scene.
Features of Mongolian food
Due to the aforementioned lack of vegetables, Mongolia's food is centred around the animals of the region of the domesticated animals that they have. These include cattle, horses, yak, sheep, goats and even wild game. Animal fats are used to make numerous products, as is the milk of all animals.
5 Must try Mongolian dishes
We've put together our top Mongolian food that you need to try:
Buuz – Seemingly served by every restaurant in Ulan Bator. These dumplings are filled with meat, such as mutton and usually boiled. It is possible to have a version fried in mutton fat. Yum does not do it justice. Vegan options are available in Ulan Bator.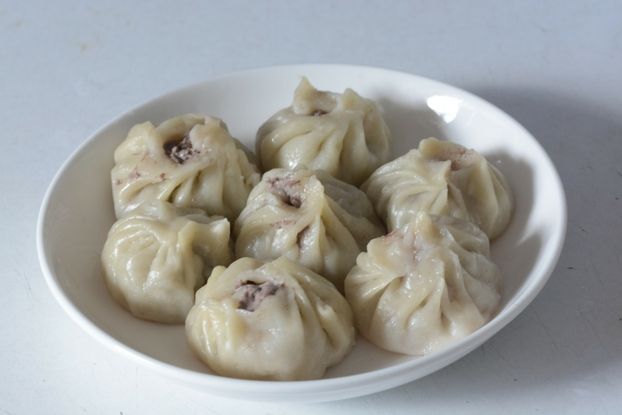 Yak Butter Tea – A favorite as well in Tibet. A tea made from yak butter. I first tried this when a Mongolian guy fed me a cup whilst on the Trans-Mongolian Railway. A lot of people hate this, but I personally love it. It is like drinking a big bowl of butter. What is not to like about that?
Mongolian Hot-Pot -The hot-pot you have in China allegedly came from Mongol soldiers cooking eat in their helmets. Boiled meat and vegetables saved as spicy as you like it… This is an absolute treat!
Mongolian BBQ – Mongolian BBQ is famous throughout China, as well as being available in Inner-Mongolia. If you need lessons on the differences between inner and outer Mongolia, click here. Mongolian BBQ consist of lots of bread as well as huge bits of spicy meat on a stick. I would put Mongolian BBQ as being perhaps the best in the world.
Khorkhog – barbecue dish in Mongolia. Khorkhog is made by cooking pieces of meat inside a container with stones and water, and is often also heated from the outside. This creates a succulent meat dish that melts in your mouth.
Drinking in Mongolia
Drinking in Mongolia mostly consists of bad beer and Russian Vodka.
If you would like to join us on tour to Mongolia please get in touch with us.
About Post Author
.