Glorious Fatherland returns!
After the triumphant return of the Mass Games, formerly titled "Arirang" and now called "Glorious Fatherland", the DPRK have announced the games are back for 2019! 
The reinvigorated Mass Games have been a massive hit — YPT's tour groups have had nothing but praise for the world's largest mass gymnastics event, featuring a living mural comprised of thousands of students, hundreds of dancers acting in concert to provide spectacular and unmissable spectacles, and several of the DPRK's most renowned singers lending their formidable vocal prowess to the show!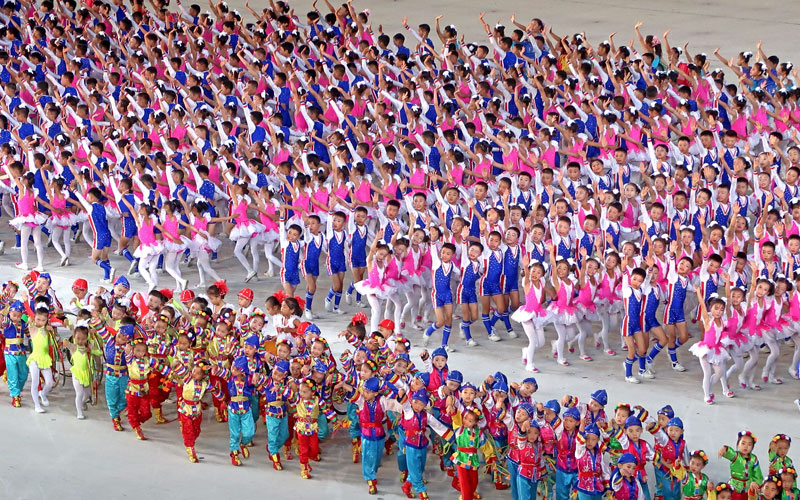 In a phenomenal new edition to the Mass Games, the show featured an aerial drone display for the first time in its history! The drones were no less coordinated than their human counterparts on the ground, and wowed spectators with a choreographed light display over the May Day Stadium (coincidentally the world's largest).
The theme of the "Glorious Fatherland" Mass Games was somewhat less bellicose than previous outings, omitting almost any mention of the DPRK's rivals and instead opting for a more harmonious and peaceable message of friendship, economic development and closer ties with the DPRK's allies. Of particular note was several declarations of friendship for the DPRK's northern ally and biggest economic partner, the People's Republic of China. In addition to the traditional Korean slogans and messages associated with the former Arirang Mass Games, a fair amount of Chinese was on display in order to reinforce this message of solidarity between the two nations.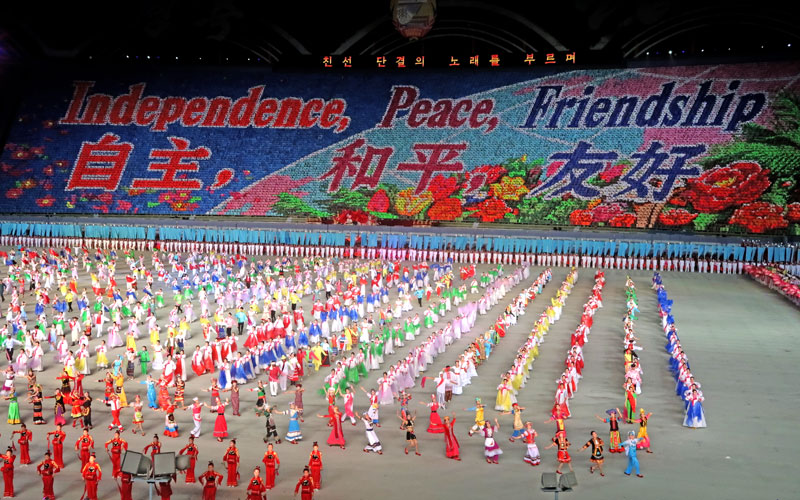 Would you like to know more?
As the DPRK is Young Pioneer Tours' bread and butter, the "Glorious Fatherland" Mass Games are obviously something we've been following — and covering — with great interest. YPT's Matt managed to record footage of the event and capture some fantastic pictures whilst in attendance last month; his photo blog and recollection of the event is well worth a read!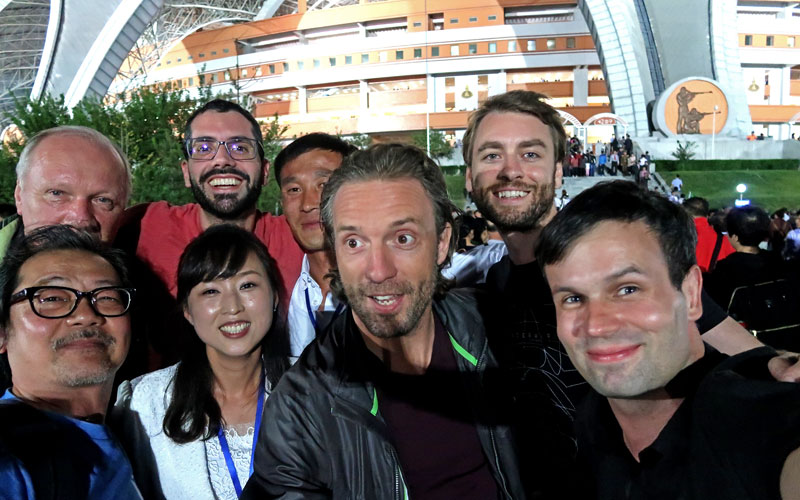 Further to this, YPT reps attending the opening event recount how they were lucky enough to be in attendance at the same time as the leader of the DPRK, Marshal Kim Jong-Un!
A North Korea Old Hand's perspective on the games allowed us to take a look at what had changed from previous incarnations of the Mass Games — YPT founder Gareth Johnson leaped back into the breach after a lengthy hiatus and provided his take on attending the show.
We're sure you're fairly gutted if you missed out on this amazing show, right? Fret not — there's still just enough time to squeeze onto a tour featuring the final performance of the Mass Games this year! Book onto our Supreme Leaders Tour today and see the Mass Games for yourself!
List of expected 'Glorious Fatherland' Mass Games tours
Update 21/03/2019: the Mass Games are purportedly back! Below are a list of tours we expect to feature this spectacular event: 
Unseen DPRK and Entire Metro Tour
Grand National Day and North-East Tour
Grand National Day Ultra-Budget Tour
Pyongyang International Film Festival
Chinese National Day Ultra-Budget
Party Foundation Day and Mount Kumgang Tour
Party Foundation Day Ultra-Budget
| Ticket Class | Original Price (Per Person) |
| --- | --- |
| 3rd Class | €100 |
| 2nd Class | €300 |
| 1st Class | €500 |
| VIP | €800 |
About Post Author
.