After a five-year hiatus, last year saw the triumphant return of the DPRK's Mass Games — the world's largest coordinated mass gymnastics event and a spectacle like no other on earth. The revival of the event proved hugely popular, with tours to North Korea fully booked for the duration of the new incarnation of the Games.
In what is undoubtedly huge news for both the DPRK and to companies operating tours there, it has been announced that the Mass Games will again return in 2019! Previously called the Arirang Mass Games until their indefinite hiatus from 2013, last year's revival was entitled 'Glorious Fatherland', and conveyed a message much more focused on amity and reconciliation than previous militaristic incarnations. The latest incarnation of the Mass Games has been confirmed as having the title "People's Country".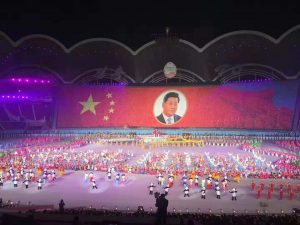 The Mass Games will once again be held in Pyongyang's world-famous May Day stadium — the biggest, by capacity, in the world. The games have been confirmed as running from early June until at least mid-October — though, as, with last year, there is the possibility that the Mass Games will be extended due to popular demand.
Last year's 'Glorious Fatherland' Mass Games were an unmitigated success, and featured, for the first time in the Games' history, the addition of drones, which wowed audiences with their precisely choreographed overhead routines. The drones did not detract from the more traditional aspects of the Games, however; hundreds of thousands of performers bedazzled spectators, their feats of gymnastics and synchronized dancing performed with such military precision as to rival the drones overhead.
All of the tours that will feature the Games are now open for booking, and we expect demand to be very high — the book as soon as possible in order to ensure your place at the world's most spectacular Mass Gymnastics extravaganza!
Update 19/06/2019: After a brief hiatus, the Mass Games have been confirmed as returning on June 24th until October. 
Update 22/05/2019: ticket prices confirmed!
| Ticket Class | Original Price (Per Person) |
| --- | --- |
| 3rd Class | €100 |
| 2nd Class | €300 |
| 1st Class | €500 |
| VIP | €800 |
Tours featuring the Mass Games: 
Dragon Boat Festival Ultra-Budget Tour
July Ultra-Budget Tour & Sinuiju Extension
Moscow to Pyongyang by Train Tour
Victory Day & Mount Paektu Tour
Pyongyang Summer Mini-Break Tour
Liberation Day Ultra-Budget Tour
August Ultra-Budget & DMZ Tour
Pyongyang City Bicycle & DMZ Tour
Unseen DPRK and Entire Metro Tour
Grand National Day and North-East Tour
Grand National Day Ultra-Budget Tour
Pyongyang International Film Festival
Chinese National Day Ultra-Budget
Party Foundation Day and Mount Kumgang Tour
Party Foundation Day Ultra-Budget
About Post Author
.