Introduction
Where is Cambodia? That is an excellent question, and as part of our overall Cambodian travel guide we have decided to include a big map section to show not just where Cambodia is, but maps of the top places we visit during our trip.
Where is Cambodia?
Cambodia is based in Asia, specifically South-East Asia. Cambodia has an area of 181,035 square kilometres (69,898 square miles) and lies entirely within the tropics.
How big is Cambodia compared to other countries? Cambodia is the 88th biggest country in the world.
Where in Asia is Cambodia?
Cambodia is in South-East Asia. It shares borders with Thailand, Vietnam, Laos and the Gulf of Thailand.
Map of Cambodia
Cambodia is made up of 24 provinces and one autonomous municipality, namely Phnom Penh, the capital city.
Phnom Penh has the highest population in both numbers and density in Cambodia.
The biggest province by landmass is Mondulkiri, and the smallest is Kep.
Map of Phnom Penh
Although there is an international airport in Siem Reap, the most commonplace to fly in and out of is the capital city of Phnom Penh. Despite its size, Phnom Penh is relatively easy and cheap to travel around, although it does suffer from high levels of traffic (not as bad as Manila to be fair).
Map of Siem Reap
Siem Reap is the main tourist mecca of Cambodia as it is home to Angkor Wat. Despite being the second major city of Cambodia is quite small by Asian standards and relatively easy to get around.
Map of Battambang
Battambang is an important if not somewhat industrialized city in Cambodia. It is home to the bamboo railway and many important sites related to the Killing Fields of Cambodia.
Map of Anlong Veng
Anlong Veng was the last holdout of the Khmer Rouge and an essential part of the Cambodian Dark Tourism trail.
Map of the Mekong River
It s possible to travel throughout much of South-East Asia, and Cambodia in particular via the Mekong River. The following map shows just how extensive this river is: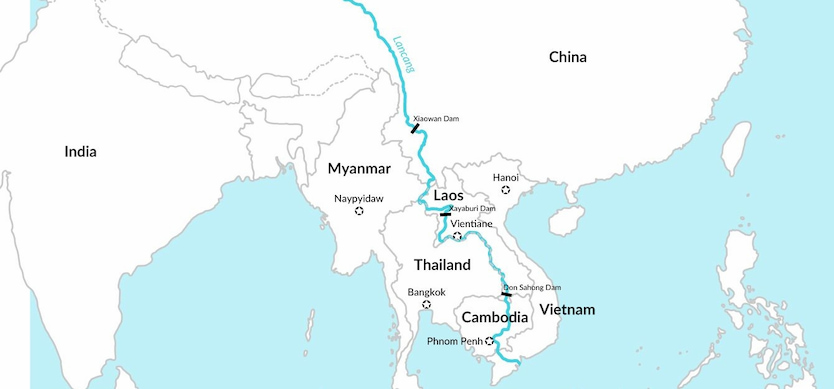 Map of Border Crossings From Cambodia to Thailand, Vietnam and Laos
For people not wishing to fly, it is relatively easy to bus, drive, or even train throughout much of South-East Asia. In usual times it is possible to get a visa on arrival when you enter via land into Cambodia. Check out our visa section for more details on how to do this.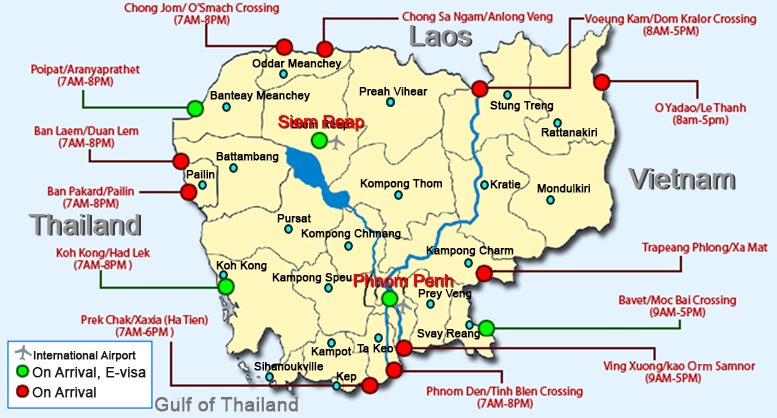 That is our guide to where everything is in Cambodia and the various maps of the country.
Click here to see our full Cambodia Travel Guide
About Post Author
.