Introduction to Mali
Mali is a landlocked country in western Africa that has a varied, often tumultuous history that sometimes overshadows the impressive amount of wonders, talents, beauty and culture that lies within its borders. Today the country remains among the ten most impoverished in the world; however, things were not always like this.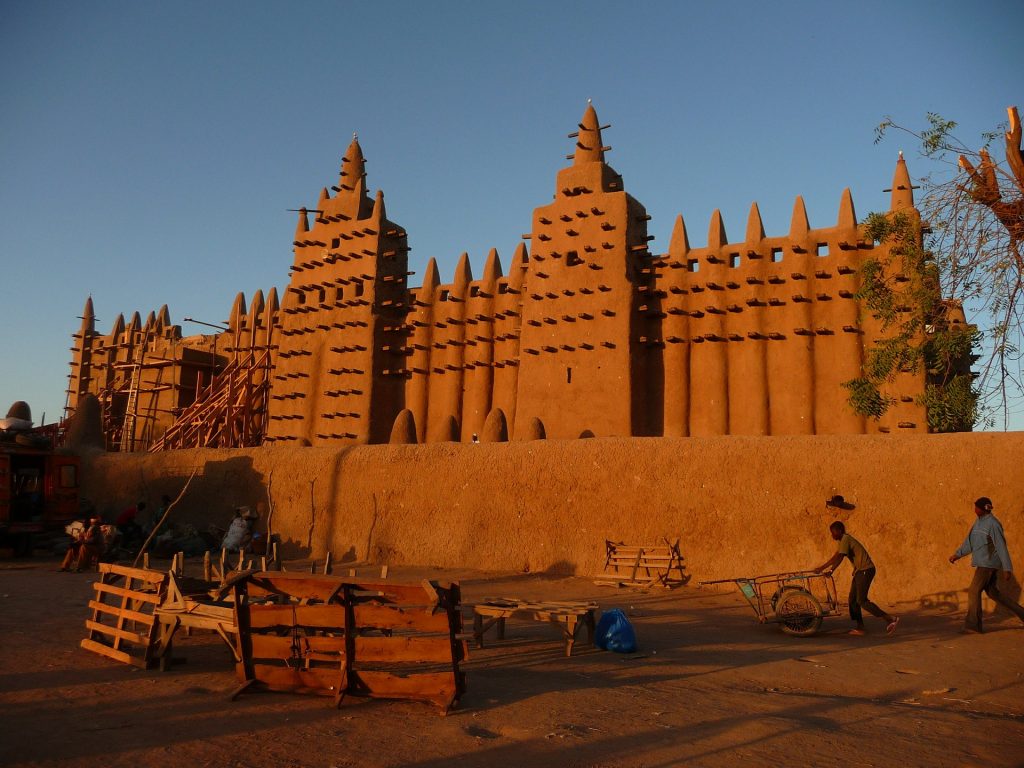 The history of Mali is long, from the primitive people who first inhabited this land, to the great Mali Empire, years riddled with coup attempts, a bloody uprising and most recently, the separatist movement that has threatened the very core of Mali culture.
There are many reasons people avoid travelling to Mali, but for the truly adventurous, there is an incredible mesmerizing country full of unexplored destinations rich in stories and a vibrant local culture dating back 1000's of years to get to know.
Due to security concerns in Mali, you want to make sure you put your trip in trusted hands to ensure a safe, engaging and informative trip to Mali, which is exactly what we can offer you in conjunction with our local partners who have unparalleled access and relations on the ground in Mali.
Trusted, Safe, Reliable Guiding and Vehicle Rental Services in Mali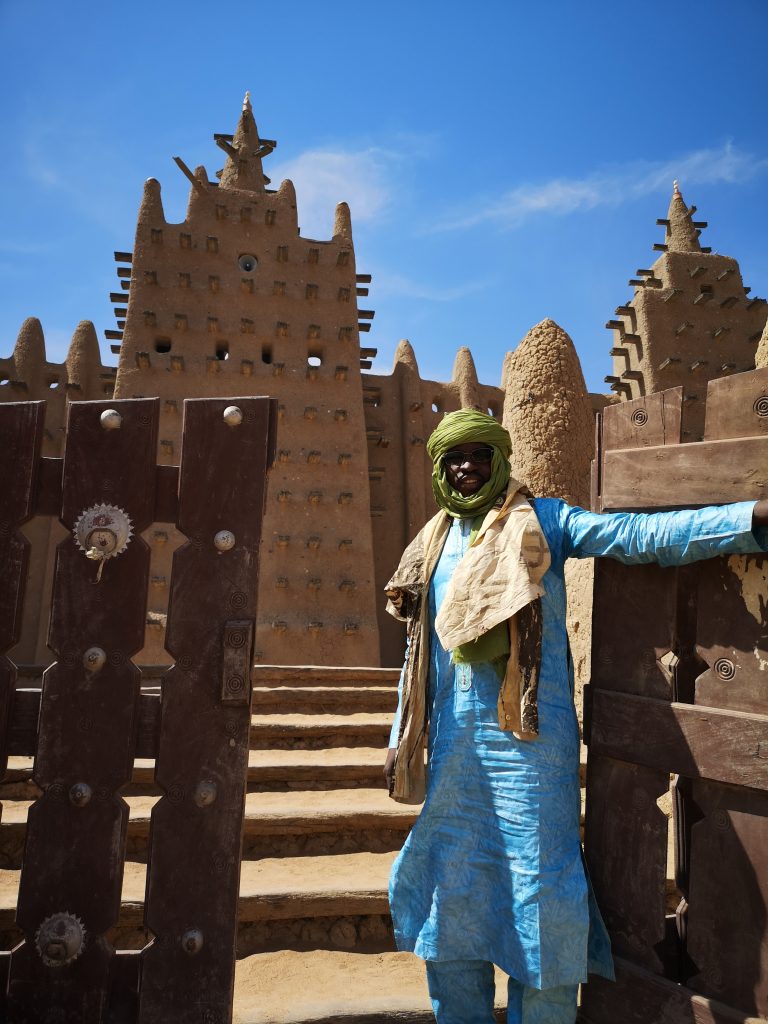 Due to Mali's ongoing security situation, all trips that we arrange will be accompanied by a professionally trained tour guide who knows the ins and outs of the country.
We work with some of the most experienced and trusted guides in the country who are walking encyclopedias on everything related to the culture, history and customs of their homeland. They are also some of the most informed people in the country regarding the security situation and ongoing threats to ensure you have a memorable and safe trip to Mali.
Our local partners also have a well-maintained fleet of reliable vehicles and certified drivers to meet your specific tour needs. Whether you require a small 4×4 or a larger bus to accommodate a big group of tourists, we have you covered at incredibly competitive rates.
Top Things to Do in Mali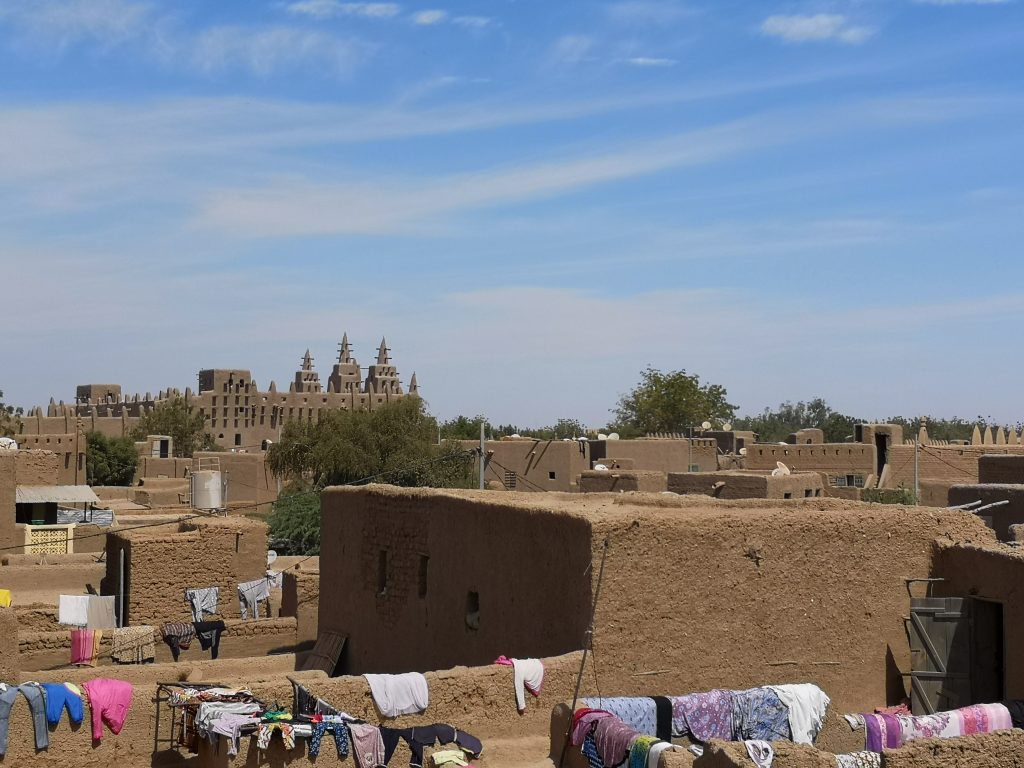 A land of jaw-dropping landscapes, epic monuments and incredible tales, all of which remain untapped gems calling out for the adventurous to explore them.
In the heart of the nation, the cities capital Bamako, life beats on at a fast pace. In the west of the country, traditions of 1000's of years run strong with the local tribes of the area, and in the northeast, the secrets of ancient Africa are waiting to be discovered where the writing of ancient civilizations rest in the ancient city of Timbuktu.
Explore the metropolis of Bamako
Continuously inhabited by humans since prehistoric times and straddling the mighty Niger River, Bamako is now a chaotic city of 1.7 million people, making it one of the largest in West Africa. The city is full of bustling markets, fascinating museums, towering monuments and delicious cuisine. A nightmare to navigate, our local guides know the best routes throughout the city to make sure you don't miss out on anything and come to understand the soul of the capital and what makes it tick along.
Soak in Ancient History With a Visit to Ségou Koro
The village of Ségou Koro was the centre of Biton Mamary Coulibaly's Bambara empire, and he is buried here. The crumbling Bambara era buildings and ancient mosques leave an aesthetically long-lasting impression on visitors. However, the real highlight of visiting here is the chance to meet the village chief, who is a direct descendant of the kings of old and to receive an in-depth tour of the village.
Enjoy the Culture and Cuisine of Segou
A historic city located on the Niger River with an amazing cultural and food scene. A day here can easily be spent wandering through the old town that has the oldest adobe buildings, a traditional architectural style house found mostly in Segou that helps keep the family inside cool during intense summers. Don't be surprised if you are invited inside a local family's home for a traditional tea ceremony or to have a homecooked traditional Mali meal served up to you.
Segou's outskirts are full of villages made up of locals who make intricate handicrafts unique to this part of the world and even a village entirely made up of blacksmiths who spend their days forging over their smiths.
The UNESCO World Heritage Site City of Djenne
This ancient trading city and UNESCO world heritage site located on the Bani River, Djennes claim to fame in the world is its mosque which is the largest mudbrick building in the world and one of the most unique religious buildings on this planet. The area is also full of local tribes willing to show visitors their ways of life and how they survive in the harsh African wild with the chance to camp alongside them for a night.
Dogon Country (currently closed for tourists alternative of Manding Country can be arranged in place)
Dogon Country is the name used for a region in southern mali famous for its hidden villages that are embedded into cliffs up to 500m tall. In Dogon country, trekking between the various communities and witnessing ancient ceremonies will leave lasting impressions of Mali on you for the rest of your life.
The Dogon people that make up this area have been here for thousands of years and have refused to convert to Islam, giving them a totally unique religion, culture and language.
We can arrange for you to have one of the most unique overnight stays in your life in one of these villages and take part in a traditional Dogon mask ceremony. This is where the elders of the village chant in order to chase evil spirits while the very sacred Dogon masks are taken out of their holy places to be worn for the dance. All members of the community, Muslims, Catholics and animists alike, unite to re-enact traditional dances.
Manding Country (alternative to Dogon Country)
The place where the Dogon people actually originate from, this is a place of warm hospitality and history in Southwest Mali that provides a similar experience to Dogan Country mentioned above.
And so much more…
Of course, these are just some of the highlights. This is a country ripe with adventure, so for more detailed suggestions, or if you have specific needs, drop us a line, and we will work with you to handcraft your perfect Mali itinerary.
Guided Group Tours to Mali
We currently run one group tour per year to Mali in combination with the neighbouring country of Burkina Faso. We have perfected this itinerary into a compact fluid package taking in what we believe are the must-see sights and regions of this country currently possible. If you are having trouble visualizing a route around the country, this can serve as an excellent starting point for planning your itinerary.
Day 1 – Bamako
Morning
Arrive at your convenience into Bamako – the largest and capital city of Mali which is well connected from many countries within Africa and most of Europe.
Begin the your Mali adventure by visiting the Rose Market of Bamako which will give you an idea of the hustle and bustle of the Malian capital.
Explore the National Museum of Mali – an astounding collection of masks and traditional outfits.
Visit the Tower of Africa – the tallest tower in Mali
Afternoon
Lunch at Bating Restaurant providing incredible local dishes such as Poulet Yassa
Ascend to the top of Point G Hill – a French military hospital was built on top of this hill between 1906 and 1913 offering fantastic views over Bamako.
Dinner at a local joint in the city popular with locals
Bamako being the largest city in Mali offers somewhat of a nightlife – we'll head out and see what we can discover!
Overnight at hotel in Bamako
Day 2– Bamako – Segoukoro – Segou
Morning
Breakfast at hotel and begin drive to Segou (4 hours) – a town built on the banks of River Niger.
Before arriving at Segou we'll stop at the town of Segoukoro – the former capital of the Bambara Kingdom.
We have an appointment with none other than the village chief, who is a direct descendant of the kings of old. You'll have tea with him and he'll help answer all of our questions about the history of Segou and its royalty.
The King's descendants will show us the rebuilt vestibule, where the king used to receive his guests.
Explore the village, home to four mosques, the most famous being the waterfront one which the local famous King Biton Coulibaly built for his mother.
Depart Segoukoro by a pinasse – the Malian boat of choice. You'll cruise along the Niger River, the third largest river of Africa. You'll see the lifestyle of the people on the riverbanks, most of them being from tribes of nomadic fishermen.
During your cruise we'll stop at one of the fisherman villages to say hello and then stop again in a village of potters
Afternoon
Continue cruising down the river with lunch on the boat
Arrive into Segou and explore an old neighbourhood to meet with a local family who'll will cook us a classic Malian dish of peanut sauce
Further explore a Somono neighbourhood – this area has the oldest adobe buildings, a traditional architectural style house found mostly in Segou that help keep the family inside cool during intense summers. Here you'll also take part in a traditional Malian tea ceremony.
Head to the centre of the town and seek out Segou's culinary scene, stopping by a local restaurant and later check out Segou's nightlife.
Overnight at the Hotel L'Auberge
Day 3– Segou – Djenne
Morning
Visit a nearby plantation for breakfast
For Group B members visiting Burkina Faso – we will stop by the consulate downtown at the opening times so that your visa will be processed throughout our stay in Sogou.
Visit the Monument to the Kings located at the entrance of the city – previous King that had Segou
Explore artisan villages located in the outskirts of Segou where you'll see how calebasse bowls are made and a village of blacksmiths.
Afternoon
Lunch in town and collect group B members passports from the consulate
Begin 5 hour drive to Djenne – also known as the capital of mud as the buildings and streets constructed within the city are made entirely out of mud.
Climb the top of a structure for a grand view of Djenne's Great Mosque – the world's largest mud building. The inside of the Mosque can only be visited by Muslims.
Dinner at a local restaurant that specifically opens for us since the local economy has collapsed.
Assist our team with setting up our tents for the evening within a family's compound.
Overnight camping, for those group members opting for single supplement may stay at a nearby hotel.
Day 4– Djenne
Morning
Breakfast by the camp
Visit Koranic schools and drop by the Museum of Djenne's manuscripts – here a single man protects the documents of days gone by.
Inspect a sacred well – it is said that the ancestors of the town used this wall to consult the spirits to plan their next moves.
Explore the Shrine of Tapama – a young virgin was sacrificed here to appease the bad spirits of the town.
Afternoon
For your lunch you'll experience the local speciality of Djenne, the Tion Tion – a delicious fish fried rice
Adventure out of the walled city and into various villages each profoundly different from the others as they were built by different tribes. You'll experience the Bozo, Fulani, Bambara and Songhai tribes – they have very own culture and ways of life. Our own horse and cart will be provided for these trickier roads.
Head back to town with dinner hosted by our families
Overnight camping, with single supplement available for those who wish to stay at a nearby hotel.
Day 5– Djenne – Mopti
Morning
Breakfast in town and head 4 hours further north to Mopti – located directly under the security corridor established by the UN Forces
Along the way we'll stop to grab lunch
Afternoon
Spend the afternoon exploring Mopti and its bustling street life. There is a magnificent mud mosque similar to the one we saw in Djenne, and a women's market.
Trip highlight – Later in the afternoon we'll board a boat and explore the busy port of Mopti. This is where the Bani and Niger River meet. The port is an important hub of transportation in Mali with people here embarking on the dodgiest 3-day trip aboard a shabby pinasse to Timbuktu of all places! This boat ride is one of YPT's favourites around the world!
Dinner and overnight at our hotel
Day 6 – Mopti – Dogon Country
Morning
Breakfast at a nearby market and make our way to Dogon Country – the first stop being the town of Songo.
Once arriving you'll experience the traditional Dogon Village. The villagers here previously lived further up the rocks to keep their animistic beliefs and flee persecution from Muslims.
Visit the area where the village arranges the circumcision ceremony for the surrounding villages. There's a large rock painting retelling the stories of the villages as well as the circumcision ceremony. Our guide will explain to us all about the ceremony, which lasts more than a week.
Climb the nearby mountain for an impressive view of the town
Afternoon
Lunch is arranged in Bandiagara – the largest town in the area
Our 4WD drops us in Aindelou where we'll walk 4km to the isolated village of Dogon
Arrive in Begnimatu – YPT's favourite Dogon three-village-in one. One with a Muslim, a Catholic and a Christian neighbourhood. The village is perched on the mountains in the canyon and sunsets here are a sight to behold.
Farewell dinner with the locals as they prepare a feast. We'll be staying with the Christian neighbourhood which allows us to party with the locals.
Camp overnight in Begnimatu on the houses' rooftop under a very starry sky
Day 7 – Dogon Country – Ouahigouya
Morning
Trip highlight – After breakfast by the camp, we are invited to a traditional Dogon mask ceremony. This is where the elders of the village chant in order to chase bad spirits while the very sacred Dogon masks are taken out of their sacred places to be worn for the dance. All members of the community, Muslims, Catholics and animists alike unite to re-enact ancestral dances.
Once the ceremony concludes, it's time for us to trek down the rocks stopping by the villages of Doundiourou and Bagourou. Here you can see traditional Dogon Justice Halls. The halls are built with ceilings too low for people to stand, are where family elders meet to discuss and solve issues peacefully.
Afternoon
Arrive in Ende for lunch
begin 4 hour drive to the town of San, dinner and overnight
Day 8 – San – Segou – Bamako
Breakfast at hotel, visit the outside of the adobe mosque and explore the rest of the village.
Begin the long journey back to Bamako, stopping in Segou for lunch
Arrive in Bamako, check into hotel to refresh and head out for dinner
Tour concludes with airport drop-off arranged according to your flight details – YPT is also able to arrange post-tour accommodation or advice for flights.
Of course, these are just some of the highlights. This is a country ripe with adventure, so for more detailed suggestions, or if you have specific needs, drop us a line, and we will work with you to handcraft your perfect Mali itinerary.
Extending your Western Africa Adventure
Mali is an excellent starting off point for travel to surrounding countries. Through our large network of contacts and partners in the region, we can provide support in planning epic overland tours to neighbouring countries such as Burkina Faso, Benin, Togo, Ghana and the Ivory Coast.
Travel and border crossings in this area of the world can be difficult at the simplest of times, so we will make sure you are prepared for all formalities and technicalities that may occur while in this region.
Arranging a Visa for Mali
Most nationalities require a visa for entry into Mali. When you choose Young Pioneer Tours to travel to Mali, we make the process as easy as possible, providing you with the required documents you need to guarantee visa approval and being on standby at all times to answer any visa-related questions.
Often times it is easiest to obtain a visa for Mali in neighbouring countries such as Mauritania.
Entry to Mali also requires proof of a valid yellow fever vaccination.
For full details about the Mali visa process and vaccinations required, please drop us a line, and we will be happy to help you fully understand all requirements.
The Security Situation in Mali
The security situation in Mali cannot be understated enough, and there are significant risks associated with the country. Terrorist attacks, kidnappings and violent crime have plagued the country, and social unrest is not unusual.
We have been taking tourists to Mali for years and have the utmost confidence in our local partners, who are always one step ahead of the situation on the ground to provide a safe and impactful experience, but this being said, we strongly advise you follow travel advice from your own government.
The nature of tourism in Mali as well requires you to be flexible to changes as the situation can change at a moment's notice affecting your itinerary.
It is paramount to follow your local guides' advice at all times, as ultimately they are the experts and people in charge of your well-being and safety on tour.
Until further noticed Dogon Country is currently closed and off-limits to tourists visiting Mali.
In Summary
Mali is a country rich and diverse in culture with an ancient and contemporary history as equally fascinating. The country is well and open for tourism and is truly a pioneer's paradise. With locals welcoming visitors with open arms, this a country that will challenge even the most experienced travellers and change your perceptions about life in western Africa.
Ready to start planning your trip to Mali or just have a few questions? Drop us a line by clicking here.