Young Pioneer Tours are excited to announce our Mauritania Tours schedule for 2023-2024, as well as our Mauritania independent tour packages.
Traditionally inhabited by Berber nomads, the contemporary history of Mauritania has been somewhat interesting. At the start of the 20th century the country became colonized by France as part of French West Africa before gaining independence in 1960. Its history since then has involved one-party rule, numerous military coups and the ongoing conflict in Western Sahara.
Mauritania Group Tours – Group Tours to Mauritania – 2023 – 2024
Our group tours to Mauritania are capped at 16 people, this is to ensure you have a great time, but also that safety is maintained. A Mauritania tour is what we like to call very off the beaten track.
And the highlight of a Mauritania tour? Of course, the Iron Ore Train, the longest "train" in the world – something better to do with a group tour to Mauritania than simply alone.
Mauritania Iron Ore Train Tour – January 20th – January 26th 2024- €1545
Our first Mauritania tour of 2024 is always popular and in high demand! Come explore Nouakchott, the capital city known as "place of the winds". Experience Chinguetti, UNESCO world heritage site often referred to as a holy city of Islam.
Tour highlights include riding in open carriages through the Saharan desert on Mauritania Iron Ore Train, the longest and heaviest train in the world, where you can experience no light pollution and freely gaze upon the stars!
Finally arriving in Nouadhibou, you will get a chance to freshen up and explore Cape Blanc, a peninsula that is shared between Mauritania and Western Sahara. The tour concludes in Nouakchott, where we began!
Our Mauritania Tour can be perfectly combined with our Algeria Tour and then onwards to Mali and Burkina Faso tour. Make the most out of your visit to this fascinating region and combine your tours!
We are frequently adding new Mauritania tours so keep checking our website.
Independent Tours to Mauritania
If our Mauritania tours do not fit your schedule, we can arrange bespoke Mauritania tours to fit around your wants and needs for visiting the country.
YPT arrange every facet for your Independent Mauritania Tours, as well as offering flexibility for our intrepid travellers.
Independent Mauritania Tours
Below is an example Mauritania Tour itinerary. This can be done in its entirety, in part, or merged with other places. To discuss your exact needs for your travels in Mauritania please get in touch.
Day 1 – Nouakchott
Arrival at your convenience into Nouakchott, the capital city of Mauritania which is well connected from flights between Algiers, Paris, Casablanca, Istanbul and Tunis.
Meet your personal YPT guide and review your personalised Mauritania tour.
Dinner and overnight stay at a hotel.
Day 2 – Nouakchott – Tergit – Atar – Chinguetti
Breakfast at hotel.
Depart for Tergit Oasis within the Sahara Desert, famously known for Mauritania's most picturesque location. Located within a gorge this is the perfect spot to cool down and relax after our drive as well as getting stunning desert photos.
Lunch at a camp in Tergit Oasis.
550km later we'll arrive into Chinguitti via the city of Atar.
Evening sunset watched from the huge sand dunes of Chinguetti.
Arrive at Chingguetti Motel.
Dinner at Nomad Restaurant in the Palms Oasis.
After dinner we can enjoy local nomads of Chinguitty music and watch a dance made by women nomads.
Day 3 – Chinguetti – Choum – Mineral Train
Breakfast at hotel.
Drive to the UNESCO world heritage site of Chinguetti, a holy city of Islam.
You'll visit the library and other historical monuments and landmarks including the much-loved Friday Mosque of Chinguetti, the national symbol of Mauritania.
Lunchtime at hotel Mer et Desert. You'll most likely meet the owner, a French woman who has left everything behind to become member of the community. She knows a lot about the social issues of local tribes and is a wonderful source of information.
Visit Azoughi Oasis and village for a tea stop and experiencing how locals live.
On the way we'll stop at Amogjar pass – look at pre-historic paintings left 5000 years ago as well as incredible lava formation.
Board the world-famous Mauritania Iron Ore Train, spend overnight on the longest and heaviest train in the world.
Day 4 – Nouadhibou
Arrive in Nouadhibou (Mauritania's second city), where we will head to the hotel for a shower and rest before heading out to explore the city.
Lunch at a local restaurant in town.
Head to the Atlantic Ocean at Cape Blanc – a peninsula that is shared between Mauritania and Western Sahara.
Dinner at Ice NBC, a family restaurant with a wide menu of delicious local dishes. For those who fancy a well-deserved ice-cold beer it is possible to visit the Chinese restaurant next door for the only establishment that openly serves beers.
Day 5 – Nouakchott
Breakfast at hotel.
Explore the local markets in Nouadhibou before boarding our bus for long drive back to Nouakchott. Plenty of scenic photo opportunities and time for lunch.
Dinner at a local restaurant and try our luck at getting inside a Chinese owned restaurant for a cold beer.
Day 6 – Nouakchott
Breakfast at hotel.
Head straight to the lively Atlantic fish market. Every evening hundreds of fishermen bring in the day's catch on their distinct sea canoes recognized by their colourful hand-painted hulls. The catch is then brought by donkey cart to the city's markets.
Visit the National Museum where artefacts of the history of Mauritania and its ancient cities are on view.
Lunch at Odelice restaurant.
Quick photo stop by the Great Mosque of Nouakchott – funded by Saudi Arabia and built in 1982.
Head to the beach for some great people watching. This is where local Nouakchottois come to escape the city and cool off.
Day 7 – Nouakchott
Post tour reflection and farewells, tour concludes.
Independent Mauritania Tour examples
We do not list all of our bespoke Mauritania itineraries, but can offer some examples, such as the following;
Mauritania Adventure Tour – YPT can offer a tailored Mauritania tour to meet your adventure needs, including camping in remote picturesque locations and spending overnight on the Mauritania Mineral Train gazing upon the stars. We have in-depth experiences in this region and create a bespoke Mauritania tour for you.
Mauritania Team-Building Tour – Our Mauritania Tours can be physically demanding. What YPT can offer to companies is precise and effective team building opportunities, which offer great opportunities for employees to reflect together with their co-workers on the overnight Mauritania Mineral Train.
Mauritania Media Tour – YPT can help arrange an itinerary specially designed for the content you need in Mauritania. This includes a local guide who can take you to unique areas within Nouakchott and Nouadhibou to meet genuine local people to make your material stand out from the rest. You can read more about media travel here.
Cultural Mauritania Tours – Experience Mauritania cultural heritage and explore the busy markets of Nouakchott and Nouadhibou sampling traditional food prepared by locals including mechoui to thieboudienne. Visit historical landmarks and learn about the French colonisation.
Mauritania Road Trip – We can provide everything from 4×4 vehicles to take you out into the desert. YPT can provide first-rate bilingual (English or French) drivers and guide who have in-depth knowledge of the area.
Mauritania Photography Tour – YPT can help arrange permits for camera equipment and transport to take you the most scenic destinations within Mauritania including UNESCO world heritage site of Chinguetti and the camel market in Nouakchott.
Mauritania University Tour – Learn about Mauritania ancient history and visit historical sites taking in recent events. See the impact of French colonisation and experience the local hospitality that Mauritanians offer. YPT can help organise exchange programmes which can be organised with the University of Nouakchott Al Aasriya.
Mauritania Tour Guides
Young Pioneer Tours work with the best Mauritanian tour guides. All are experts in their fields, know what they are talking about and speak English. Should you require a different language for an independent tour to Mauritania please get in touch and we will see what can be arranged.
Group tours to Mauritania are escorted by both an expert YPT guide, as well as a local Mauritania tour guide.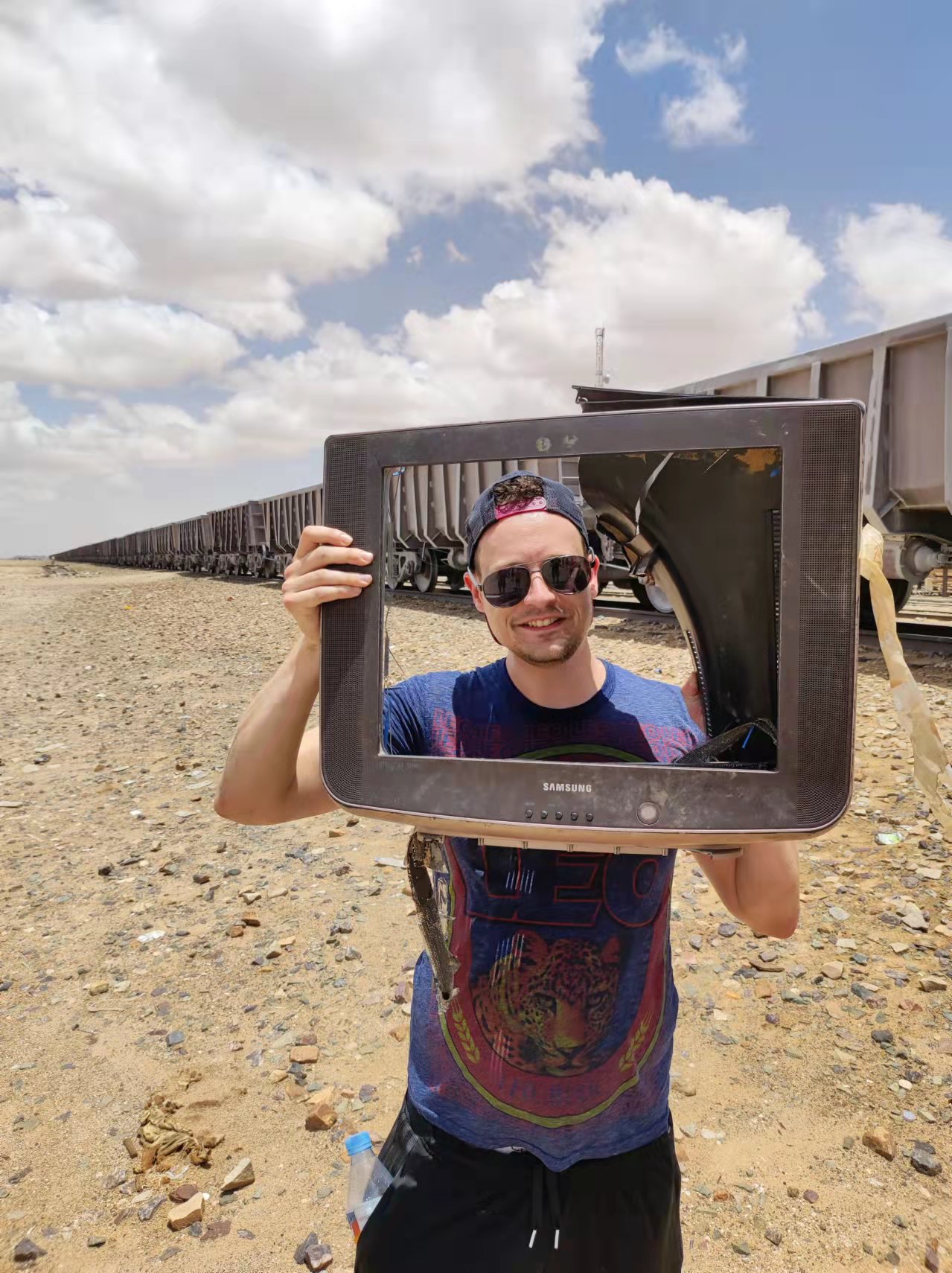 Frequently asked questions about Mauritania tours and travel
Below are some of the most frequently asked questions about travel to Mauritania. Should your question not be listed, please get in touch to talk to one of our Mauritania travel experts!
How to get a Mauritania Visa – 2023 – 2024
Currently in 2023 you can get a visa on arrival issued at the Nouakchott–Oumtounsy International Airport. Mauritania visa on arrival is available for everyone. However, Syrian passport holders need approval prior to entry. The visa costs either 55 EUR or 65 USD.
Mauritania Tour FAQ
Where is Mauritania?
Mauritania is located in Northwest Africa. It is bordered by the Atlantic Ocean to the west, Western Sahara to the north and northwest, Algeria to the northeast, Mali to the east and southeast, and Senegal to the southwest.
Mauritania is the 11th-largest country in Africa and the 28th-largest in the world, and 90% of its territory is situated in the Sahara.
Is it ethical to visit Mauritania?
Yes, its ethical to visit Mauritania. Despite being the last country in the world to abolish slavery in 1981 the country is making an active effort to enforce this. YPT works closely with our local partners to ensure we don't support any form of this practice while on tour.
We believe in helping out the local communities and businesses in Mauritania, ensuring genuine people are supported from what little they gain from tourism.
Is Mauritania safe?
Various government websites advise against all travel to Mauritania, however, only certain regions of the country are considered dangerous. Our tours avoid such regions which are considered unstable and dangerous.
What's the main religion in Mauritania?
The main religion in Mauritania is Islam, hence the official countries name, The Islamic Republic of Mauritania. Recent census indicated 99% of the Mauritania are practicing Sunni Muslims, the other 1% consists of Shia Muslims, and non-Muslims, mostly Christians and a small group of the Jewish faith.
Can you drink alcohol in Mauritania?
The sales and consumption of alcohol is against the law in Mauritania; however some restaurants do sell it, discretion is appreciated.
What to wear in Mauritania?
Mauritania monthly temperature stays above 25°C year-round, with the peak 33°C in June and July. Pack loose comfortable clothing and a hat to block out the sun.
During the Iron Ore train ride, where we spend the night exposed to the elements in an open carriage, warm clothing including gloves, thick socks, goggles and even a blanked would make the journey as comfortable as possible.
What time does the Mauritania iron ore train leave?
Mauritania iron ore train does not have a fixed departure and can depart anywhere between from 6:00pm to 11:00pm from Choum. The train pulls up into Nouadhibou, (Mauritania second city) around 8:00am to 11:00am.
Is it safe for females to travel Mauritania?
YPT first Mauritania tour in 2023 was led by a female tour guide who received plenty of positive reviews! While choosing YPT group or independent tours, we have many females joining the tours. It's perfectly safe, however, we advise to respect local customs and avoid wearing tight and revealing clothing. Also wear a headscarf when visiting religious areas.
Is Mauritania safe for LGBTQIA+ travellers?
The laws in Mauritania are based on Sharia. While YPT is an inclusive company and welcomes people from all genders, sexual orientation and identity, we must sadly warn you that homosexuality is illegal in Mauritania.
Behaviour judged to be homosexual can lead to imprisonment. As such, we would kindly ask all our group members to refrain from acting in a way that could lead them to be branded homosexual for the duration of our trip. This is for the safety of the group and no judgment is implied or intended.