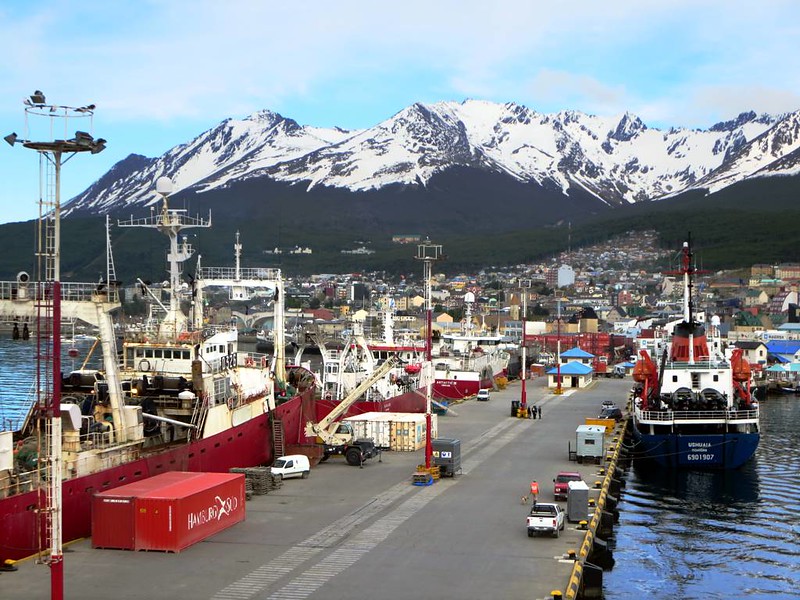 Ushuaia is a city in Argentina, the capital of the Province of Tierra del Fuego, Antarctica and the South Atlantic Islands.
Tierra del Fuego, or the Land of Fire, only became a province in 1990. While the province includes outlying islands and Antarctic claims, Tierra del Fuego is actually an island off the southern tip of South America, with the eastern section part of Argentina and the western section part of Chile.
Ushuaia is the capital of the Argentinian side, and claims to be the furthest south city in the whole world! Sitting off the Beagle Channel and surrounded by the snow-capped Andes Fueguinos it is certainly set in stunning landscape.
It is a small port, but mainly used by travellers embarking on expeditions to Antarctica.
So what is the best way to get to Ushuaia?
The easiest way to get to Ushuaia is by flight, landing at the Ushuaia Malvinas Argentinas International Airport (airport code: USH). There are direct 3-hour flights from the Argentinian capital Buenos Aires and also 1-hour direct flights from Rio Gallegas in Patagonia.
There are also flights from Santiago in Chile which stops over in Puerto Montt and Punta Arenas.
From Buenos Aires to Rio Gallegos you can take the 36-hour bus if you dare, the distance is over 2500km! From there it is also possible to get to Ushuaia by a combination of bus and boat from Punta Arenas, crossing the Magellan Straits.
This trip takes you through Chilean territory and you will see the whole of Tierra del Fuego island and the stunning scenery at the southernmost tip of the continent of South America, but is another 12 hours on the road.
What is there to do there?
Apart from stocking up on the things you will need for your Antarctic cruise, there is great hiking in the national park surrounding the city. You can even hike up to the border with Chile and check out the Martial Glacier.
For train enthusiasts there's a nice, hour-long ride on a narrow-gauge on the route of an old logging train. This train starts at the entrance to the national park and is referred to as the Train at the End of the World.
There is also the Maritime Museum which includes the old military prison, and the Museo del Fin del Mundo which has a great seabird collection and general history of the area.
It is also worth a boat trip to Isla Redonda to the west of Ushuaia, here you can see the Mastil de General Belgrano, one of Argentina's founders whose name was given to a naval cruiser sunk by the British during the Falkands War.
It is also possible to go on sailing trips around the bay or kayaking trips, but why would you want to do that when Antarctica awaits!
About Post Author
.