We were glad to hear that, just like us at YPT, Marshal Kim Jong Un is a long-train-ride enthusiast and will potentially be going all the way to Hanoi for the upcoming summit with President Donald Trump by train. It's a great way to watch the scenery go by, catch up on some reading, and meet fellow travellers along the way over a few beers or glasses of baijiu.
We've therefore written this handy guide on the journey from Pyongyang to Hanoi!
Starting in Pyongyang you'll need to board the Number 51 train to Dandong departing at 10:40 and arriving into Dandong about 4:30pm, depending on the time it takes to go through customs. The Marshal will obviously need a double-entry visa for China for the return leg but we assume that's taken care of.
In Dandong there's usually 1-2 hours to grab a quick KFC – or, if pushed for time, a Dicos –before boarding train K28 for Beijing. This train takes 14 hours or so but the train staff are used to having people from the DPRK or who have just visited the DPRK and are very friendly!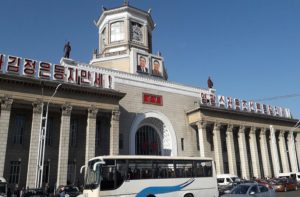 Pulling into Beijing Railway Station at 8:40am there will be more than enough time to get a coffee and a breakfast from one of the myriad McDonald's in the vicinity; fast food may not be to your taste, but the other food in the vicinity of Chinese train stations is notoriously dodgy.
The next task is to get on the Beijing metro and make your way from the main railway station to Beijing West Railway Station; not too far but there are an annoying amount of changes. Take Line 2 to Xuanwumen, then Line 4 to Caishikou, then Line 7 straight to Beijing West.
With a bit of time to kill it would be worth going to the Beijing Military Museum which is very close to the West Station, and houses a good collection of captured US military machinery from, amongst other wars, the Korean War.
Then board the 4:09pm train straight to Nanning, taking just under 24 hours. Try your best to book in advance and avoid a standing ticket. You'll only have a couple of hours in Nanning before catching the T8701 straight to Hanoi which pulls in at 5:30am on the morning of day 4 since you left Pyongyang. You'll need a good rest before you start any meetings you have scheduled.
Coming up next: How to Get to Hanoi from Washington DC by train
Join us in Hanoi for a tour of Vietnam and to hang out during the Trump-Kim Conference on our Summit Tour! Failing that, join our Vietnam and South-West China Tour later in the year!
About Post Author
.