There is something so timelessly romantic about a beach getaway. The sun hanging over brilliant blue skies as you lie under the shade of palm trees, listening to the waves lapping gently on the shore… and then a horde of screaming children run past, kicking sand into your eyes and you get up to face the stark reality of a noisy beach with more humans than sand grains. As much as we love Bali, Bondi, and the Bahamas, they're simply too touristy. The whole point of a beach holiday is to relax and to not stress over a lack of sun-tanning beds or worrying about your neighbor stepping into your personal space. Large crowds can really kill the chill vibes of an island getaway, and that's not what you should want for your own holiday either. So we did you a favor and compiled a list of the world's most beautiful secluded beach resorts for your next island holiday. Be it a couple's trip or even just a chill vacation with your very best pals, you'll get maximum relaxation and serenity in these places.
Little Palm Island Resort & Spa, Florida Keys
Florida might seem the exact opposite of an idyllic beach vacation, but did you know the Keys is actually made up of 1,700 small islands? As with most archipelagos, there's bound to be a little hidden island paradise, and Little Torch Key is exactly that. It's been a well-kept secret for years by celebrities and presidents alike who vacation on this quiet 5.5-acre private island. Little Palm Island Resort and Spa is a serene little paradise where you can have a private bungalow and enjoy the views in total peace and comfort, cocktails included.
COMO Parrot Cay, Turks and Caicos
Getting to this resort is a bit of a pain, we admit, but nothing worth having comes easy, right? What's more, the mild inaccessibility of the island is proof enough that it's going to give you maximum privacy! You'll have to fly to Providenciales International Airport, drive to Leeward Marina and take a boat ride to Parrot Cay island. This is the ultimate luxury Caribbean holiday — especially because the only modes of transport are chauffeured golf carts that will transport you through a maze of frangipani trees, papaya and banana. COMO has two amazing restaurants — Lotus serves Asian and Caribbean cuisine (fresh West Caicos lobster, anyone?) while Terrace is more formal Mediterranean cuisine for a candlelit dinner. You'll get to dip in a gorgeous infinity pool and lounge by a seemingly-deserted white beach. If that isn't enough, Donna Karan vacations here – just putting it out there…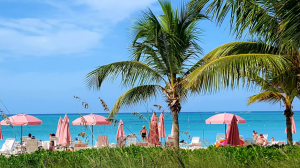 Four Seasons Resort Spa Punta Mita, Mexico
Punta Mita is a 1,500-acre private peninsula north of Puerto Vallarta that has attracted the most high-profile names like the Kardashians, Gwyneth Paltrow and Bill Gates. Even during peak season, it's never crowded and you can enjoy tranquility on its pristine white beaches uninterrupted. The Four Seasons Resort Spa is a luxury hotel that has some of the island's best surfing spots just off its shore. If you fancy a boat day trip, the nearby Isla Marietas house one of the world's most beautiful sites — a beach hidden behind walls of rock and waves.
GoldenEye, Jamaica
Goldeneye, I've found his weakness… read that in Tina Turner's voice, please.
Before Pierce Brosnan, it was Ian Fleming's private island paradise, where he escaped the bustle of civilization to pen the adventures of 007 and lounge with the biggest names of the 1950s like Katherine Hepburn and Truman Capote. Isn't that a super-cool nugget of history? These days, it draws the likes of superstars like Jay-Z and Kate Moss. The island sits in the oasis of Oracabessa in northern Jamaica, with beach villas, lagoon cottages and beach huts, and its secluded lagoons also make for stunning snorkelling spots. You'll no doubt be enchanted by this little island that captured the hearts of Old Hollywood.
Coco Prive, Maldives
If you're a high-profile celebrity, what's the best way to ensure no prying paparazzi will snap shots of you sunbathing topless on your beach holiday? The answer for you would be to go to Coco Prive on Kunda Hithi Island. The entire island is surrounded by a huge coral reef, accessible only by a private yacht. Those nosy journalists would get torn to shreds by the reef if they tried to swim through.
Coco Prive is as luxurious as private luxury gets — it's pretty much the only form of residence on the island. The resort only has six villas, and given how tiny the island is, you're bound to see the Indian Ocean everywhere you go. The design is modern, chic and understated, with sunken outdoor lounges, sloped roofs and lush green foliage. Some of the villas have their own infinity pools, but with that glistening aquamarine ocean at your doorstep, you might not even need that. But even if you should choose to lounge in your own infinity pool, be sure to grab a float from The Floatys for that perfect pool experience. Regardless, no matter what you choose to do at Coco Prive, its staff is dedicated and always present to cater to your every want. So if you want to experience how royals do their holidays, this is for you.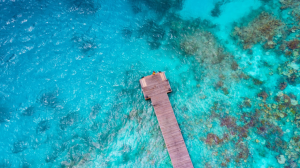 The Brando, French Polynesia
This is another paradise beloved by Old Hollywood, located on the atoll of Tetiaroa, 30 miles off the coast of Tahiti. The legendary actor Marlon Brando was so enchanted by Tahiti that he decided to purchase Tetiaroa as his private escape heaven in 1966 after filming Mutiny on the Bounty. He sought to preserve this piece of paradise in its most natural state possible. Following his death in 2004, this eco-friendly resort opened in 2014 and is named after him to preserve his legacy and goal of sustainability. It has 35 thatched beachfront villas dotting the crisp white coast of Motu Onetahi, and opens into the dazzling turquoise waters of French Polynesia. The resort has plans to become 100% energy-independent and uses alternative sources of natural fuel such as coconut oil and revolutionary technology that uses seawater air-conditioning to cool the rooms. If you love luxury but also love the environment, you should definitely check this one out.
Annandale Seascape, New Zealand
This villa is so private you would need a helicopter to reach it. While it isn't your typical tropical island getaway, it certainly makes for a once-in-a-lifetime experience. Hidden in the hills, this ultra-sleek modern villa overlooks Pegasus Bay, and you wake up to the magnificence of the Pacific Ocean. The ceiling-high glass windows ensure you are totally immersed in the lush plains and craggy coastlines. There is only one bedroom, so it is perfect for a couple looking for a few days of total seclusion. You get a private pool-spa and terrace deck where you can lounge and watch dolphins leap into the sunset beyond.
Jean-Michel Cousteau Resort, Fiji
Another eco-friendly resort, Vanau Levu is positioned on one of Fiji's more ruggedly beautiful islands. The resort is the vision of environmentalist and film producer Jean-Michel Cousteau (who is also the son of legendary ocean explorer Jacques Cousteau), who wanted to create a model for sustainable eco-tourism. The resort is made up of traditional Fijian thatched homes, constructed with natural wood, and nestled in bright organic gardens. One of the star attractions of the resort is the Jean-Michel Cousteau Dive Centre, where you can submerge yourself in the aquamarine waters of the Namena marine reserve, take snorkel trips and reef walks with the resident marine biologist. If you have kids, this is the resort for you. There are many activities for the little ones such as rainforest walks, sword carving and jungle gyms.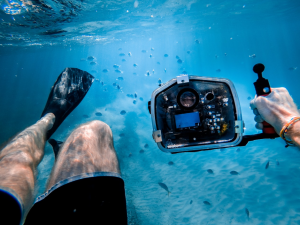 And Beyond Mnemba Island, Zanzibar
If you want an adventure even before you get to the resort, you're in luck! Getting to And Beyond will take you on a little tour of Zanzibar — an hour-and-a-half drive through the lush tropical scenery of spice plantations will bring you to a beach where you'll have to get into the water to reach the boat that will take you to Mnemba Island. The island is only able to accommodate a maximum of 24 people at a time, so you will truly feel secluded in this little hideaway. The island has a rustic feel that makes you feel like you've been cast away (in luxury, of course). The beach is white as snow, with an impossibly clear lagoon reflecting greens and blues. The island atoll has some of the world's healthiest coral reefs, making it one of the best places for diving into the warm Indian Ocean with colorful fish, groupers and even huge whale sharks if you're lucky.
Saffire Freycinet, Tasmania, Australia
The sea is nice but you know what's even nicer? Fresh seafood as you sit watching the sun set over the horizon.
That is exactly the specialty of Saffire Freycinet, a luxury lodge that sits perched amongst eucalyptus trees and overlooking Great Oyster Bay. The view is unrivaled, the unspoiled coastline of Tasmania's cliffs and mountains is truly awe-inspiring and looks exactly like a scene out of Middle-Earth. What better way than to give your ocular taste buds a treat as you feast your eyes upon this incredible natural paradise? Freycinet Marine Farm and The Devil's Corner Cellar Door serve up seafood fresh right from the bay, using all local seasonal produce.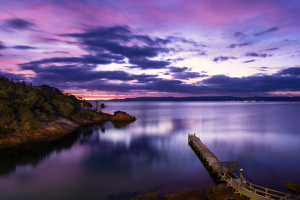 Fregate Island Private, Seychelles
Once an isolated pirate haven in the 17th century, this remote little island in the Indian Ocean is now a world-class luxury paradise. Fregate Island is one of the 115 islands that make up the Seychelles, a small country 1000 miles off the coast of Kenya. It is named for the abundance of frigate birds that call this island home. The Seychelles has particularly distinct strains of flora and fauna as a result of plate tectonic movements, making it all the more exotic. Now, you can sit in your own private villa with a gorgeous infinity pool terrace and soak up all the tropical atmosphere of this hidden Eden.
These resorts are all definitely way up on the price point, but if you are looking for a once-in-a-lifetime experience, these are definitely places to check out. After all, if they were more accessible, they wouldn't have the privacy and exclusivity that makes them special.
About Post Author
.