Death is viewed in different ways the world over. Some cultures celebrate it as a time that a person moves on to better things. Others see it as an opportunity to contact the previously deceased to bring good fortune for their living relatives.
Filipinos have a culture rich with ideas about death and superstitions of the afterlife. Visiting countries with cultures that look at death in diverse ways has become easier than ever. Travelling to destinations off the beaten track is becoming more popular. FDR famously said: "The only thing we have to fear is fear itself", and this has proven true; as enthralling expeditions to unfamiliar locations make for a truly memorable trip. Such experiences are only enhanced by being able to share the joys of a journey with a group of like-minded folk. Socializing in groups is proven to be good for your health and well-being. Give your group the opportunity to discover the lighter side of death in the Philippines, while enjoying all that life has to offer.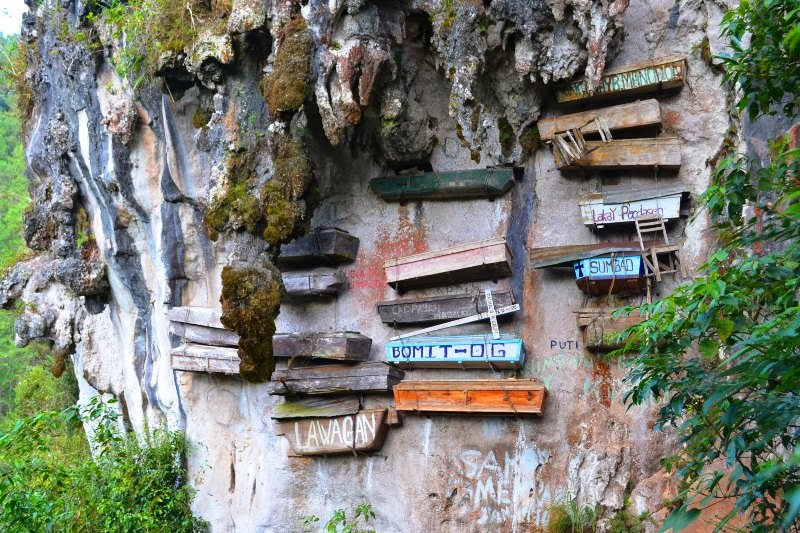 ---
The Hanging Coffins of Sagada
The coastal town of Sagada is surrounded by cliffs and caves from which hundreds of wooden coffins hang. The people of the town have a unique tradition, dating back over 2,000 years, of carving their own coffins, which they are placed in upon death. These are then hung from cliffs or attached to walls inside caves. It is believed by the people of Sagada that the spirits of the dead will reach the afterlife easily if placed as high as possible. As time takes its course, the coffins disintegrate and fall to the floor. Make sure that one of you takes binoculars to fully appreciate this spectacular scene.


The Living Cemetery of North Manila
Once a quiet crypt filled cemetery, the area is now home to over 10,000 permanent residents. Unable to afford increasing rents in the city; homes and businesses have been established within crypts and mausoleums. It is a hard life for the residents, as there is no clean, running water or sewage system available. Remember to remain respectful throughout your visit and ask before taking any pictures.  
Lounge about at Cemetery Beach
The clear, crisp waters of the Anilao coast attract tourists throughout the year. However, there is one beach beyond the pristine shore, that hosts almost a hundred concrete graves, hidden by a wall of weeds. The cemetary was originally located well inland, but due to rising sea levels, it now sits at the water's edge. Plan to see it soon, as it may disappear beneath the waves at any time.
The Deserted City of Corregidor Island
City life moves at an unbelievable pace. To see an entire city in one day could be considered impossible, but that is not the case for Cavite City, located on an island near Manila Bay. Filipino and American forces fought side by side on its shores in World War II and it has been abandoned ever since. Decayed and deteriorating buildings fill the entire island. Without the distraction of bustling life, a group can get round this city of the undead and see it all in a day.
There are many other celebrated sites in the Philippines that are intrinsically linked to death. From mountain Fire Mummies, to the sunken cemetery of Catarman, there are plenty more to see. Give your group the gift of life and make a visit to these culturally significant sites, that see death as much more than the end.   
Guest Blog: Jane Standing
---
Fancy a visit to the Philippines?
About Post Author
.