We aren't usually into tourism hotspots, so new locations need a test run. We trust only our eyes to confirm that a hotel didn't close a year ago, or if a train is running instead of gently rotting. These trips are almost always a success.
Occasionally, things don't go exactly to plan. This is about one of those times
---
I am obsessed with unrecognized countries and frozen conflict zones.
A few years ago, I found myself in Iran with the luxury of not having anywhere to be for a month. North of Iran lies the Caucasus, historical divider of Asia and Europe and one of the most culturally diverse regions on Earth. Conquered and split into different empires and borders for centuries, it descended into violence and civil war when the Soviet Union collapsed. In certain areas, the hostilities and tension remain unresolved.
My primary interests in the Caucasus are Nagorno-Karabakh, Abkhazia, and South Ossetia. These three states each declared and fought for independence, but to this day have almost no recognition from anyone except each other. I convinced some friends to cross with me from Tehran to Armenia, Nagorno-Karabakh, and Georgia, before finishing in Abkhazia. (South Ossetia was still too risky… until now.) What could go wrong?
The journey needed style, and we'd noticed in Tehran that every street had a shop selling offensively shiny suits. Our last night in Iran found us the height of fashion in obnoxious silver, green and gold, tastefully paired with frilled shirts and Hannah Montana handbags.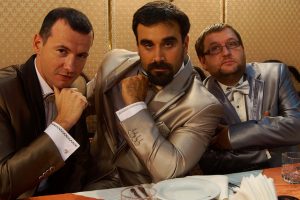 Proudly shining, we headed north. Armenia is now visa-free, but at the time you needed to apply online for your visa on arrival. We'd done this, but somewhere it hadn't been processed. After two hours demonstration of post-Soviet bureaucracy, our passports were stamped through. As we left, the border guard shouted: "I have a question!" "Whats up"? "What the fuck is up with those suits?" "We went to a wedding."
Time to find our first unrecognised state. Nagorno-Karabakh is ethnically Armenian, but was/is part of Azerbaijan. They declared independence at the end of the USSR, and won a war to prove it. The world still sees them as part of Azerbaijan, but they really, really don't want to be.
Visas are issued at the immigration bureau of the unrecognised capital of Stepanakert. They'll stamp your passport, but if you ever want to be allowed into Azerbaijan, you can opt for a piece of paper. The men with the Hannah Montana accessories would rather a cool stamp than visit another country that acts so childishly. That evening, we hit the only nightclub in the city. The clientele ranged from unaccompanied children to apparent oligarchs. The evening consisted of Soviet boardgames before breaking out into a massive food fight. It's all a little blurry, and I woke up having shaved my head at some point in the night.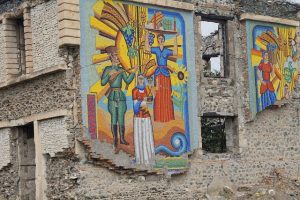 A short drive north is the town of Agdam. In Agdam, tourists and photography are forbidden. In these parts of the ex-USSR, a taxi is an old man in a Lada who does what he wants, but not one would take us to the town known as Hiroshima of the Caucasus. When we finally arrived, we found the nickname apt. Once home to 150,000 inhabitants, it switched hands several times and was ultimately destroyed during the 1993 war. Today, it is a derelict and totally abandoned demilitarized zone. Trees grow in the middle of streets, and livestock randomly graze inside bombed out buildings. The mosque in the city center is the only intact building, which we climbed for a better look at the destruction. From the top, with our suits, we functioned as a human lighthouse and were quickly detected by an unhappy military patrol camped in a nearby ruin.
Forced to flee, we moved swiftly on through the town of Vank. Some background: A local of Vank went to America to chase the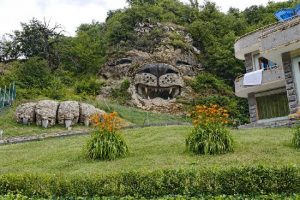 dream, and actually caught it. He returned a billionaire, and to reward his hometown, built bizarre monuments and a weird hotel. He pops back every now and again to shower the locals with money, so unsurprisingly he's fairly popular. Next was a brief return to normality. Two days in the pleasant capital of Armenia saw us well; highlights include the post Soviet bar scene, an ancient church carved into a mountain, the Soviet memorabilia bazaar, and an exhaustive genocide museum. Yerevan is truly lovely, but lovely was not the point of the trip. One night rolling through Soviet wastelands on a sleeper train found us in Tbilisi.
I have friends who rave about Tbilisi. Our experience was less wonderful. I went to meet a friend at a bar, where he was busy drinking Absinthe Mojitos and chatting up some beautiful locals. After procuring my own Absinthe Mojito, the beautiful locals left us to join a huge man at the next table. He flashed what was less a smile than a display of teeth, and treated us to an extended view of the glock hanging off his hip. Point made, we asked for the bill. Absinthe Mojitos cost $25 a pop in Tbilisi. More lessons learned.
The following few days consisted of the others looking at stuff whilst I drank vodka. I was impatient for my highlight of the trip; the hometown of Joseph Stalin. Now, whenever we told friends from the old USSR that we were going to the Caucasus, this area in particular, they would joke we should be careful. Apparently, the stereotype of men in this region is they aren't picky how they get their rocks off. I was warned our soft tourist flesh would make us appealing targets. We laughed this off as a silly urban legend, which would prove to be a mistake.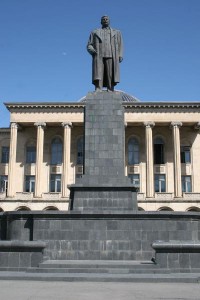 Whilst Stalin is now largely reviled, in Gori he is a big deal. They took his statue down for a bit, then quietly put it up again, right next to the extremely pro-Stalin museum. The mental gymnastics to understand this are thirst inducing. At a local tavern that evening, it wasn't long before a bunch of hulking Georgians and their vodka decided to befriend us. One of our troupe, a muscly American first mate, is good at arm wrestling. Everyone wanted to arm wrestle him – until he kept winning. The people of Stalin's hometown did not take being beaten by an American very well. After increasingly aggressive invitations to go somewhere "more private" we decided to leave. The people of Stalin's hometown did not take this very well. The night ended with a spot of exercise; running as fast as possible from a pack of drunk Georgians and a very specific method of teaching us a lesson. Stereotypes aren't always wrong.
The others left the next day to continue their travels. I fell inexplicably in love with this weird hometown of a dictator and stayed for a while. It has a unique charm, but there's a tavern I don't recommend. I managed to visit Abkhazia later. We used the basis of this trip to create one of the most important dates on our calendar, the Unrecognized Countries Tour. Whilst, thankfully, it is not exactly like this research trip, we feel it holds some of the same spirit.
---
Click here for more information on our
Caucasus Unrecognized Countries Tour.
About Post Author
.