Firstly please note that Somaliland's visa policy constantly changes! Don't worry YPT is kept constantly in the loop regarding any changes. Visiting Somaliland is not the same as visiting Somalia. It is a completely different visa system. So here is our up to date guide on how to get a visa for Somaliland.
For those who can get a visa on arrival
Starting from April 2019, the Department of Immigration of Somaliland has decided to give visa on arrival to a certain number of countries.
From now, citizens of the EU, Canada, USA, Brazil, China, Russia, Turkey, Egypt, South Africa, Morocco, Tunisia, Members of Gulf Cooperation Council (GCC) such as Saudi, UAE, Bahrain, Qatar, Oman, Kuwait, and IGAD Region Countries planning to visit Somaliland for tourism purpose can now get a visa on arrival at all ports of entry into the country.
To do so, provided you are from one of the elligible countries, you will need to print and fill a form found on the website of the Department of Immigration of Somaliland. At the time of writing these lines, the form was not yet available on their website but we have managed to get our hands on it. Get in touch with us for us to send it to you! Once at the point of entry to Somaliland of your choice, you will have to show this form, along with a visa type photo of yourself and USD in cash to pay the visa fee and will get your visa on the spot.
What to do if you can't get a visa on arrival
The easiest way of getting the visa is through the London, Washington or Addis Ababa consulates. They have half day turnarounds including via postage from anywhere in the world.
If you are traveling in Ethiopia for example or just passing through Addis on the way to Somaliland then you just need a couple of hours to get to the embassy on a weekday, get your visa stamped in your passport and get back to the airport for your connecting flight!
It's that easy.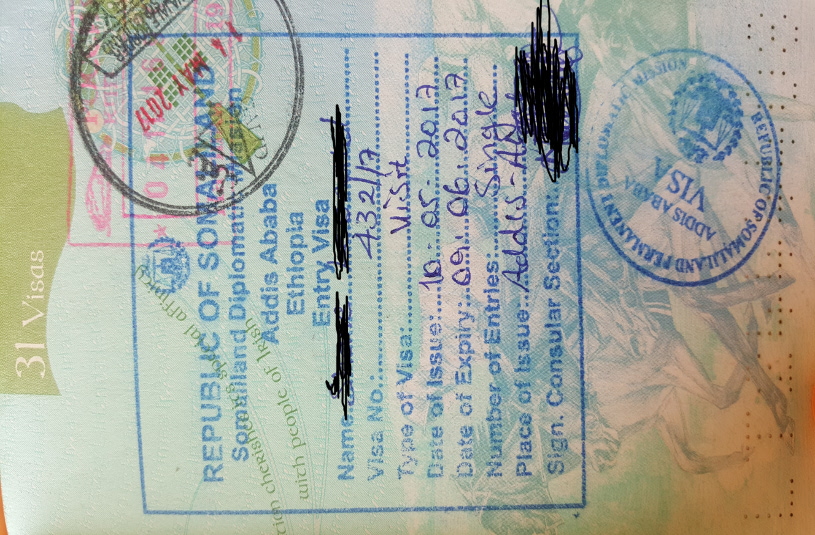 ---
What do I need to apply for the Somaliland visa?
A valid passport
Two passport size photos
$80-$100 USD
Your hotel and contact person details (YPT will provide this)
Can I just rock up at the border or at the airport and get a visa?
If you are not from the list of nationalities eligible for visa on arrival, you will be turned away. They now force everyone to acquire the visa through one of their consulates.
Is there a chance I'll be rejected?
This is highly unlikely. When you visit the consulate they do not look at you twice. The whole process can be as fast as 10 minutes in and out the door. There are no extensive background checks and YPT have a 100% visa approval on all our Somaliland tours.
Is it a full-page passport sticker?
No, it's a large stamp with your details written manually.
---
Click here for more information on our tours and how to join them!
About Post Author
.