Young Pioneer Tours have been running Gagauzia Tours since 2012 and when it comes to this strange little place, we really are the experts.
Officially known as the Autonomous Territorial Unit of Gagauzia (ATUG), it is an autonomous part of Moldova. The Gagauz people are a Turkic race that are members of the Russian Orthodox Church, as well as being extremely pro-Russia. This is to such an extent that were Moldova to join NATO, or the EU, they would secede, or join the Russian Federation. They have even been suggested as one of the new countries we might get to see in the near future.
You can learn more about Gagauzia here.
Gagauzia Tours – Group Tours to Gagauzia
Currently all of our Gagauzia tours also visit Transnistria and Moldova, with them making a hell of a combo! You can see our full list of Gagauziia Tours below.
Transnistria & Gagauzia New Year Tour – December 30th 2023 – January 2nd 2024 – €445
Join us for New Year's celebrations in the de facto state of Transnistria and start the years off in the autonomous territory of Gagauzia. Experience Soviet hospitability in the pro-Russian regions and sample what life was like behind the Iron Curtain.
Transnistria National Day & Gagauzia Tour – August 31st – September 4th 2024 – €495
Our first tour to Gagauzia in autumn is combined with the National Day celebrations in Transnistria. We're bringing you to one of the most patriotic holidays celebrated in the region with full Military parades in Tiraspol to farmhouse parties in rural villages outside Comrad!
Independent Tours to Gagauzia
We understand not all our group tours to Gagauzia may not be practical with your schedule or you would like a more in-depth bespoke experience Gagauzia. YPT can help arrange the perfect Gagauzia tour. Prices will reflect on the number of people and what level of accommodation you require, but YPT can arrange everything you require for an independent tour to Gagauzia.
Our independent tours to Gagauzia can be combined with Transnistria, as well as Moldova, one of Europe's least visited countries. Please get in touch here, for more details.
Bespoke Gagauzia Tours
We can offer bespoke tours to Gagauzia and can arrange everything you require for an independent tour to Gagauzia. Below is an example itinerary for our tours to Gagauzia, however we can create a personalised itinerary designed specially for your interests and time frame.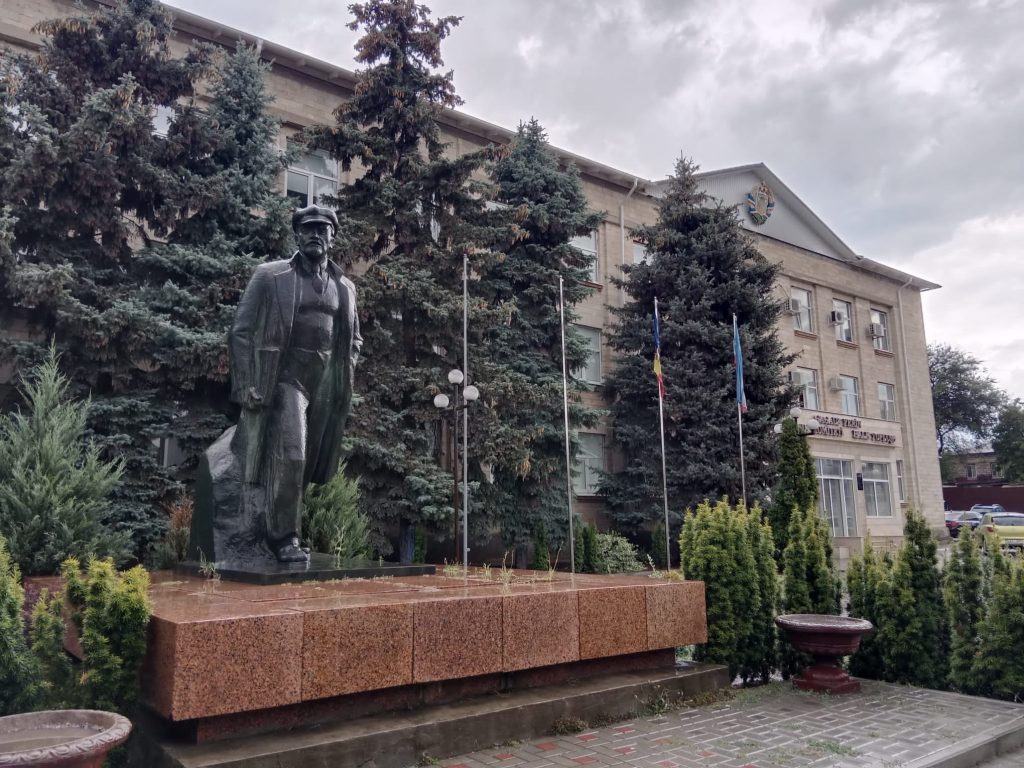 Example Bespoke Gagauzia Tour itinerary
Day 1 – Chisinau, Moldova
Morning
Arrival at your convenience into into Chisinau – the largest and the capital city of Moldova which has well connected flights within Europe and the Middle East.
Pre-tour meeting and get-together with YPT guide and other travellers at the lobby of our hotel at 8:00am to go over the tour itinerary and plans for the coming days.
After breakfast we'll meet our local Chisinau guide and start our city walking tour of Chisinau. We'll visit the abandoned National Hotel, see one of the most stunning monasteries in the city which was thankfully spared destruction under Communism, and see the infamous city prison which has been declared a breach of human rights amongst other things.
We'll see the enormous World War II Memorial and climb some tanks and surface to air missiles at the Military Museum!
Visit the local flea market, great for antiques and Soviet kitsch!
Afternoon
After lunch at a local Moldovan restaurant, we'll give you the chance to explore the capital city of Europe's least visited country at your own pace. This is a great chance to visit the national museum of Moldova, walk out of town and see the brutalist architecture masterpiece that is the partially abandoned Chisinau city circus (also the first circus in the entire USSR) or see the impressive Komsomol monument from the Soviet-era.
We'll later head up the abandoned National Hotel, which was a former InTourist Hotel during the Soviet times to catch the sunset over Chisinau.
Dinner and drinks in the evening at the best steakhouse in town, and cheapest in Europe!
Overnight in Chisinau.
Day 2 – Chisinau – Tiraspol, Transnistria
Morning
Breakfast at our hotel.
We'll meet our Transnistria fixers for the 2 hour ride to the breakaway republic of Transnistria. YPT will deal with all permits, border formalities and conversations with the Transnistrian KGB/MGB.
After checking into our Tiraspol hotel, we'll kick off our city tour.
We'll stop at the flea market in Tiraspol, here it's possible to buy all kinds of Soviet antiques for rock bottom prices. You never know what you will find!
We enter one of the largest outdoor markets in all of Transnistria. Guests will be able to shop and buy anything they want at very, very low prices. Also, many opportunities for old world type photos. This is a true old school, Russian market. Expect pig's heads, spices and everything imaginable for sale.
We'll walk down Main Street called October 25th Street to see the North Korean style statue of Russian General Suvorov. Surrounding it are the flags of Russia, Transnistria and the breakaway brotherhood states of Abkhazia, Nagorno-Karabakh and South Ossetia.
Have your picture taken in front of a giant crest of Transnistria featuring the hammer and sickle!
Visit Parliament, housing one of the biggest statues of Lenin outside Russia.
Visit the Eternal Flame Memorial complex dedicated to the Soviet-Afghan war, WW2 and the Transnistrian civil war. Check out the battle damaged T-34 monument to WW2, it's permitted to climb on it and get an awesome photo.
We'll then walk down the other end of Main Street which has a billboard of former President Smirnoff: The warlord who turned president for almost twenty years. We'll see the embassies of Abkhazia and South Ossetia, the foreboding HQ of the infamous Sheriff organization and stop at a bookshop to pick up some Russian and Transnistrian nationalist paraphernalia, a mug of Stalin or a fridge magnet of ICBMs firing across the atmosphere, why not?
Afternoon
We'll have lunch in the town at a local café called CCCP. This is designed to create a sense of nostalgia for locals and is packed with original Soviet memorabilia and great food.
We'll then switch it up and board an old Soviet ferry without an engine and cross the Dniester River to see how the village people live across from Tiraspol. This is an area truly lost in the USSR!
Visit a still functioning palace of culture with an enormous head of Lenin outside, pockmarked with Kalashnikov bullet holes after Moldovan troops symbolically executed him during the civil war.
You'll then visit a stunning and completely self-sufficient monastery complex that has to be seen to be believed. We know many of the priests there and sometimes they allow us to sample their incredible homemade wine, however, this is subject to whether the one priest with the key is available on the day.
Pay a visit to a local store which hasn't changed since the USSR and still uses an abacus to calculate the total. Here we'll stock up on $3 Kvint Cognac (One of the best Cognacs in the Soviet era), $1 Vodka and local smoked cheese.
We then head to a stunning viewpoint and Soviet obelisk that was one of the most brutal battlefields during WW2. In the Russian speaking world, it's respect to the dead to raise a shot of Cognac or Vodka in their honour and we'll do just that!
Return to Tiraspol and head for dinner and drinks at 7Fridays.
Carry onto our favourite craft brewery joints in town and possibly onto Russian styled clubs, who knows!
Overnight in Tiraspol.
Day 3 – Tiraspol – Comrat, Gagauzia
Morning
We'll pack our bags in the van and head to breakfast at a wonderful Ukrainian restaurant in Tiraspol. If you have a hangover from the previous night's festivities, be prepared, as they're known for handing out complimentary shots of pepper flavoured vodka!
We then leave Transnistria, stopping at the final Sheriff store on the border to exchange our Transnistrian rubles and buy some souvenir Kvint cognac before were enter Moldova and head South to Comrat, the capital city of the Gagauzian Republic, who as opposed to Transnistria, made peace with the central authorities after a brief civil war in the 1990's.
Gagauzia is populated by the Gagauz people; they're Turkic Christians who have remained here since the conquests of the Ottoman Empire. They speak their own distinct language and have a very unique culture. This is the only place in the world to see a Lenin statue opposite a statue of Ataturk!
After the 3 hour journey on dirt roads, we will stop for photos at the welcome to Gagauzia sign before we arrive in Comrat and transfer to our Hotel for the night.
Afternoon
We will stop at the abandoned Comrat airport, still littered with a number of abandoned Soviet era planes.
We'll explore downtown Comrat, seeing the stunning cathedral, a huge statue of Lenin, the Afghanistan war memorial and the national museum of Gagauzia.
We'll then head to a trip highlight as we drive through the Gagauzian countryside to an isolated village where we will meet Stopan and his family. Formerly a director of a collective farm during the Soviet era, Stopan has been a friend of YPT for a number of years and organises a formidable Gagauzian feast on his family farm for our groups. Gagauzia is the most famous wine region in Moldova and Stopan has a lot of it!
End the evening in a farmhouse partying Gagauzia style! Expect the locals to join in as YPT groups are the only foreigners to ever visit this isolated village.
For those who wish to return to the hotel early, we will have a team of local drivers waiting at the farm to transfer people.
Overnight in Comrat hotel.
Day 4 – Comrat – Chisinau
Morning
Breakfast and free morning to relax or explore the town for last minute gifts or photos before we head back to Chisinau via the one and a half hour private bus ride.
Afternoon
Once arriving in Chisinau we'll have lunch
Tour concludes – YPT can assist with onward travel advice or accommodation.
Example Independent Tours to Gagauzia
Gagauzia Day Trips – Travel from Moldova, or even Transnsitria to a do a full day tour of the region, taking in Comrat, Lenin and trying some local wine.
Gagauzia Festivals – there are a number of festivals in Gagauzia including, Hederlez – National festival, Gagauz Gergefi – National Costume Festival, Gagauz Koraflari – Carpet festival and Bucak Sesleri – Song Festival. We can arrange tours to experience these special events and experience Gagauzia rich cultural heritage and history.
Gagauzia Culinary Tours – With dishes dating back centuries, we can provide a bespoke Gagauzia Tour sampling some of the finest cuisines and wines in the region. We can arranged cooking classes to home stays, learning and sampling traditional cuisines.
Gagauz Language Tours – The unique Turkish language in used throughout the autonomous region. Originating from the Oghuz languages, we can arrange a dialect tour or exchange program for you or your institute.
Gagauzia Wine Tours – The region produces some of the best wine in the world, whether it's produced at a vineyard or a local residents farm, it's imbedded in Gagauzian tradition and culture. YPT can arrange a wine tasting tour in Gagauzia, every aspect of your tour will be taken care of.
Gagauzia Tours for journalists – With its allegiance to Russia, as well as proximity to Ukraine, Gagauzia can be of particular interest to journalists. YPT can arrange journalist travel to Gagauzia.
GAGAUZIA TOUR GUIDES
With our years of experience in the region, we only work with the best guides within the region. Our local guides are passionate, attentive and proud to explain their cultural heritage on our group or independent tours to Gagauzia – something which makes us stand out from our competitors.
Our Gagauzia group tours are always joined by an experienced YPT guide and by our expert local guide alongside. All our guides are fluent in English, but should you require a different language for an independent tour to Gagauzia then please get in touch.
FREQUENTLY ASKED QUESTIONS ABOUT GAGAUZIA TOURS
Below are some of the most common questions asked by people traveling to Gagauzia. If we have not answered your question simply get in touch to talk to one of our Gagauzia tour experts.